NeT-TOPIC is addressed to medium sized (intermediate) cities located close to a major city within a metropolitan area. As a result of their location, these cities face today some common challenges, such as territorial fragmentation or the need to adapt to the new demands for uses and activities in the process of post-industrialisation and of new tertiary activities.
Integrated Urban Development

Governance
NeT-TOPIC Thematic Network is composed of European peripheral cities in transformation, with shared problems including industrial decline, territorial fragmentation and social polarisation. Located near to major cities, they are transforming to more attractive urban areas: focusing on developing their own urban identity, offering a greater quality of life, improving citizen integration and social cohesion to fulfil a new role within their metropolitan areas.
One of the biggest challenges faced by these cities is the use and promotion of new tools and approaches relating to territorial governance and urban planning processes at local, regional and national level to improve urban transformation processes. The network provides these cities with a platform to reflect on changes in the city model to increase the strategic value of its territory.
NeT-TOPIC's network aims to foster the exchange of knowledge, experiences and best practices among its partners.  The project seeks to enhance the role of peripheral cities in territorial governance and urban planning processes to achieve their desired new city model.
See complete overview
See results
Partners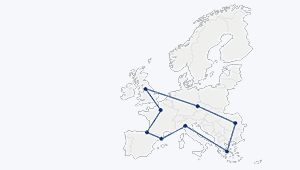 Go to the map
| M | T | W | T | F | S | S |
| --- | --- | --- | --- | --- | --- | --- |
| | | | | | 1 | 2 |
| 3 | 4 | 5 | 6 | 7 | 8 | 9 |
| 10 | 11 | 12 | 13 | 14 | 15 | 16 |
| 17 | 18 | 19 | 20 | 21 | 22 | 23 |
| 24 | 25 | 26 | 27 | 28 | 29 | 30 |