"Rumourless Cities", a communication project for diversity and integration – the challenge in the city
Edited on
03 June 2021
Amadora has assumed a strategy of building channels of knowledge and communication within it's special multicultural context that includes citizens represented by 104 nationalities. Amadora today, draws its identity from the value its ethnic, cultural and social diversity. It is a city that rewrites itself through the resilience of different stories of migration. 
Using action-research methodology, problems were diagnosed and discriminatory content about migrants in the city of Amadora were identified: "did you know that..." outlined a new communication alignment to integration, proximity to its residents, access to opportunities, restoring the truth and valuing the role of the migrant at the economic, social, educational and judicial level for the construction and development of the city.
The implementation of the campaign "Do not Feed the Rumour" integrated in the joint EU/Council of Europe project "Communication for Integration: Social Networks for Diversity (C4I)", involved a wide local social network.  
The campaign was selected by the URBACT Programme as "good practice" and was subsequently selected as one of 23 networks for the transfer of good practice. Thus, the Rumourless Cities Network (RC) was created, led by the municipality of Amadora and involving five other European cities: Alba Iulia (Romania), Cardiff (United Kingdom), Hamburg - Altona (Germany), Messina (Italy) and Warsaw (Poland).
Outlining a new intervention strategy
In parallel with the transfer of Amadora's Good Practice, at transnational level, investment was made at the  local level in the identification of new responses to the concept of "a city without rumours", through the creative challenge of producing tools of communication and dissemination of anti-rumours, carried out by young people.
Initially, there were some difficulties extending the partnership network of the Local Urbact Group (ULG) to include institutions specialising in the involvement of young people to interact with the issues and become multiplying agents of a positive communication of their stories with the city. Partnerhips with these organisations was crucial to involving the target group  -young people who represent the city they were born in, or who came to it from different parts of the world, passing through it or settling in it, as well as those who visited it but were marked by its history in their lives.
The first project included working with young people from the Choices Program in the 7th/8th Generation intervening in different municipal districts (@bobastudioe8g; @PercursosAcompanhado;@mjraizes;@arodar. omep), alongside students of the Vocational School Gustave Eiffel of the multimedia course, as well as others who, in online meetings and through mastering digital tools, showed, through art, other forms of expression enriching the contents of sharing and cooperation in the mappings of the rumours they intended to confront and demystify.
The intervention was not limited to the constitution of one group but the creation of different groups, with different motivations, learning focus and commitments. The focus for participants was on mapping on the rumours and prejudices identified according to their life experiences and perceptions of the city.
In the first phase of the group, different Dynamics of hetero-knowledge, problem-solving and strategies were implemented, as well as the identification of relationships and attitudes of leadership/cooperation, competition/attention/concentration and resilience.  
In the second phase  a space for reflection was maintained, as well as positive interaction and change, with the integration of new elements, involving, committing, empowering and perceiving the self/other of the group with greater proximity and responsibility/solidarity to identity, deconstruct rumours, stereotypes and prejudices.
In the third phase, victimisation discourses of identity were "replaced" by socially cohesive skills underpinned by an understanding of diversity. At this stage the "rumour mapping" tool was introduced, where its communication project was inscribed with two Reflection Groups, namely:
I Group: Rumours and biases -Mapping: 
What rumours are associated with your project?
Which biases/discrimination can these rumours express/reproduce?
II Group: Truth or ideal to convey (message/creative voice of my project)
What truth or ideal do you want to convey?
The intervention strategy was sustainable, because they were able to deal with their experiences, find resources and capacities to restore" alternative stories" to the rumours and prejudices making them protagonists of their causes with expectations for a fairer and more equal city
c) Narratives:
The Local Network (ULG) of Rumourless Cities, along with with the narratives of the young people opened pathways of awareness and training that went beyond the important school context. It went beyond its formal and institutional space, manifesting values, dreams and responses of identity of their city.
The narratives created an opportunity to improve the good practice and communication resources This project helped express the values of active citizenship who face prejudices and rumours.
Seven positive city narratives were created, which are described as follows.
 "From the Neighbourhood to the World", by Érica Fernandes with Raquel José, translates the experience of life in a municipal district of the existence of "good and wonderful people".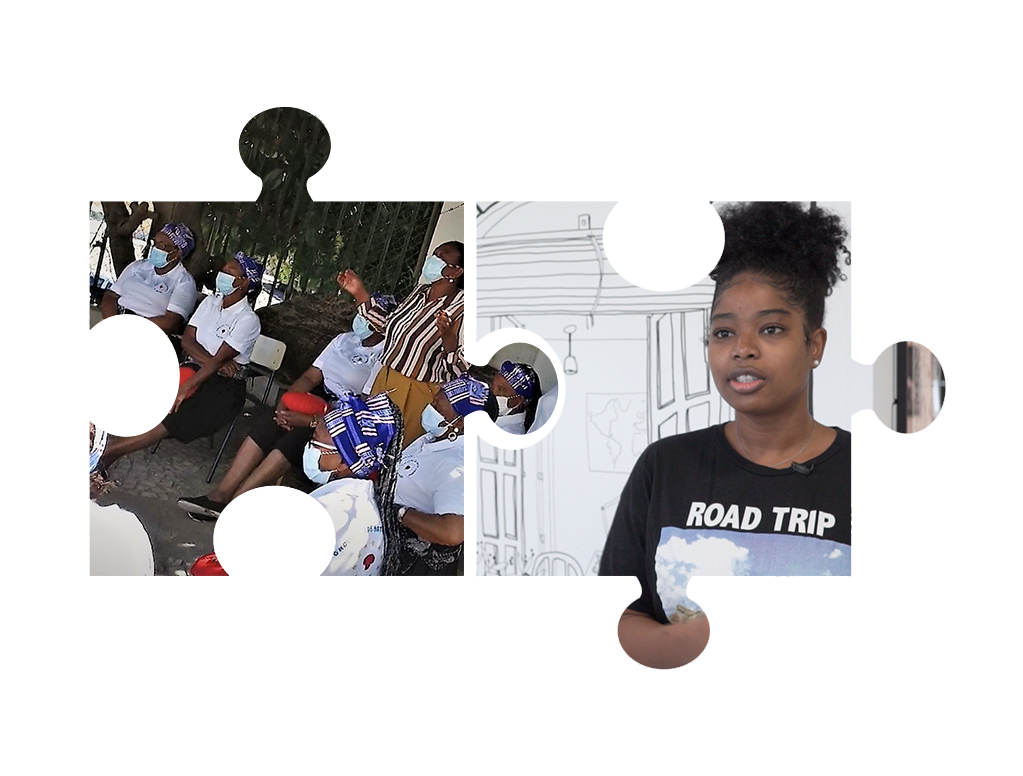 "Sounds of Amadora", by Neima Mendes with Batukadeiras. Through her curiosity to know the rumours and prejudices that could be related to the expression of Cape Verdean women groups playing the batuque, Neima developed her personal and participatory empowerment in the construction of her own identity and integration in their community and in the city.
"Regardless of our culture, values, we have to know how to respect others."
 "Education and Integration in Vocational Training", by Leinira Mendes and Jonh Manga. "We all have a right to an education so that difficulties can become opportunities."
 "Don't Stop Dreaming", by Jéssica Evaristo. Jéssica is an example of a project that is born in the city and develops, becoming an inspiration, so that even with setbacks, one does not give up on creating and living for a project. "All of us can dream and the dream is the start of all achievements."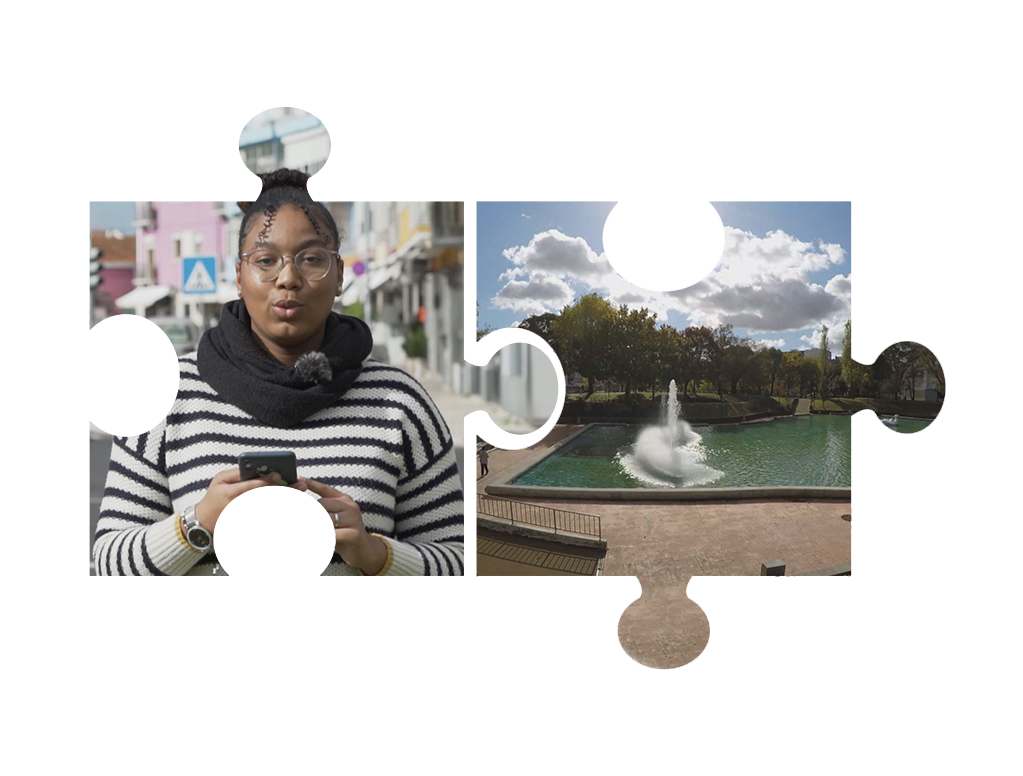 "Ethnocentrism", by Rosibel Neves. Me and you are different, but it's our diversity that unites us. Without prejudice and comparisons I make you my brother. "We are all people with diferente opinions and choices, we are he fruits of our experiences".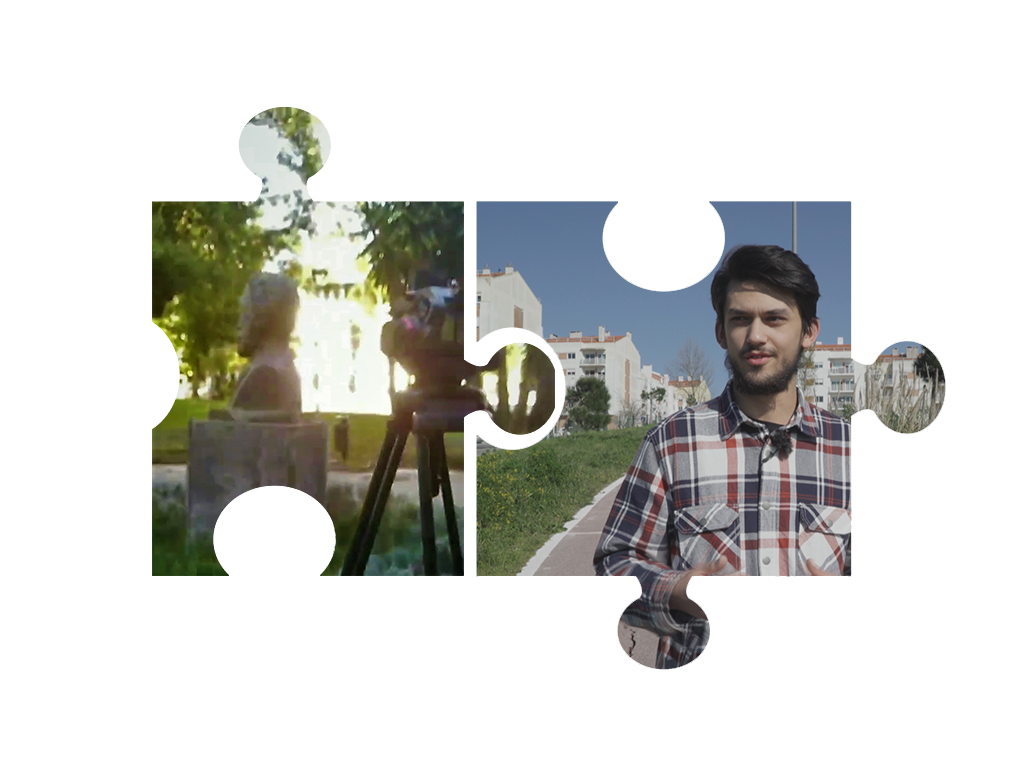 "City Colours", by José Trigo. Born in Amadora, he took a camera and captured images from various points of the city, discovering a city rich in colour, with multiple nationalities, cultures and religions. "The richness of Amadora in is its colours"
  "Voices" by Inês Joaquim. A tunnel is a synonym with passage and the echoes laden with rumours and prejudices filter the accessory. In the end, words pass and the truth remains. "Iluminate the truth."
Ana Amaral, Local Urbact Group, Municipality of Amadora
Submitted by Angela Maria Lo... on