#2 Small Scale Action | Razlog, Bulgaria
THERE'S A NEW SENSE OF TECHNOLOGY PROGRESS IN THE AIR IN RAZLOG – AND IT'S ALL THANKS TO URBACT
The city of RAZLOG makes possible the monitoring of urban air quality in real time through the test installation of an Air Station with sensing key for air quality indicators along with environmental data. This is possible thanks to the IoTXchange project which is implemented under URBACT Program.
The Municipality of Razlog, IoTXchange network partner, was amongst the first to use the possibility opened by the project of experimenting new urban solutions through a Small-Scale Action (SSA), having in view it possible later upscaling as part of an Integrated Action Plan for the city. After consulting its Local Support Group (ULG), which members come up with the idea, the city decided to adopt the topic of Real-time Air monitoring for its SSA, since one of the main problems faced in the city is the air pollution during winter season (8 months), due to residential heating with wood and coal.

A tender procurement was opened and 3 offers were collected, after which a contract between Razlog Municipality and Telelink Business Services EAD was signed on April 22nd 2021. On June 21st 2021 the monitoring station using Urban Air Quality Monitoring technology was installed in Razlog, and the experiment period took 6 months.

The main goal of this SSA was to rise local people awareness about air quality and the reasons for air pollution in Razlog territory. Furthermore, the aim was also to improve the life quality in the municipality of Razlog by harnessing IoT technology to advance the access to clean air and to make air quality manage able by data-driven decisions.
With this experiment, in addition to try new technological approaches for improved urban services, we also expect to to rise the awareness of local people about the air quality and the reasons for air pollution in the territory of Razlog Municipality. Zlatka Stoycheva, Head of European project Department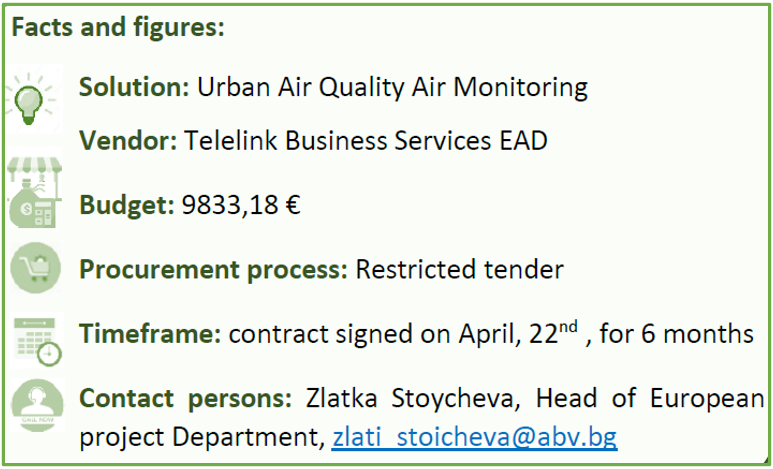 Check out the video prepared by Nevers Agglomération, available on Youtube: https://youtu.be/RrRho3PC7v8
Submitted by Mariana Salvado on