Adelfia: "MusicaInGioco" to leave no one behind
Edited on
27 November 2019
Three very special orchestras with musicians aged between 3 and 19, a spectacular "La Traviata" played in a cloister and two international musical meetings in the horizon: here is Adelfia's latest update on how the URBACT ONSTAGE project is progressing in the town!
"MusicaInGioco" to leave no one behind
"Music In Play" –or as known in Adelfia, "MusicaInGioco" is an El Sistema-inspired non-profit association that provides free lessons and music instruments to children and young people with socio-economic disadvantages or with learning disorders (SLD, ADHD, Asperger and Down syndrome, Autism). Since 2010 up today, the number of the children and young people involved in the music training activities has increased: from 38 in 2010 and 60 in 2012, to more than 160 of today. In Adelfia, MusicaInGioco boasts three orchestras with musicians with ages between 3 and 19.
Thanks to the dedication of the teachers and their free lessons, to the commitment of the students and their daily study of 15 minutes, and thanks to the reticular teaching method applied to music by Maestro Andrea Gargiulo, these young orchestral musicians were able to participate in itinerant performances.
Among these performances, the most challenging was "La Traviata", the very famous opera by Giuseppe Verdi, last June, in the evocative setting of Chiostro di Santa Chiara in Bitonto, during the first edition of "Arti per l'Inclusione" festival. The festival also held a study day about "arts for inclusion" last October: a meeting about civic and artistic sensibility that aimed at improving the collaboration between social associations and organizations that operate in the medical and scientific fields. The children with functional diversities or social fragilities were the applauded protagonists during this first edition and they could collaborate with other orchestras from different cities and play with professional opera singers.
URBACT Local Group from Adelfia follows with dedication and constance the progress of "Musica in Gioco", also dealing with other projects development and promotion.
The involvement of citizenship: a key to move forward
The Department of Social Services organizes meetings with the community to inform and involve it in the activities of OnStage project. The Department also offers its historic Palazzo Conte Sabini as a place for events and, together with the schools, churches and associations of the territory (among them Associazione a Supporto Famiglie con Autismo), it is very active.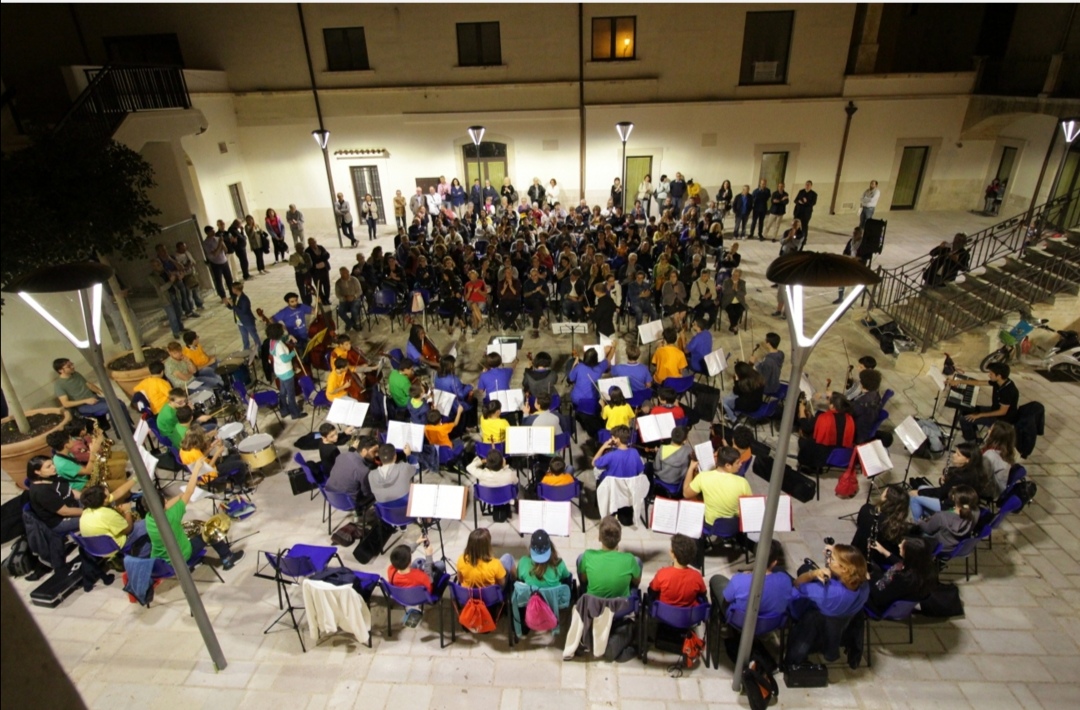 From 21 to 23 January, Adelfia will host the delegates of the six European cities which are partners in the project: trusting in the enthusiasm of the citizens, Adelfia has already organized a meeting scheduled for December 4th. On this occasion, as already stated in Katowice, it will be presented a new project which involves the collaboration of important Italian and European research centers, including the University of Bari, Oxford and Aarhus, aiming at giving scientific validation to the musical training for children with autism or ADHD of ages 6-12.
From 25 to 28 February, Adelfia will host the meeting about the trainers mobility which will be coordinated by the Municipality in collaboration with Maestro Andrea Gargiulo, the artistic director of Music In Play association.
-----
Text by Maria Pia Ferrante. For further information please contact her at mrp.ferrante@gmail.com.
Follow our activity on Twitter and visit our website urbact.eu/onstage 
Submitted by c.salido on