Propose new solutions and promote new policies for the sustainable renovation of social and affordable housing units in the European Union.
CASH is a network of 11 partners (10 cities and one region) led by Echirolles City. As a contribution to Climate Change issue, the network seeks to reduce the energy consumption of buildings and in buildings. It looks for new solutions to renovate social and affordable housing units, in order to improve their energy efficiency (EE) and to influence users' behavior through citizens' involvement.


Development phase (25.11.2009 - 18.07.2010) - Partners have exchanged on their diagnosis, experience and best practices on the subject, during a Peer review consisting in joint visits to each city and have elaborated with the Lead expert a baseline study.
Implementation phase (19.07.2010 – 19.01.2013) – Through the organization of 6 thematic seminars on renovation and EE and through the elaboration of local action plans with local support groups created for that purpose, partners will exchange and provide knowledge, experimental and technical know-how. Major outputs will be a global guideline on energy efficient renovation of social housing "Cities Advices for Sustainable Housing" dedicated to European cities and professionals (including technological, legal, financial, governance, management aspects) and a compendium of cities actions with pilot projects and actions in course and planned "Cities Actions for Sustainable Housing".
See complete overview
See results
Partners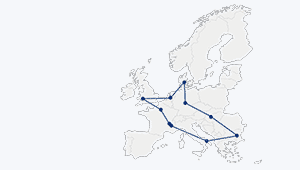 Go to the map
Latest articles
Integrated action plans
An Integrated Action Plan (IAP) is a policy instrument that is produced by Action Planning Networks within a period of 12-14 months after the beginning of their activities. The aim of the IAP is to respond in a concrete way to a urban challenge, which is common to all involved cities. Each partner develops its own IAP, so all plans are unique in terms of local circumstances, territorial coverage and, most of all, the context in which this tool is proposed to be implemented. The creation and validation of this instrument relies in a collective undertaking, designed to strengthen commitment and to increase the prospect of sustainable delivery. In this sense, every partner city must establish a URBACT Local Group (ULG), in order to gather implicated stakeholders to co-create and participate in this process.Thus, the IAP reflects and integrates all ULG members' knowledge and learning from transnational exchange.