Come to the URBACT City Festival 2022!
Request your place at THE Festival for EU towns and cities, 14-16 June, Greater Paris. This time, in person – and carbon neutral…
The URBACT City Festival is back, and registration is now open!
This year, #URBACTfest celebrates the successes of towns and cities in URBACT networks, and marks the symbolic launch of URBACT IV, the new EU programme for sustainable, integrated, urban development. Taking place on 14-16 June, during the French Presidency of the Council of the EU, the event will be carbon neutral, and hosted in an exciting temporary venue on a former railway site in Pantin, Greater Paris.
Urban practitioners and elected officials are invited from across the EU! With a limit of 450 places, priority will be given to a local stakeholder from each of the 200 or so cities in the current URBACT Action Planning Networks (APNs) – as well as other URBACT network representatives, and towns and cities wanting to discover URBACT for the first time. Lead experts, National URBACT Points, partner organisations, and EU and national officials will also take part, along with our URBACT team.
URBACT cities reconnecting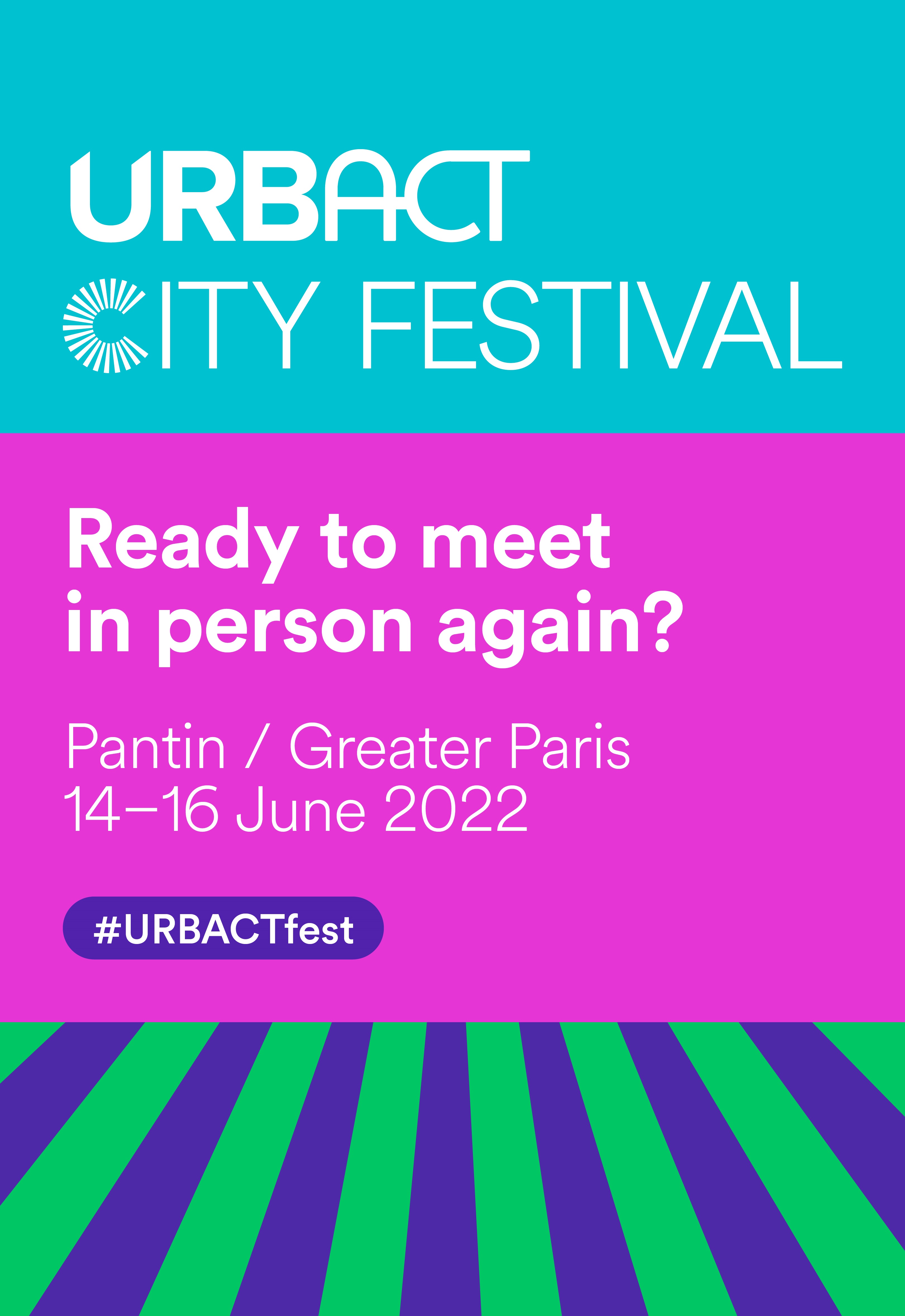 This will be a moment for URBACT and its partners to meet in person after two years of Covid restrictions and efforts to keep up city exchange and learning online. A chance to be inspired by good practices from diverse EU municipalities, and share experiences of using the URBACT Method of 'Integration', 'Participation' and 'Action-Learning' to spark positive urban change.
"There's a real buzz around this event. It will be exciting to meet the URBACT community, hear the city stories, and see the actual impacts of our work contributing to better cities!" says Festival organiser Aleksandra Kluczka. "And I'm personally very interested in the carbon-neutral aspect, as it's a new approach we're piloting, it's innovative; I'm interested to see how it plays out."
City Festival programme highlights
The three-day programme covers a broad range of topics, such as climate, inclusion, and urban innovation. All will be in English, with key sessions in French too. National URBACT Points will also be on hand to welcome participants in other EU languages. Aleksandra shares the top moments she's looking forward to:
DAY 1, Tuesday 14 June – APNs and Climate action
Welcoming our Action Planning Networks (APNs): The Festival is a final milestone on the APNs' journey. A time for them to meet in person, exchange, and be inspired to go back and start implementing their Integrated Action Plans.
Opening evening with keynote speaker and panel discussion on climate action, taking place in Le Cabaret Sauvage, "a very exciting venue" in Parc de la Villette, close to Pantin, in north-east Paris.
DAY 2, Wednesday 15 June – Green, connected, and inclusive cities
City stories and achievements: Each session focuses on a key topic, currently being tackled by URBACT networks: 'Green cities' – using data for climate action, food policies, health and greenspaces, localising the UN Sustainable Development Goals…; 'Connected and attractive cities' – strategic procurement, mobility innovations, tech tools for cities; and 'Inclusive cities', where a session with the URBACT ROOF network combatting homelessness, will be streamed live to the International Social Housing Festival in Helsinki (FI)."
DAY 3, Thursday 16 June – Introducing URBACT IV
Site visits exploring Greater Paris, each tailored to a cross-cutting URBACT IV priority: 'Green', 'Gender', and 'Digital', but also covering the topic of Metropolitan dynamics, with a focus on Greater Paris and its good practices.
Information sessions on the new URBACT IV call, including key dates, how to be a lead partner, and matchmaking for cities interested in joining a new network.
The symbolic launch of URBACT IV: a celebration with high-level speakers.
URBACT's first big carbon-neutral event
Reflecting the goals of the French EU presidency and URBACT's core values, every effort is being made to cut the carbon footprint of #URBACTfest. The organisers are building a tool to measure the environmental impact of the Festival preparations, from the venue, meals, transport and accommodation, to branding, (no) goodies and onsite activities.
The venue, La Cité Fertile, whose tagline is "1 hectare for ecological transition", is on land destined for redevelopment in 2023, but for now hosts sustainability-themed events, vegetable growing, and more. Food served at the Festival will be 75% vegan and 25% vegetarian. There'll be no printed materials – all information will be on the event website where participants can also calculate the carbon emissions of their travel and search for greener alternatives.
As Aleksandra says: "There'll be no goodies, no physical welcome pack: what we're giving is an experience! And hopefully paving the way for more carbon-neutral events throughout the URBACT programme."
"On another note, we cannot ignore the context in which we are launching our Festival registrations. We were expecting to do it in more festive, happier, post-pandemic times. Now, as URBACT community and individually we extend our support to Ukrainian cities and their people, while continuing to work for better cities and European cooperation. We believe it is even more important in those difficult times."
Watch this space for details on the 2022 URBACT City Festival – including registration, up to 11 April, at 12:00 CET.
Follow the hashtag #URBACTfest on Twitter.
And if you don't get a place onsite, visit the Festival website to watch key sessions being live-streamed, get tips on reducing your carbon footprint, and much, much more!
Submitted by URBACT on