Exploring current approaches to strengthen social cohesion in neighbourhoods
CoNet collects, reflects and improves the knowledge about integrated approaches to strengthen social cohesion in neigbourhoods. The knowledge is implemented in innovative local projects espacially in the fields of community life, education, economy and employment.
Integrated approaches do have more impact to improve the situation than traditional sectoral projects. This is highly needed especially in CoNet's concerned deprived urban areas.
The Cohesion network CoNet has three pillars: firstly the work of 11 Local Support Groups working on Local Actionplans. Secondly 11 thematic meetings, one in each partner city and thirdly a city to city project support scheme bringing officers and experts from one city to an other city to ensure a direct transfer of know-how.
See complete overview
See results
Partners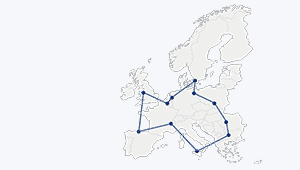 Go to the map
Latest articles
Integrated action plans
An Integrated Action Plan (IAP) is a policy instrument that is produced by Action Planning networks within a period of 12 - 14 months after the beginning of their activities. The aim of the IAP is to respond in a concrete way to a urban challenge, which is common to all involved cities. Each partner city develops its own IAP, so all plans are unique in terms of local circumstances, territorial coverage and, most of all, the context in which this tool is proposed to be implemented. The creation and validation of this instrument relies in a collective undertaking, designed to strengthen commitment and to increase the prospect of sustainable delivery. In this sense, every partner city must establish a URBACT Local Group (ULG), in order to gather implicated stakeholders to co-create and participate in this process.Thus, the IAP reflect and integrate all ULG members' knowledge and learning from transnational exchange.