Creative "Spillovers" for Innovation aims to create a Thematic Network across Europe which will address the challenges of how best to connect cultural and creative industries, including sectors such as audiovisual, design, advertising, architecture and video games, with other sectors, to stimulate the effects of "spill over".
Creative SpIN will set tools and methods to trigger creativity and innovation in businesses and other kinds of public and private organisations by encouraging artists, creative professionals (in advertising, design, architecture), cultural institutions and industries to engage with other sectors to share their competencies and skills.
Significance of the Project
"Creative spillovers" has in most recent  times, come to the forefront of the government's agenda.  Policy makers and theorists alike are of the opinion that Culture and Creative Industries (CCIs) can assist in the delivery of innovative processes by "...generating spillovers that benefit the wider economies of the places where they are located" (NESTA 2010).
The project will therefore aim to inspire a sustainable and integrated approach to 21st century partnership working, by building capacity and empowering cities to unlock a largely untapped resource, promoting inclusiveness to deliver sustainable growth and regeneration.
See complete overview
Partners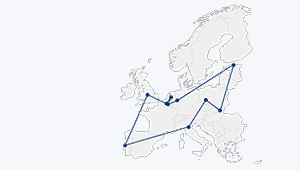 Go to the map
Latest articles
Integrated action plans
An Integrated Action Plan (IAP) is a policy instrument that is produced by Action Planning networks within a period of 12 - 14 months after the beginning of their activities. The aim of the IAP is to respond in a concrete way to a urban challenge, which is common to all involved cities. Each partner city develops its own IAP, so all plans are unique in terms of local circumstances, territorial coverage and, most of all, the context in which this tool is proposed to be implemented. The creation and validation of this instrument relies in a collective undertaking, designed to strengthen commitment and to increase the prospect of sustainable delivery. In this sense, every partner city must establish a URBACT Local Group (ULG), in order to gather implicated stakeholders to co-create and participate in this process.Thus, the IAP reflect and integrate all ULG members' knowledge and learning from transnational exchange.