Cruise activity and the recovery of urban and harbour building heritage: Strong elements of the common interest of sea towns to develop and strengthen the urban tourism sector.
CTUR enquires into how port-cities can be productive and no longer simple transit areas through cruise tourism activity.
This means that one of the issue is also to solve the tensions between port functions and urban functions, to answer to inhabitants' aspiration in terms of employment, quality of life, housing and satisfying offers of equipment and public spaces.
The topic «Cruise traffic and urban regeneration», initially proposed by the city of Naples, registers in the continuity of work conducted from 2005-2007 in the framework of the working group SUDEST, centred on the study of specificities of the sustainable development of port cities.
During this programme, the partners identified a tendency of the port cities to propose city-port interface as a place where are articulated new metropolitan logics and where, in a way, is organized «the future of the port city»
In many projects of waterfront development, cruise activity is offered as a strong element of the port cities will to develop/reinforce the urban tourism industry.
Port cities must invest in a double competition: the one that the ports have to engage in order to catch maritime traffic, and the one that livens up the cities to reinforce their position on the European territory.
This is why cruise activity is the main subject of CTUR project.
See complete overview
See results
Partners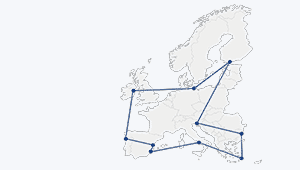 Go to the map
Latest articles
Integrated action plans
An Integrated Action Plan (IAP) is a policy instrument that is produced by Action Planning networks within a period of 12 - 14 months after the beginning of their activities. The aim of the IAP is to respond in a concrete way to a urban challenge, which is common to all involved cities. Each partner city develops its own IAP, so all plans are unique in terms of local circumstances, territorial coverage and, most of all, the context in which this tool is proposed to be implemented. The creation and validation of this instrument relies in a collective undertaking, designed to strengthen commitment and to increase the prospect of sustainable delivery. In this sense, every partner city must establish a URBACT Local Group (ULG), in order to gather implicated stakeholders to co-create and participate in this process.Thus, the IAP reflect and integrate all ULG members' knowledge and learning from transnational exchange.