DIY Integrated Approach: learning from Prinzessinengärten
"Prinzessinnengärten is a new urban place of learning. It is where locals can come together to experiment and discover more about organic food production, biodiversity and climate protection […] to pioneer a new way of living together in the city"
This month I decided to feature the story of Prinzessinengärten, a volunteer-based initiative for an integrated approach to community gardening and city development, which is now famous in Berlin, and written about in local and international media, like Huffington post and New York Times. This experience can be inspiring for many URBACT cities, especially engaging in supporting participatory democracy, climate change, social justice, food justice, equality and environmental justice. Prinzessinen is a source of reflection because despite its great success, it may be in danger. While it attracts a large number of visitors, it runs the risk of turning this lively place of sharing and learning by doing, into simply "another cool spot" to be visited in Berlin, thus undermining the genuine struggle for other forms of urban regeneration in the city. On another front, the land is not secured and the risk of redeveloping this area into something more profitable in the mainstream market is still at the door. I asked Elisabeth Calderon Lüning, member of Common ground association, working in Prinzessinengärten to give URBACT some firsthand insights. Below is an extract from the interview, featured in July 2016 and enriched with information from articles published since the start of the project. 
Discovering Prinzessinengärten
The
Prinzessinengärden
(Princess gardens) is located on the very busy traffic roundabout and just in front of the subway entrance to the U-Bahn, in the middle of the "Kreuzberg 36" neighbourhood in Berlin. There are no signs to enter, but a hidden gate through a metal net covered by overgrown plants and some torn advertisements. As one enters, an absolute wonder of a garden opens up with different herbs and flowers, manicured in large boxes. Information panels show schedules for community gardening and indicate that there are 500 different types of organic vegetable and herbs being grown in the garden, in raised compost beds without any use of pesticides or artificial fertilizers.
"Anyone can participate, or attend workshops on seed harvesting or vegetable pickling"
. Further on through the garden, there is a stand with locally grown organic vegetables, seedlings and second-hand books about gardening; on the side, a cozy booth with handwritten boards display a small library and various second hands objects and clothes inviting you to barter. The kitchen is close-by for homemade delicious vegetarian meals. In the middle of the, circa 600 sm garden, is a grove of high Robinia trees, playing lights and shadows on benches and tables. The noise of traffic and the bustling of the city is forgotten in the greenery in the surroundings, even if it is still in the middle of Berlin.  
The Prinzessinnengarten leases the land at Moritzplatz from the city. The possible privatization of this land could lead to the end of the project or to relocation of the garden to a different site yet undermining the principle of securing the plot of public land out of commercialisation. This year, the garden has a new feature, a three story self-constructed wooden building, for meetings, talks, workshops, exhibition and others. An aerial architecture which blends in the existing garden: a space called die Laube open to neighbours, visitors and whoever is interested in peer-learning. Any reader must be now persuaded that this is not a simple community garden, as in many other spots of Berlin or in other cities worldwide.  Prinzessinengärten is a lot more: a unique example of integrated ecologic community-based regeneration in the middle of a capital European city.
Who is behind Prinzessinengärten and how did it start?
Nomadisch Grün (Nomadic Green), initially a group of friends, neighbours, artists, activists first launched Prinzessinnengärten in 2009 with a collective action reclaiming the space in Moritzplatz against privatisation of public land. The action started  by cleaning up the wasteland, clearing away rubbish and planting organic vegetables in the area. Today Nomadic Grün is a Gemeinnützigen GmbH (non profit Ltd) which leases the land. Besides, there are many people volunteering, and different groups collaborating among which is Common Ground a cultural association that supports the activities in Prinzessinengärten. The initial goal of the pilot was to create a space for growing organic food in a place abandoned for more than half century, providing a space for collective sharing of work, food and ideas, and ultimately for practicing an ecological transformation of the city. "Urban gardens practically demonstrate an ecologically and socially different approach to urban spaces and their inhabitants, enable the social empowerment of marginalized communities, and are places where opportunities for local micro-economies and other economic models are being tested. In an unobtrusive and pragmatic way, such gardens raise the question of how we want to live in our cities in the future" (interview with Marco Clausen Prinzessinen website). 
The initial goal of the pilot programme was to recreate the space, abandoned for more than half a century, into a shared community and shared space for growing organic food, collective sharing of work, food and ideas, and ultimately for a practical approach to transformation to an ecological city. 
From the first pilot the project has grown to a larger size, mainly through the support of a big community of volunteers and funders who ran successful crowdsourcing funds. From the initial activities of common gardening, sharing and selling of locally produced organic food, activities like cultural events, and cross-collaboration with other actors are regularly planned and initiated.
What kind of activities take place at Prinzessinengärten?
Beside gardening and sale of produce, Prinzessinen offers a place for shared learning. The activities are open to all, ranging from sowing, planting, harvesting, processing and preserving vegetables, keeping bees and building a worm compost, as well as developing new building methods for self-construction. Through joint experimentation and the exchange of experiences and knowledge, people learn about biodiversity, urban ecology, climate change, recycling, sustainable consumption and future-oriented forms of urban life. Over the years Prinzessinen has launched a number of activities such as summer camps in urban gardening, youth and the neighbourhood Stadtsafari, cooking with children initiatives, international garden evenings on the culinary diversity in the city, project garden library, workshops on upcycling and recycling, projects on post-fossils mobility, teaching bike repairs,  support  and exchange of projects abroad as in Hamburg, Detroit and New York,  collaboration with local administration and institutions including universities and art school.
Most recently, Prinzessinengärten started the neighbourhood academy, which promotes the idea of constructing the building Laube a space for workshop, training and cultural events. It is a result of collaboration among several actors with the participation of
Asa Sonjasdotter
 a Swedish artist who has been working closely with the garden on biodiversity and the Anstiftung, a foundation that carries out research into commons, do-it-yourself and sustainable regionalisation.
What is the neighbourhood academy and why at neighbourhood level?
After many years of practice, the topic of collective learning became very important: we raised the question on how to learn from practice, from being engaged socially, politically and ecologically in a certain place, from peer-to-peer beyond the institutional learning environment. The experiment Neighborhood Academy started in the summer of 2015. It focuses mostly in Kreuzberg but also in other neighbourhoods which have some affinities in the overall approach and philosophy of Prinzessinengärten. The idea of the Academy lies in the bottom-up development of community-oriented practices. It is all about exchange on HOW to work on the issue of urban land, relationship between urban and the rural, right to the city, and ecological and social transformation. The academy launched a year long program "
City Country Land
" through collaboration with activists, artists, architects, academics, and researchers. It also collaborates with representatives of initiatives from New York, Chicago, Madrid, Paris, Hamburg, Warsaw, Accra, Berlin and Brandenburg  et al  to work on issues of urban and rural resilience, commons, land-politics and social housing,  presenting works and civic initiatives of activists abroad e.g. the right to housing in Barcelona by
Michelle Teran
. The neighbourhood academy collaborates with several local citizens grassroots initiatives in Berlin such as
Stadt von Unten
(large grassroots alliance created around the action to stop the privatisation of publicly owned land in the centre of Berlin, proposing a participated "model project" of social housing with no private property and affordable rents),
Stillestrasse
(A self-managed meeting place for elderly and young people for cultural, sport and political activities), VPS Visual public services with the project
NEWCOMERS
on refugees an local community, et al. More recently in Autumn 2016 the Neighbourhood academy launched a meeting with a network of repair-initiatives in Berlin, bringing together grassroot non profit organisations and groups to share knowledge, researching commons and / or community repair. The participants worked in three different workshops. One group dealt with the scientific assessment of the CO2 savings through repair initiatives, starting from the question: What specific environmental impact does a repair cafe have and how can these be made visible & measurable? The
Kubus Wissenschaftsladen
(Cooperation and Advisory Center for Environmental Questions) a service facility of the
Technische University Berlin
and part of the Central Office for Continuing Education (ZEWK) presented methods and research results. A second workshop at the initiative of the association
Murks? nein danke
! e.V. (a non profit organisation for the rights of consumer) discussed possibilities and ways of joint actions and continuous networking in Berlin under the large framework of cycle management, which is intended to serve the participants as a common vision. The idea is to create a kind of "wholesale market with event area for upcycling" and thus strengthen the networking. The third workshop was designed by BUND Berlin - talking about the team and self-understanding of repair initiatives as well as about conflicts and solutions for repair events. the participants exchanged experiences in organizing and carrying out the events. They shared ways to acquire new helpers, how the network could be structured in a meaningful way. 
Does Prinzessinengärten count on public and/or private funding?
The main goal of the Prinzessinengärten work is low-threshold education and participation and there are no direct funding for managing the garden. The basic economic activities contribute significantly to the financing of the garden and its educational offers through garden gastronomy, gardening, consultations, guided tours, lectures, book production et al. 
Additionally there has been support for workshops and projects developed over the years, major contributions from Anstiftung foundation and recently through an EU project called
MAZI
which is ongoing.
Berlin University of the Arts
collaborate with the Neighborhood Academy/Common Grounds in developing, establishing and testing a MAZI framework that facilitates and supports the creation of local and global neighborhoods through collective learning. MAZI which means "together" in Greek is a project developing a toolkit for building local, community wireless networks calling for Do-It-Yourself networking.
What is the relation with URBACT?
Although there are many differences, in URBACT there are several citiy networks touching upon some of the issues and actions raised by the story of Prinzessinengärten. For example, the network
RESILIENT EUROPE
is looking at the innovative governance approach of Transition Management. Led by the city of
Rotterdam
, this network supports sustainability transitions through a participatory process that enables social learning through iterations between collective vision development and experimenting towards sustainable urban development. The cities in the networks works through living labs methods, involving the participants in analysing socio-economic pressures and the response to those by youth organization and citizen initiatives in co-production processes in the city.
REFILL
is another URBACT network interested in supporting bottom-up initiatives, often resulting in facing various societal challenges and in creating possibilities for social innovation to develop in cities.
BOOSTINNO
a network challenging the cities in redefining social innovation through Open Innation, Living lab, and quadruple Helix approches. 
Concluding remarks
Grassroots initiatives such as Prinzessinen are precious new forms of  radical collective awareness towards socially just urban environments. They might be small scale but they reach out to a wide range of actors and initiatives at the local and international level. In their approach lies a great potential of responding efficiently to some of the big challenges European cities are facing such as climate change, reduction of land consumption, inclusion and participation, food justice, training and community education.  
For those readers familiar with EU funding for cities in Europe such as
ERDF
and
ESF
the question would be why public money are not invested in these kinds of radical forms of innovation such as the one of Prinzessinengärten? 
The clogs of the institutional machines often do not allow to support them, plus decisions at the local level such as the privatisation of land and assets often miss the opportunity of securing prime site in the city out of the mainstream speculative market for commons and civic based initatives. In this case, the often praised "integrated approach" in EU urban policy debates, does not appear on the project proposal, remaining often on the paper, but it is practiced. It develops in the learning by doing, building synergies among sectors, interventions and being intrinsically multistakeholders. Public funds should be devoted to support and stimulate what is already functioning rather than reinventing new empty labels of smartness and social innovation to be promoted by this or that public administration: the case of Prizessinen ultimately concretely shows a different model of democratic and plural urban living from which cities and their institutions should learn from. URBACT cities are on the road for experimenting new venues for rethinking their urban development.
Thanks to Elisabeth Calderon Lüning for the interview she took with me, which provided a lot of material for this article.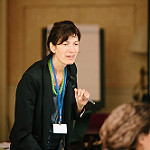 Submitted by Laura Colini on