The first objective of the EGTC URBACT project is to promote the development of cross-border urban development strategy.
The EGTC project works on the promotion of innovative governance tools in a panel of cross-border agglomerations. Whereas some cross-border conurbations are quite in advance in the governance process, other ones, especially from the new Member States, need good practices as model, to be adapted to their own context. The "EGTC" URBACT project aims to enable stakeholders of urban development in cross-border conurbations to exchange on governance methods regarding any kind of projects, strategies (from observation, urban planning, operational projects to cross-border integrated urban strategies), different legal tools (cross-border convention, common structures, public and private partnerships…), and to identify concrete results, success and failure, so as to improve cross-border cooperation (institutionally, legally, financially…).

The European grouping of territorial cooperation (EGTC), the new European instrument, is today the only legal tool allowing multi-level governance including national authorities when necessary. The "EGTC" URBACT aims to study how it could become a European tool of reference to support governance of cross-border conurbations
See complete overview
Partners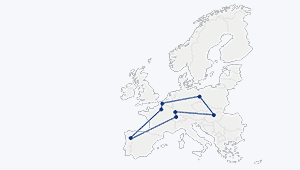 Go to the map
Latest articles
Integrated action plans
An Integrated Action Plan (IAP) is a policy instrument that is produced by Action Planning networks within a period of 12 - 14 months after the beginning of their activities. The aim of the IAP is to respond in a concrete way to a urban challenge, which is common to all involved cities. Each partner city develops its own IAP, so all plans are unique in terms of local circumstances, territorial coverage and, most of all, the context in which this tool is proposed to be implemented. The creation and validation of this instrument relies in a collective undertaking, designed to strengthen commitment and to increase the prospect of sustainable delivery. In this sense, every partner city must establish a URBACT Local Group (ULG), in order to gather implicated stakeholders to co-create and participate in this process.Thus, the IAP reflect and integrate all ULG members' knowledge and learning from transnational exchange.