How medium sized cities can generate new employment opportunities, prepare workers for jobs, and address mismatches between the supply of labour and demand for workers
ESIMeC brings together eight medium sized cities from across Europe that share similar challenges and priorities.
The main aim of ESIMeC is to develop innovative economic strategies that capitalise on the assets and specificities of medium sized cities to ensure they are better equipped to cope with economic downturns and to encourage faster economic recovery as well as long term economic growth and resilience.
See complete overview
See results
Partners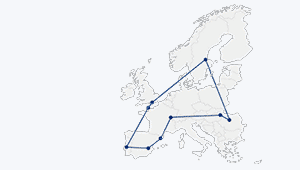 Go to the map
Integrated Action Plans
Within an Action Planning Network, the Integrated Action Plan is a local output, specific to each city. Thus, the local circumstances, as the concrete actions to be carried out in response to the network's sustainable development challenges, are defined by the URBACT Local Group. This core group is composed by a wide range of relevant stakeholders, who have a stake in the addressed challenge and who play an active role in co-designing the plan alongside the project partner. This document is the result of the interplay between the theme, each city's starting point and its individual URBACT journey. It highlights the positive learning experience cities have undertaken, both from a local and a transnational perspective.