Electric Vehicles in Urban Europe (EVUE) focuses on the development of integrated, sustainable strategies and dynamic leadership techniques for cities to promote the use of electric vehicles. Urban initiatives to encourage the public and business to use EV's will contribute to EU clean air and car fleets targets, making cities more attractive and competitive.  Between 2009 and 2013, nine citiesacross Europe: Beja, Katowice, Frankfurt, Lisbon, London, Madrid, Oslo, Stockholm, Suceava and Zografou, supported by the URBACT programme, worked together to share knowledge and experience of how EVs can be implemented in the urban environment under the EVUE project.  Further activity has been undertaken through Pilot Delivery Network funding to look at the outcomes from the Local Action Plan process. EVUE II concludes in March 2015.
Partners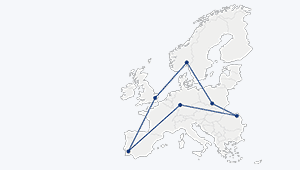 Go to the map
Integrated action plans
An Integrated Action Plan (IAP) is a policy instrument that is produced by Action Planning networks within a period of 12 - 14 months after the beginning of their activities. The aim of the IAP is to respond in a concrete way to a urban challenge, which is common to all involved cities. Each partner city develops its own IAP, so all plans are unique in terms of local circumstances, territorial coverage and, most of all, the context in which this tool is proposed to be implemented. The creation and validation of this instrument relies in a collective undertaking, designed to strengthen commitment and to increase the prospect of sustainable delivery. In this sense, every partner city must establish a URBACT Local Group (ULG), in order to gather implicated stakeholders to co-create and participate in this process.Thus, the IAP reflect and integrate all ULG members' knowledge and learning from transnational exchange.