Our project will transfer a leading edge Open Innovation approach where citizens and businesses work together with the city, creating innovative solutions to city challenges via an online collaboration platform; GeniUS! 
In a time of unprecedented change for cities, with financial resources reducing rapidly, it is imperative we find new ways of operating. We must source ideas from outside the traditional city council structure and couple this with a different culture and working practice within the city council itself.
Our online collaboration platform enables exchange of ideas between residents, communities, companies and academics. This is coupled with a completely new style of collaborative event ("Synergy Surgery"), to provide a systematic solution for solving city challenges.
See complete overview
Partners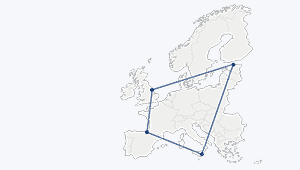 Go to the map
Integrated action plans
An Integrated Action Plan (IAP) is a policy instrument that is produced by Action Planning networks within a period of 12 - 14 months after the beginning of their activities. The aim of the IAP is to respond in a concrete way to a urban challenge, which is common to all involved cities. Each partner city develops its own IAP, so all plans are unique in terms of local circumstances, territorial coverage and, most of all, the context in which this tool is proposed to be implemented. The creation and validation of this instrument relies in a collective undertaking, designed to strengthen commitment and to increase the prospect of sustainable delivery. In this sense, every partner city must establish a URBACT Local Group (ULG), in order to gather implicated stakeholders to co-create and participate in this process.Thus, the IAP reflect and integrate all ULG members' knowledge and learning from transnational exchange.