Exchange knowledge, tools and expertise to promote active & healthy ageing and age-friendly environments in cities.
The Municipality of Udine, which joint the "Healthy Cities" Project in 1995, is strongly committed on the theme of Healthy and Active Ageing since 9 years. In such a long period the staff and the experts involved acquired a clear vision of the processes, conditions and actors needed to achieve the results described above. By working within the WHO Network of Healthy Cities, Udine has developed a number of guides and manuals which are useful tools both to describe the good practice and to help receiving cities in transferring it. 
See complete overview
Partners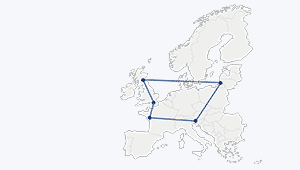 Go to the map
Latest articles
Learning Logs
Transfer cities had ups and downs when understanding, adapting, re-using and even improving URBACT Good Practices. STAY TUNED TO CHECK ALL LEARNING LOGS, documents sharing the knowledge and lessons learnt al local level that will be AVAILABLE SOON.