A European Network of Local Partnerships for the Advancement of Youth Employment and Opportunity
Youth unemployment and inactivity is an enormous structural problem across Europe; moreover, too much of what employment there is for youth is of low quality, precarious and leads nowhere.
These problems have been drastically worsened by the current economic crisis, which has disproportionately affected young people; in some parts of Europe youth unemployment has reached catastrophic levels.
This project seeks to address structural youth unemployment and poor employment, by establishing Local Partnerships for the advancement of Youth Employment and Opportunities, driven by city administrations, of local stakeholders, to advance youth employment and opportunities, as an approach to the development and maintaining of a competitive and sustainable local economy and social model.
See complete overview
Partners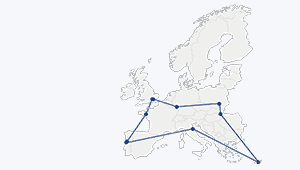 Go to the map
Integrated Action Plans
Within an Action Planning Network, the Integrated Action Plan is a local output, specific to each city. Thus, the local circumstances, as the concrete actions to be carried out in response to the network's sustainable development challenges, are defined by the URBACT Local Group. This core group is composed by a wide range of relevant stakeholders, who have a stake in the addressed challenge and who play an active role in co-designing the plan alongside the project partner. This document is the result of the interplay between the theme, each city's starting point and its individual URBACT journey. It highlights the positive learning experience cities have undertaken, both from a local and a transnational perspective.
Kaiserslautern University