JOINING FORCES aims at exploring how strategy making and governance arrangements at city-region scale can help to effectively address the main challenges faced by urban Europe: competitiveness, cohesion, and sustainability.
JOINING FORCES is an Urbact Working Group that brings together 8 partners: Brno, Brussels-Capital Region, Burgas, Eindhoven, Florence, Krakow, Lille Metropole, and Seville.
All over Europe, metropolitan areas / city-regions are increasingly recognised, even by local authorities, as the "real city" level, the right one for developing more effective governance and strategy developments. Achieving successful cooperation between cities and their surrounding areas is obviously crucial to improve local cohesion, but even more to increase territorial competitiveness and sustainability.
The project aims at describing and analysing partners' situations in order to propose conclusions and suitable recommendations to the local / regional / national / European authorities on governance at city-region level. This theme will be considered through different aspects: 
Strategy and spatial planning
Mobility management and transport
Main environmental issues: water supply, waste disposal, etc.
Knowledge economy (creativity, research and education)
Governance (public / public & public / private arrangements
Social inclusion, participation, empowerment
Attractiveness & Competitiveness (including promotion / marketing)
See complete overview
Partners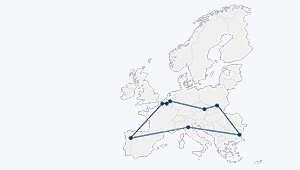 Go to the map
Integrated action plans
An Integrated Action Plan (IAP) is a policy instrument that is produced by Action Planning Networks within a period of 12-14 months after the beginning of their activities. The aim of the IAP is to respond in a concrete way to a urban challenge, which is common to all involved cities. Each partner develops its own IAP, so all plans are unique in terms of local circumstances, territorial coverage and, most of all, the context in which this tool is proposed to be implemented. The creation and validation of this instrument relies in a collective undertaking, designed to strengthen commitment and to increase the prospect of sustainable delivery. In this sense, every partner city must establish a URBACT Local Group (ULG), in order to gather implicated stakeholders to co-create and participate in this process.Thus, the IAP reflects and integrates all ULG members' knowledge and learning from transnational exchange.