A working group to facilitate the implementation of integrated sustainable urban development according to the Leipzig Charter.
The project was initiated by the "Leipzig Charter" follow-up process, the development of a "Reference framework for a sustainable city" according to a decision taken at the Informal Ministerial Meeting in Marseille 2008. The ideas of the Leipzig Charter, to reach a sustainable urban development by means of a city-wide integrated approach and by a focus on deprived neighbourhoods, was to be underlined by this non-binding tool for cities.
The work on the Reference framework is done by a European working group with representatives of Member States and European Institutions. In this context the LC-FACIL working group was set up as a "local testing ground" and brings in the partner cities' experience with strategies and instruments on integrated, sustainable urban development, which shall help to define a tool according to the local needs.
Hence the main focus of the project - apart of it's role as "testing ground" - is to interrogate the current status of implementation of integrated sustainable urban development socially (e.g. integration, labour market, skills), economically (e.g. mobility, cities as engines of regional growth), in physical renewal and environmental aspects (e.g. climate change).
A final result shall be a common understanding of the necessary tool set for integrated urban development according to the Leipzig Charter.
See complete overview
See results
Partners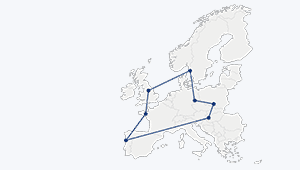 Go to the map
Integrated Action Plans
Within an Action Planning Network, the Integrated Action Plan is a local output, specific to each city. Thus, the local circumstances, as the concrete actions to be carried out in response to the network's sustainable development challenges, are defined by the URBACT Local Group. This core group is composed by a wide range of relevant stakeholders, who have a stake in the addressed challenge and who play an active role in co-designing the plan alongside the project partner. This document is the result of the interplay between the theme, each city's starting point and its individual URBACT journey. It highlights the positive learning experience cities have undertaken, both from a local and a transnational perspective.