Sandra Rainero shares her passion for the ONSTAGE Transfer Network where communities let arts and culture bring them together. Music to our ears...
Imagine...
Imagine to be at the RCDE Stadium on a late-spring afternoon in Barcelona. Almost 10.000 people have queued for some time to be there. The players are on the field, there are over 5000 of them. Amongst them, Nyah, a 15 year - old from Bolivia, is ready to play … but don't be fooled … there's no referee whistling the kick-off tonight. The crowd has gathered for a musical performance in celebration of the 25th anniversary of the Catalan Association of Music Schools. Nyah has been playing the bassoon for six years, an instrument she discovered at the Ramon y Cajal primary school, then at the Escola Municipal de Música Centre de les Arts (EMMCA).
Based in L'Hospitalet de Llobregat, the city where it was founded in 2005 as a municipal service for the arts, the school is the result of a clear integrated cultural, educational and social policy for the city. It represents the long-standing vision of the municipality about the transformational power of music and performing arts in the lives of people and the making of the city itself. You may say they are dreamers, but they are not the only ones: this is tuning-up for the URBACT ONSTAGE Transfer Network (TN) performance.

It's a kind of... music school
With a population of over one-quarter million, the highest rate of population density in Europe and almost 30% of its residents with a migrant background, L'Hospitalet faces several challenges and divides, in social, economic and physical terms. The main North-South train line cuts the city into two big blocks and many of the 12 neighborhoods are ethnically segregated with high poverty rates.
In 2004, people were in the street, picketing the city hall and requesting a public music school. "They had in mind the traditional music school, like the Conservatory," recalls Nuria Sempere, Director of the EMMCA, "but if we had to create a municipal service for music education, it had to be a unique model, one that is open and innovative." So, when the school opened in May 2005, the city council was not only cutting the ribbon for a new Performing Arts Center, but it also inaugurated a steadfast policy of citizens' participation in the realm of cultural and artistic expressions.
Performing arts as a tool for inclusion
The municipal music school or, as the EMMCA team eagerly refers to, the arts public service, has a multi-dimensional field of action that uses performing arts as a tool for inclusion and social change. It has developed an innovative methodology, engaging civil society and ensuring equal opportunities for all L'Hospitalet citizens to access its courses. It offers group classes to all residents in its main building, it carries out curricular performing arts activities in primary schools, it lends instruments to its students, and grants special prices to those who cannot afford to pay full fees.
The EMMCA has the ambition to be a mirror of the diversity of the city, to represent – in cultural terms - the social and human fabric that makes it. The Symphony Orchestra of the EMMCA is like many others in terms of performance skills, but it is the only one with 29% of performers with a migrant background, the same rate of people from non-EU origin living in the whole city. It relies on proximity of space and people: the city becomes a playhouse in neighborhoods where the gigs build community and sometimes audiences become the next performers.

Children's academic results improve
Students attending the EMMCA's activities "make music "rather than "know or learn music." The hands-on teaching techniques, adapted from established methods of non-formal education in the cultural field, are always in group sessions. Musical and performing capabilities support basic competences, endowing students with life skills rather than "exclusive" technical skills.
Out of the 59 primary schools in the city, the EMMCA has chosen to provide performing arts lessons in 12 public primary schools categorized as "High Complexity Schools", because of the high percentage of students coming from low-income households, most of them with refugee or migrant backgrounds - or other forms of disadvantage.
Creating a curricular program of performing arts in public schools has not been easy. "There's a social issue here, we argued with the regional education board" states the EMMCA director, "we told them: these schools have lower school attainment scores, we are losing these kids. As a public administration we should do something …and they said, 'Go ahead!'" A strenuous process of adaptation to the school's environment and regulations has been necessary to run these programs.
And indeed, an impact assessment demonstrates that EMMCA has made a big difference. According to the 2015-2016 data, students involved in the EMMCA program had better results in 7th grade exams than those in similar schools not participating in the programs. Higher scores were recorded in most statutory subjects, and especially maths.
From Catalonia to Europe with (Gipsy) swing.
Thirteen years, over 50.000 participants and a lot of Manouche Jazz later, the EMMCA is now embarking on the URBACT adventure to share its policy and cohesion accomplishments, and to pick other cities' brains for improving its services. Says Nuria Sempere with a confident tone, "It is the first time that we have the opportunity to use EU funds not to increase our activities or users, but to think, exchange and learn... to improve our public service by means of cooperation with other cities in Europe."
Six other cities are now involved in the URBACT TN ONSTAGE. Adelfias' Music'n'play and Valongo's living library are also URBACT good practice cities, both leveraging arts and culture for community building and equal opportunities, and enjoyment of cultural and artistic practice. "We are the smallest city in the transfer network" says Maria Cesaria Giordano, Councilor of the Municipality of Adelfia, "and that is why we want to grow and improve our social practices by observing larger municipalities like L'Hospitalet."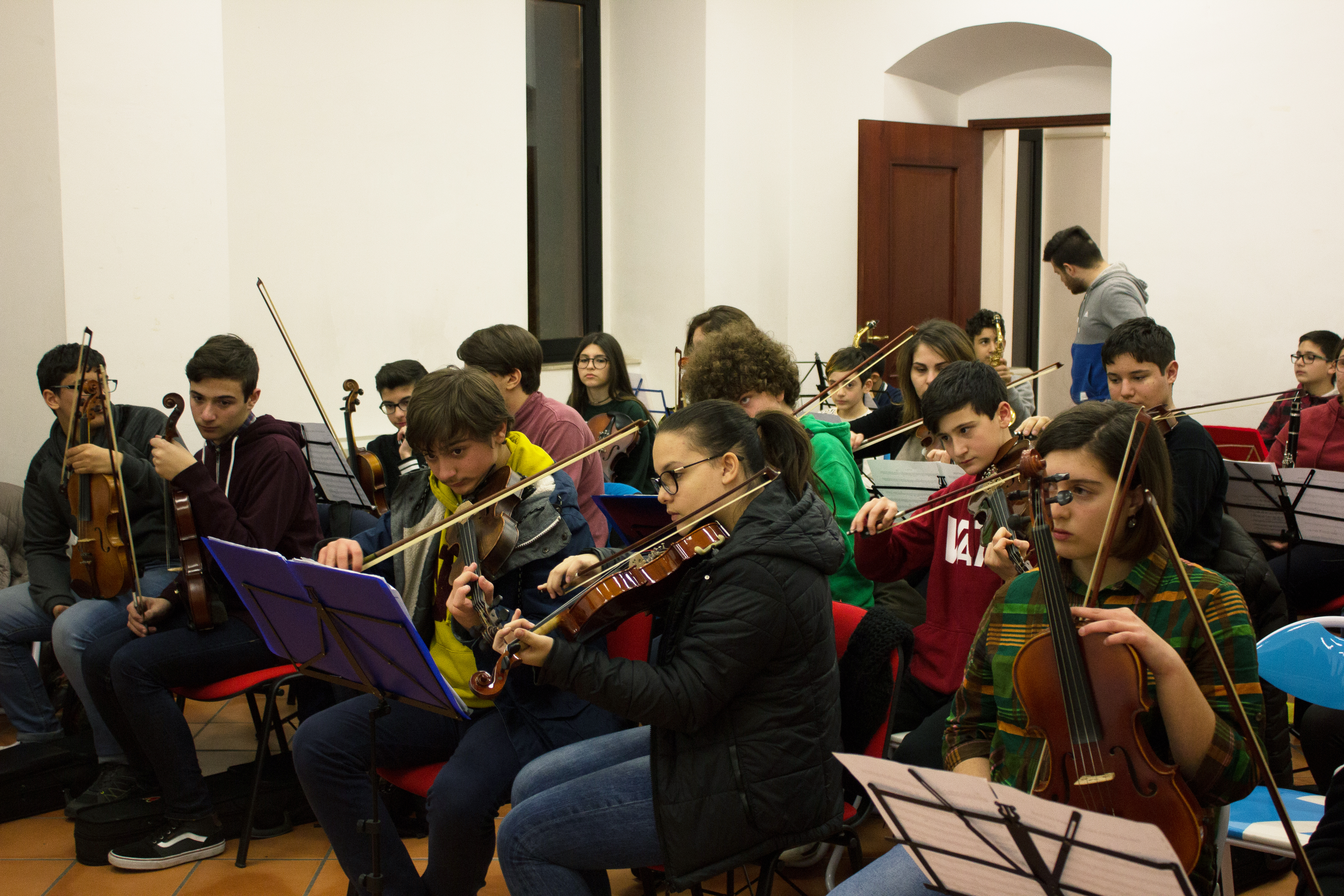 Three cities are small and medium-sized municipalities located – like L'Hospitalet – at the outskirts of larger metropolitan areas: Adelfia (pop. 17.200 c. in the metropolitan area of Bari in Italy), Grigny (pop. 27.000 c.in Essonne on the Parisian belt) and Valongo (pop. 95.400 c., in the metropolitan area surrounding Porto, Portugal). These cities, each with distinguishing characters, share the challenge of economic disparities, migration and ethnic diversity, ageing, and fewer employment opportunities. All factors leading to segregated communities.
"We, from the periphery of large cities, deal with the issue of identity everyday" passionately maintains Josè Manuel Ribeiro, president of the city council of Valongo, "culture can help us counteract loss of identity, and create our identity as a city."
"Grigny has been notoriously popular on the press because of riots in its banlieues" acknowledges Edgar Solmi, director of the Conservatoire Communal of Grigny, "so elected representatives have been developing innovative cultural initiatives to change the city's negative image. It has been successful and reflects the inventive abilities of Grigny's inhabitants."
The three other network cities are vibrant mid-size cities in the Northern and Eastern European countries: Aarhus (pop. 341.500 c.) and Brno (pop. 386.000 c.) both second largest cities respectively in Denmark and Czechia, and Katowice in Poland (pop. 297.000 c.). All have lively cultural and music scene and economy. Both Brno and Katowice are UNESCO Creative cities and are planning to use the TN to improve the link between music and cohesion, using the EMMCA's approach to create programs in primary schools with a high number of socially disadvantaged students or foreigners.
Aarhus's municipal school inspired L'Hospitalet to start their own "The participation in this network is part of the framework narrative about Aarhus, a city with room for diversity where community is in focus" says director of the municipal school Lars-Ole Vestergaard.
All together now
What swayed these cities into joining ONSTAGE is three-fold: first, the concept of a music and arts school as a public service to nurture cultural capabilities for all and social change to create a more equitable and cohesive city; second, the capability to "infiltrate" the formal education system and become part of it, contributing to school accomplishments using non-formal musical and artistic practice to empower and develop basic life skills from an early age; and equally, the use of a sound impact assessment system that can measure - in qualitative and quantitative terms - the success of the service towards this policy vison.
These three elements of the practice will be transferred through a methodology that is currently being developed by the Transfer Network. For the next 24 months the network will work on finding strategies and methods to transfer a practice that is part and parcel of the New Urban Agenda. Culture and cultural diversity enrich and support the sustainable development of the city and – most importantly - of its citizens "empowering them to play an active and unique role in development initiatives" as the Quito Declaration on Sustainable Cities and Human Settlements for All recites.
Changing lives
EMMCA changed Nyah's life. Not only does she play in the Band, she also speaks good Catalan, goes to school and has made new friends, she has become an active citizen and has a lot to look forward to in her life in L'Hospitalet.
It is the many stories like Nyah's that characterize EMMCA as a good practice for URBACT. Such vision sees music, performing arts and culture not purely as an 'end' that can be achieved by those who have power and talent, but rather as an instrumental 'tool' for social transformation, both personal and collective, to foster cohesion and democratic values for everyone in the city: women and men, from preschoolers to octogenarians - from all walks of life.
L'Hospitalet and the six URBACT Transfer Network cities recognize that performing arts and cultural activities define the city itself, its people, its distinct and unique culture while bringing people together – onstage.
***
Visit the network's page: ONSTAGE
Submitted by Sandra Rainero on