Land Use Management forSustainable European Cities
LUMASEC deals with strategic land use management, as it is one of the most important topics for competitiveness, attractiveness and sustainability of European city-regions. Today, a definition of strategies of land use implementation is limited, and therefore the recycling processes of urban brownfields are inefficient. Strategic planning is mostly unable to manage land use.
LUMASEC focuses on both the strategic level (strategic planning methods, process of cooperation between public and private bodies, fiscal measures and observation tools) and the operational level (actions plans related to case studies) of land use management. Furthermore, LUMASEC will elaborate strategies, methods, tools and practical recommendations.
See complete overview
Partners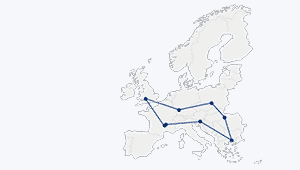 Go to the map
Integrated Action Plans
Within an Action Planning Network, the Integrated Action Plan is a local output, specific to each city. Thus, the local circumstances, as the concrete actions to be carried out in response to the network's sustainable development challenges, are defined by the URBACT Local Group. This core group is composed by a wide range of relevant stakeholders, who have a stake in the addressed challenge and who play an active role in co-designing the plan alongside the project partner. This document is the result of the interplay between the theme, each city's starting point and its individual URBACT journey. It highlights the positive learning experience cities have undertaken, both from a local and a transnational perspective.
Universität Karlsruhe (Th)