Land Use Management forSustainable European Cities
LUMASEC deals with strategic land use management, as it is one of the most important topics for competitiveness, attractiveness and sustainability of European city-regions. Today, a definition of strategies of land use implementation is limited, and therefore the recycling processes of urban brownfields are inefficient. Strategic planning is mostly unable to manage land use.
LUMASEC focuses on both the strategic level (strategic planning methods, process of cooperation between public and private bodies, fiscal measures and observation tools) and the operational level (actions plans related to case studies) of land use management. Furthermore, LUMASEC will elaborate strategies, methods, tools and practical recommendations.
See complete overview
Partners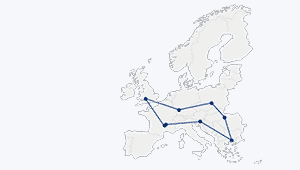 Go to the map
Integrated action plans
An Integrated Action Plan (IAP) is a policy instrument that is produced by Action Planning networks within a period of 12 - 14 months after the beginning of their activities. The aim of the IAP is to respond in a concrete way to a urban challenge, which is common to all involved cities. Each partner city develops its own IAP, so all plans are unique in terms of local circumstances, territorial coverage and, most of all, the context in which this tool is proposed to be implemented. The creation and validation of this instrument relies in a collective undertaking, designed to strengthen commitment and to increase the prospect of sustainable delivery. In this sense, every partner city must establish a URBACT Local Group (ULG), in order to gather implicated stakeholders to co-create and participate in this process.Thus, the IAP reflect and integrate all ULG members' knowledge and learning from transnational exchange.
Universität Karlsruhe (Th)