The Key ideas of MY GENERATION
MY GENERATION is about promoting the potential of the young in cities.
MY GENERATION does this by:
(1) Developing new insights into the youth lifestyles and aspirations of the young
(2) Fostering genuine youth involvement throughout the project 
(3) Providing positive activity and career alternatives 
(4) Promoting boundary crossing collaboration of various actors and services, particularly local communities, education, business and public officials 
(5) Developing and disseminating good practices of engagement and contact 
(6) Underpinning the above with effective and relevant local action plans and strategies 
The young themselves are at the core, and the contacts to, and between local communities, education and employment will provide opportunities and resources for positive solutions.
See complete overview
See results
Partners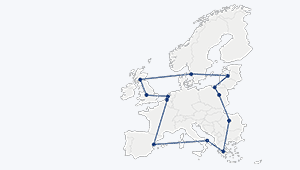 Go to the map
Integrated action plans
An Integrated Action Plan (IAP) is a policy instrument that is produced by Action Planning Networks within a period of 12-14 months after the beginning of their activities. The aim of the IAP is to respond in a concrete way to a urban challenge, which is common to all involved cities. Each partner develops its own IAP, so all plans are unique in terms of local circumstances, territorial coverage and, most of all, the context in which this tool is proposed to be implemented. The creation and validation of this instrument relies in a collective undertaking, designed to strengthen commitment and to increase the prospect of sustainable delivery. In this sense, every partner city must establish a URBACT Local Group (ULG), in order to gather implicated stakeholders to co-create and participate in this process.Thus, the IAP reflects and integrates all ULG members' knowledge and learning from transnational exchange.