Develop and implement new integrated strategies for a sustainable development at neighbourhood level.

URBACT RegGov Final Conference 2011 par urbactSome European cities and regions, like Duisburg and North Rhine-Westphalia, have gained long-lasting experiences in trustful and efficient co-operation between cities and their regional authorities. For other European partners, such co-operation constitutes a new challenge.

The RegGov Network brings together both types of partners, involving cities from Northern, Western, Southern and Eastern Europe. It intends to use the expertise and know-how which is available amongst the RegGov Network-partners to support the development of new and improved forms of co-operation on the local level as well as between the local and the regional level.

For each city, a tailor-made Governance Model and an Integrated Local Action Plan for (at least) one of the city's most deprived neighbourhoods will be developed. This will be done in close co-operation between the City and the Regional Authority and with a strong involvement of local stakeholders from the target neighbourhoods. The co-ordination of all relevant key players in urban and neighbourhood development is an important topic.

The European Commission has assigned the Fast Track Label to the RegGov Network which is an additional incentive for a particularly close co-operation between the Partner Cities and their Managing Authorities when elaborating Local Action Plans.
See complete overview
See results
Partners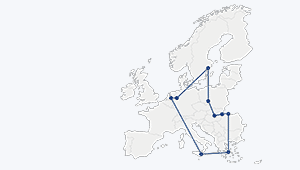 Go to the map
Latest articles
Integrated Action Plans
Within an Action Planning Network, the Integrated Action Plan is a local output, specific to each city. Thus, the local circumstances, as the concrete actions to be carried out in response to the network's sustainable development challenges, are defined by the URBACT Local Group. This core group is composed by a wide range of relevant stakeholders, who have a stake in the addressed challenge and who play an active role in co-designing the plan alongside the project partner. This document is the result of the interplay between the theme, each city's starting point and its individual URBACT journey. It highlights the positive learning experience cities have undertaken, both from a local and a transnational perspective.