Integration of Roma populations is the focus of our Roma-Net project.  The common challenge of our partnership is how to overcome negative attitudes, how to improve consultation and engagement with the Roma community.
Despite efforts at local, national and European levels Roma populations continue to face high levels of social exclusion and poverty.  Partners of the project believe that integration of Roma populations is a key factor in a cohesive society, as well as in delivering the goals of the Lisbon Strategy.
The Roma-Net partners have a united desire to share expertise and to spread good practices in the hope that it will improve local policy development and deliver capabilities for stronger community cohesion between Roma and their neighbouring communities accross the whole citiy.
An overarching objective of our partnership of nine European cities is to inform and support our City partners to develop local action plans that facilitate better services, through improved access and integrated approach, to support the social inclusion of young Roma and their transition into active adult citizens.
Change comes from step-by-step inclusive approach. As Roma-Net partners, young adults will motivate positive change and provide insight into the barriers and challenges caused by social exclusion. 
See complete overview
See results
Partners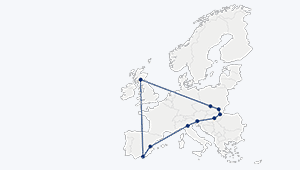 Go to the map
Integrated Action Plans
Within an Action Planning Network, the Integrated Action Plan is a local output, specific to each city. Thus, the local circumstances, as the concrete actions to be carried out in response to the network's sustainable development challenges, are defined by the URBACT Local Group. This core group is composed by a wide range of relevant stakeholders, who have a stake in the addressed challenge and who play an active role in co-designing the plan alongside the project partner. This document is the result of the interplay between the theme, each city's starting point and its individual URBACT journey. It highlights the positive learning experience cities have undertaken, both from a local and a transnational perspective.