ROMA-NeT URBACT II project was established to create a new approach to stimulate information sharing and development across the complex Roma integration policy and operational environment in nine European cities.
Now six of the nine cities gathered in a delivery phase of ROMA-NeT that will continue the participatory approach working with key local stakeholders as they move forward with local delivery of the Roma inclusion action plans focusing on improved access to education, health, housing, services and to stimulate employment opportunities for working age Roma. We will use transnational exchange to build local, national and European policy influencing capacity and to strengthen local implementation management and monitoring structures.
Roma-NeT II project builds on the outcome and results of the Roma-NeT URBACT II project that aimed to motivate cities to develop integrated local actions plans to improve local service delivery towards Roma populations by making services more accessible, by motivating more active participation from Roma communities and by introducing new interventions. By the end of the implementation phase ROMA-NeT LSG members learned a lot about the core themes of Roma inclusion and about the need for a step by step integrated approach, for partnership working and for active involvement of Roma  and LSGs in all nine cities each had created a local action plan, approved by local authorities.  The local action plans set out the priorities and future local actions that would be generated to tackle Roma exclusion and motivate more active Roma involvement in their localities.

The implementation phase of ROMA-NeT ended in January 2013 and since then partners have been progressing with implementation of local actions.  The approaches applied are different in each city, but all focus on the issues of supporting and improving access to education, health, housing, services and to stimulate employment opportunities for working age Roma. The local support groups have continued to meet in the partner cities. A core action for each is to motivate active involvement of Roma people in the local support groups and in the creation of local service responses.
See complete overview
Partners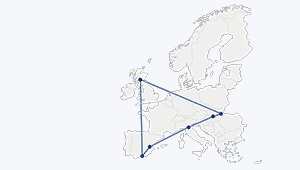 Go to the map
Latest articles
Integrated action plans
An Integrated Action Plan (IAP) is a policy instrument that is produced by Action Planning Networks within a period of 12-14 months after the beginning of their activities. The aim of the IAP is to respond in a concrete way to a urban challenge, which is common to all involved cities. Each partner develops its own IAP, so all plans are unique in terms of local circumstances, territorial coverage and, most of all, the context in which this tool is proposed to be implemented. The creation and validation of this instrument relies in a collective undertaking, designed to strengthen commitment and to increase the prospect of sustainable delivery. In this sense, every partner city must establish a URBACT Local Group (ULG), in order to gather implicated stakeholders to co-create and participate in this process.Thus, the IAP reflects and integrates all ULG members' knowledge and learning from transnational exchange.