Social inclusion and well being in cities can hardly be reached without close cooperation between public authorities, citizens and private stakeholders following a principle of co-responsibility.
In a context of economic crisis, the situations of unemployment and social exclusion are more and more common. To face this phenomenon, the solutions that are needed cannot be only based on economic resources but should also take into account the citizens themselves for job creation through social links, the pooling of efforts and the seeking for innovative solutions based on local needs. So to say, the search for solutions to the crisis should be better shared between public authorities, economic stakeholders, etc...
Considering this, a certain number of European cities have developed in the past years, impelled by the Council of Europe, the idea of promoting the co-responsibility of actors (public authorities, companies, associations, citizens, etc.) to provide the well-being of all and to avoid situations of exclusion. They use for this a methodology of building indicators of well-being with the citizens themselves, the methodology SPIRAL (https://spiral.cws.coe.int). This methodology enables to define ways of progress towards the well-being of all, to identify the situations of exclusion not only based on material criteria, but also immaterial ones. The goal is to enlarge the impact of public and private actions considering these criteria and to develop pilot actions of social inclusion around the idea of co-responsibility of the actors themselves. The coordination of these activities is provided by a steering committee regrouping the representatives of all local stakeholders (municipality, public services, companies, associations, citizens, etc.).

This approach has allowed to launch innovative pilot actions of social inclusion for overextended people, long-term unemployed people, basic guaranteed income beneficiaries, children and young people of disadvantaged neighborhoods or districts, children failing at school (approach applied in high schools) and on specific themes such as access to housing.
It has also allowed to enlarge the concept of social inclusion over the economic exclusion to take into account the ill-being in its different dimensions, such as ill-being at work (using the approach in companies), at school or in the neighborhood's life. It has finally allowed to work on co-responsibility considering the well-being of future generations (environmental challenge), particularly with concerted pilot action of sustainable consumption according to the local climate plan and agenda 21.
See complete overview
See results
Partners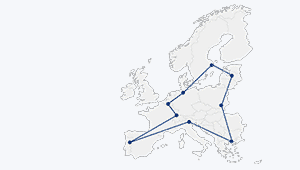 Go to the map
Integrated action plans
An Integrated Action Plan (IAP) is a policy instrument that is produced by Action Planning networks within a period of 12 - 14 months after the beginning of their activities. The aim of the IAP is to respond in a concrete way to a urban challenge, which is common to all involved cities. Each partner city develops its own IAP, so all plans are unique in terms of local circumstances, territorial coverage and, most of all, the context in which this tool is proposed to be implemented. The creation and validation of this instrument relies in a collective undertaking, designed to strengthen commitment and to increase the prospect of sustainable delivery. In this sense, every partner city must establish a URBACT Local Group (ULG), in order to gather implicated stakeholders to co-create and participate in this process.Thus, the IAP reflect and integrate all ULG members' knowledge and learning from transnational exchange.