Transnational Meeting Bielsko-Biala: 11-12 December 2019
Edited on
22 January 2020
On the 11th and 12th of December 2019, the Welcoming International Talent project was hosted by the Polish city of Bielsko-Biala. These two days, we discussed the situation in Bielsko-Biala with regard to the attraction and integration of international talents and what role the labour market plays in this issue. Jan Kees of the city of Groningen shares his experience of this promising city in the South Silesian region of Poland.
Walking to the City-hall from Bielsko Biala, it immediately struck me that this city has a rich history with a mix of cultures. You'll see the Polish history, you'll see the influence of the German speaking population, Austrian influences and and you'll see witness of the pre-war Jewish population. Can BB remain such a multi-cultured city in the future?
The joined cities of Bielsko and Biala, located in the South Silesian region of Poland, has a tradition of industrialization. From early age on, it was a rich region, with a textile industry, and even heavy industry to produce the necessary machinery for other industry. Nowadays, BB is a center for automotive industry. Fiat-GM has a nearby plant, and many of the suppliers, such as ZF, are located in the area. Economically speaking, BB does very well, unemployment is extremely low, below EU-average.
This is also the Achilles heel. BB needs a steady supply of craftsmen and workers for their factories and businesses. The wages in BB are low (which attracts foreign investment), so many of the well educated younger locals have migrated either to the larger cities, such as nearby Katowice and Krakow, or to Western Europe. BB is looking to the east for international talent!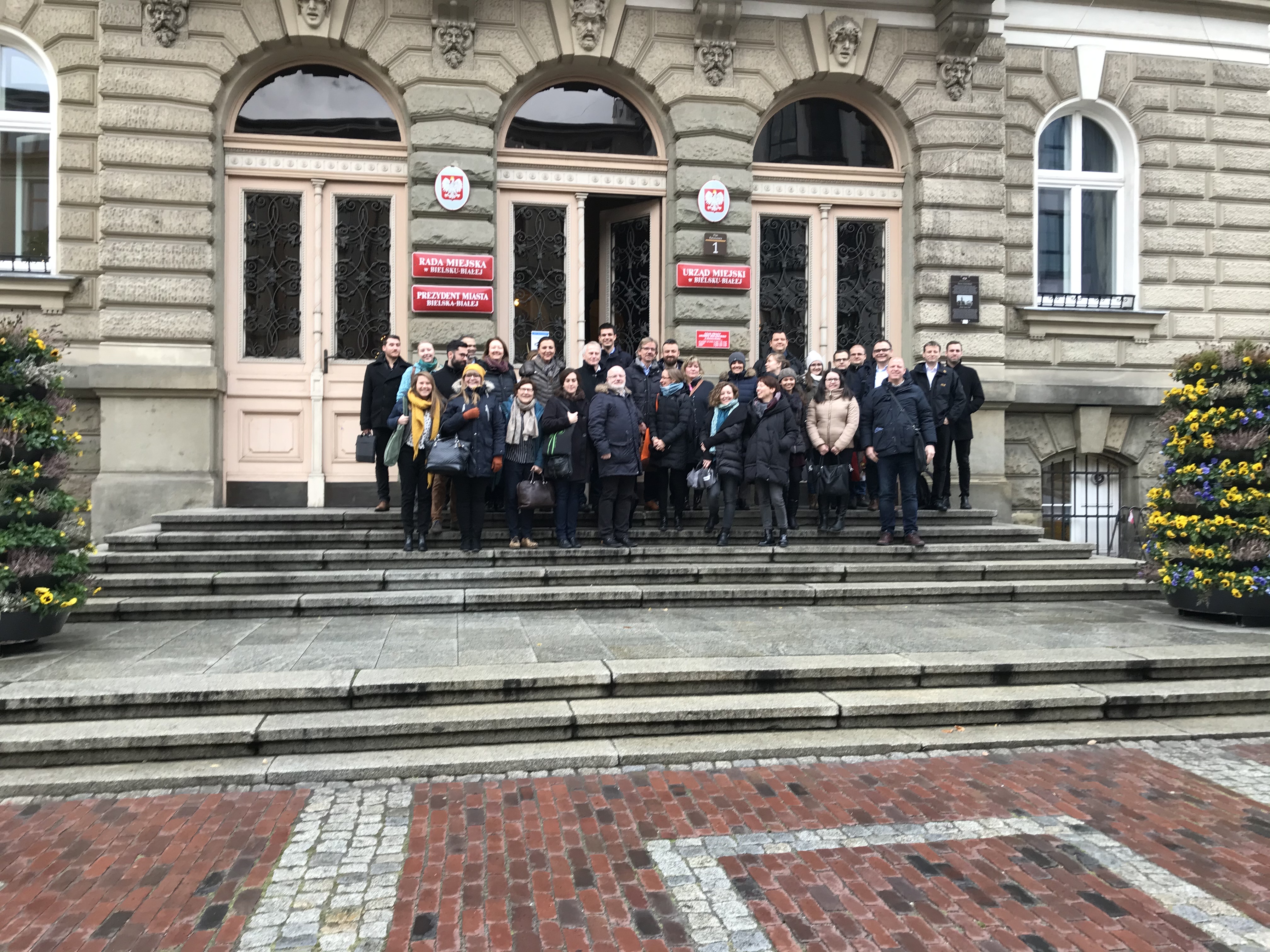 The main group of internationals that migrate (mostly temporary) to BB are Ukrianians, mostly young males. Since Polish migration policies and procedures are very strict and slow, many of these internationals are staying on a tourist visum. To keep attracting internationals, there need to be changes in national procedures, with a 9-month waiting time to get a visum and working permit, Poland won't be able to compete with other countries for international talent.
BB is working on welcoming policies. We were very impressed by My BB, an volunteer organisation that helps internationals to settle in. Especially their language courses are inspiring, very hands-on, and so popular that they can't meet the demand!
BB has also universities. They promote themselves with studying in the green mountains. The number of international students is low, BB has to compete with the nearby popular universities of Krakow.
We found BB a surprisingly pleasant and lively city, a place where quality of life is important. The internationals that we spoke to, really liked BB, though they all had to struggle with the language and with the Polish bureaucracy.
Thanks to the Bielsko team for to very well organized and fun days, with great hospitality!
Check out the video impression of the transnational meeting in Bielsko-Biala below!
Submitted by Evite van Winkoop on