The unforgettable and inclusive night of L'Hospitalet's Django Orchestra at Barcelona's Gran Teatre del Liceu
Barcelona's majestic Gran Teatre del Liceu hosted a very special concert of EMMCA's Django Orchestra, which played together with students from all ages and professionals with and without disabilities. Here is L'Hospitalet's latest update on how the URBACT OnStage project is progressing in the town!
For the first time, EMMCA, the Music School & Arts Centre of L'Hospitalet, collaborated with Grupo SIFU Foundation, a local NGO created in 2006 that works for the whole integration of people with disabilities.
This collaboration has been centred on The Django Orchestra Academy (TDOA), an educational project of EMMCA. On February 24th at the Gran Teatre del Liceu (Barcelona's opera house), this jazz ensemble performed as part of "La Nit + IN", a big ceremony of inclusive art and culture organized by the Grupo SIFU Foundation.
The ceremony gathered other performances, including dance, music and acrobatics, as well as the recognition of awarded people.
TDOA is also the result of collaboration between EMMCA, the Django L'H Festival, the Association of jazz manouche musicians and fans and, for this event, the Grupo SIFU Foundation. Students from all ages and professionals, with and without disabilities, as well as musicians from The Django Orchestra, played together in this ensemble that includes a big band, string quartet and jazz manouche instruments. Sergi Vergés and Albert Bello colead this project and Oriol Saña is the artistic director of the whole show – all of them are EMMCA teachers.
The rehearsals of this performance have been as important as the show itself. David Quirós, Deputy Mayor for Innovation and Culture of L'Hospitalet, shared this idea:
"We have a diverse and, in my opinion, touching show. It's especially interesting the work that has been done not only to get to show this concert, but the collaboration, discovering and knowledge that students made during the rehearsals."
Professional musicians with disabilities also joined this project, and the contact with such skilled artists has been motivational for EMMCA's students, as Gisela Galera (17-year-old jazz manouche student) explains:
"I'm crazy for the musicians that came to play with us. For example, the guitar player, and his solo… the piano player… well, all of them! Really, I felt what I feel when I play with my band and colleagues. It's been great, they all play amazing."
"La Nit + IN" is a philanthropic event that, on its last edition, was awarded with the "Impulsa Cultura" Award, by the Catalunya Cultura Foundation. By buying a ticket for the show, audience and partner companies contributed to a grants programme aimed at artistic development of talented disabled people.
The show gathered an audience of more than 2.000 people and more the 50 artists took part on it. After this premiere, a new performance of the same show will take place in the Teatro Real (Madrid), on May 19th.
–––––––––––––––––––––
Text by Raül Brenchat. For further information please contact him at rbrenchat.ext@l-h.cat. 
Follow our activity on Twitter and visit our website urbact.eu/onstage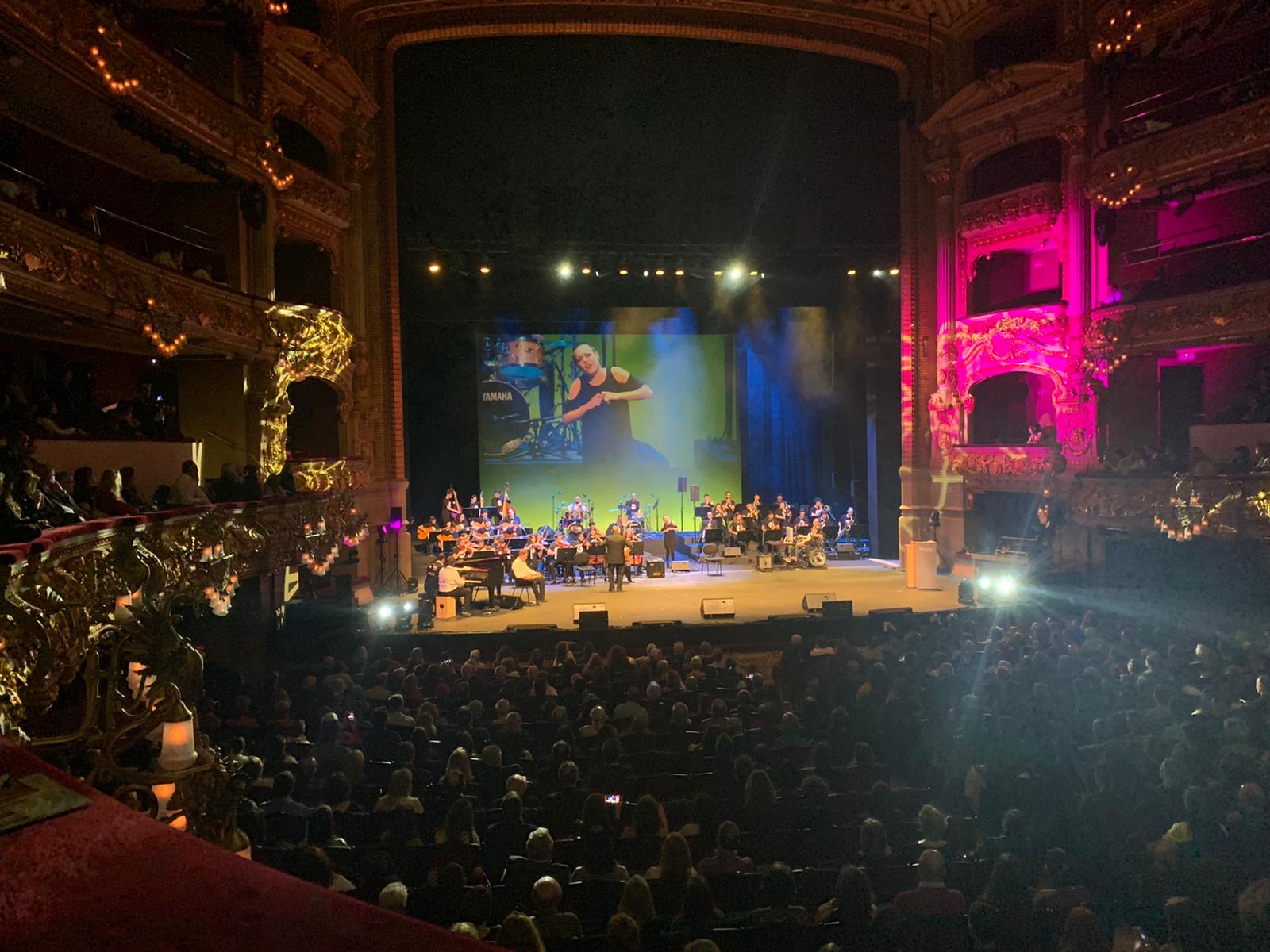 Submitted by c.salido on