The goal of this project is to understand and explore the role of urban markets as key drivers of change in terms of local economic development, regeneration and sustainable living.
Delegates from the URBACT Markets and Marakanda project visited Barcelona recently to see first-hand how the city organizes its markets network.
Markets are important for cities for many reasons. They offer and create incredible opportunities for social, cultural, and economic wealth at the local level.
Our project's importance lies in its goal of providing action-orientated knowledge about how to use urban marketplaces to develop low carbon, local supply chains, better and more sustainable urban planning, employment and entrepreneurship. We believe the key to healthy cities lies in the development of marketplaces.
See complete overview
Partners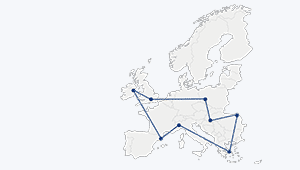 Go to the map
Integrated Action Plans
Within an Action Planning Network, the Integrated Action Plan is a local output, specific to each city. Thus, the local circumstances, as the concrete actions to be carried out in response to the network's sustainable development challenges, are defined by the URBACT Local Group. This core group is composed by a wide range of relevant stakeholders, who have a stake in the addressed challenge and who play an active role in co-designing the plan alongside the project partner. This document is the result of the interplay between the theme, each city's starting point and its individual URBACT journey. It highlights the positive learning experience cities have undertaken, both from a local and a transnational perspective.