Women, Enterprise and Employment in Local Development
Identifying and developing integrated local actions that improve women's situation in employment, entrepreneurship and the knowledge economy are key to this thematic network. In addition, it is clear that the role that women play in terms of local regeneration is crucial, however, urban regeneration has always been a predominantly male affair. This is not surprising as it has been about things as derelict land, planning, property development, employment, and labour market all traditionally male domains. This situation is evolving since women are becoming important actors in social and economic regeneration. In particular the network will focus on the key issues of: women and entrepreneurship, women in research and knowledge economy, gender inequalities in the workplace and the labour market.
Partners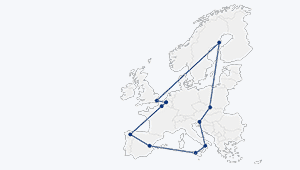 Go to the map
Latest articles
Integrated action plans
An Integrated Action Plan (IAP) is a policy instrument that is produced by Action Planning Networks within a period of 12-14 months after the beginning of their activities. The aim of the IAP is to respond in a concrete way to a urban challenge, which is common to all involved cities. Each partner develops its own IAP, so all plans are unique in terms of local circumstances, territorial coverage and, most of all, the context in which this tool is proposed to be implemented. The creation and validation of this instrument relies in a collective undertaking, designed to strengthen commitment and to increase the prospect of sustainable delivery. In this sense, every partner city must establish a URBACT Local Group (ULG), in order to gather implicated stakeholders to co-create and participate in this process.Thus, the IAP reflects and integrates all ULG members' knowledge and learning from transnational exchange.