Labelisation date : 14/02/2022
Vienna , Austria

Size of city : 1 897 000 inhabitants

Contact

Municipality of Vienna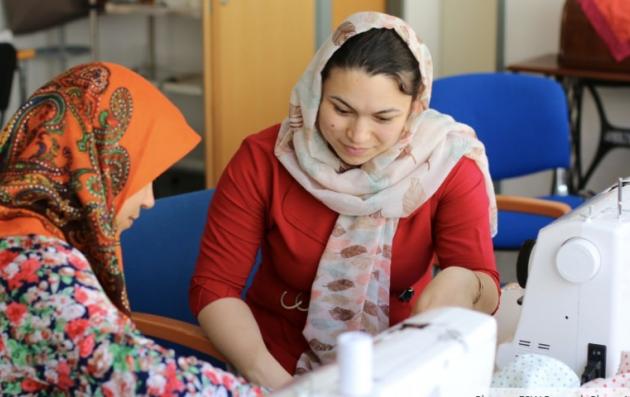 Summary
As a response to the dramatic increase in the number of refugees arriving 2015 in Vienna posing huge challenges to social welfare and social housing systems and to the labour market, the CoRE project aimed at strengthening the local integration system and at developing innovative and inclusive integration measures which addressed the specific needs of asylum seekers and refugees. CoRE operated as hub and incubator for empowerment processes, jointly planned, utilised and operated by public institutions, NGOs, civil society initiatives, and refugees. By pooling resources and knowhow and by making refugees equal partners instead of passive beneficiaries, it helped to initiate smart transformation processes for the whole integration system, also aiming at changing public discourse. The physical infrastructure in the form of the CoRE Centre offered community spaces as well as service spaces.
One of the main achievements so far relates to the certification course for refugees with university diploma and experience in teaching in their home countries, developed and implemented together with the Educational Department of the University of Vienna.  The most innovative dimensions is represented by the CoRE participatory approach. This included (self-)empowerment strategies for refugees, the active involvement of target groups, the prioritisation of bottom up processes vs top down, and the use of multi-level governance approach. Innovative is also the CORE center as a meeting point an
The innovative solution
Implementing the "integration from day one-approach" was a key objective of CoRE, based on the principles of the Vienna Integration Concept. Its five pillars are: Language (German and multilingualism); training (education and work); social integration (living together and participation); awareness work (objectivity, assessment and information), and Human Rights. The involvement and commitment of both institutional actors, stakeholders, NGOs, volunteers, but most importantly, targeted groups had been essential e.g. in fighting de-qualification or other integration barriers. The main solutions tests are: information modules, workshops, peer-mentoring (self-empowerment), competences assessment (participation in labour market), -    measures to strengthen skills and qualifications (from support for medical doctors for being enabled to practice in Austria, certification courses for teachers and qualification training for accountants and care assistants to training in professional language skills or entrepreneurship training), -    public events for bringing skills and talents of refugees to the curtain, training for volunteers, and the CORE centre as a meeting and contact point for organised initiatives.
A collaborative and participative work
Each project partner represented a key area in the field of integration (social welfare, education, entrepreneurship, labour market, etc.). Their commitment – irrespective of their share of the activities/budget – was one key success factor; same for their willingness to cooperate at eye level with civil society and targeted populations. Another key factor: strong support from local government, and involvement of scientific community.
The active involvement of refugees was in all phases of project implementation of utmost importance and the key to success. Pooling of resources of the project partners created a context that encouraged refugees to play an active role in their own integration process, and to be involved in the implementation of the project. Refugees acted as protagonists of the project, e.g. by holding workshops and lectures in schools.
The impact and results
The framework conditions have changed substantially over the course of the project. At the very beginning, requirements directly related to the arrival of asylum seekers had been priority; later, integration issues on a more structural and emotional level came to the fore. At the political level, national elections brought restrictions in asylum law and tightened anti-immigration discourse, positioning the local government as an antipode. Project implementation was achieved through the capacity of all actors involved to collaborate across sectoral, disciplinary and institutional boundaries.
CoRE achieved a number of outputs that help making integration more inclusive, strengthening the integration from day one approach, and putting (self-) empowerment into the core of integration work. Concrete and measured results concern e.g. the number of refugees who benefitted from first-hand information, who ate able to stabilize their living and housing situation, who increased their professional skills and (also language) knowledge, attended a certification course, gained first working experiences, passed successfully exams, or who had been involved in activities promoting awareness of issues relating to flight and integration.
Why this good practices should be transferred to other cities?
The situation of asylum seekers and refugees is requiring answers both at European, national and in particular local levels. The CoRE project is a complex project, focusing on various aspects of the integration process. As the project was characterized by the specific challenges in Vienna at that time, the project as a whole is not transferable one to one. However, the various activities of the project themselves are transferable – not only to other cities, but partly also to other target groups. But there are also more general lessons to learn from CoRE: The project's main experience to share with other cities would be to dare to follow the concept of 'integration from day one', and to apply a bottom-up approach. Even if following a bottom-up-approach, with the active involvement of the target group and a high level of participation, might be challenging, the outcomes are worth it. The experiences also suggest not to focus only on results and outcomes of the project, but also on the process itself. Following a participative approach, the process of developing, modifying and testing new solutions together with the target group, is itself just as valuable as the outcomes. On the one hand, the collaborative work promotes a deeper understanding of the target group and on the other hand it changes the role of the target group, from being passive beneficiaries to active co-creators in their own integration process.