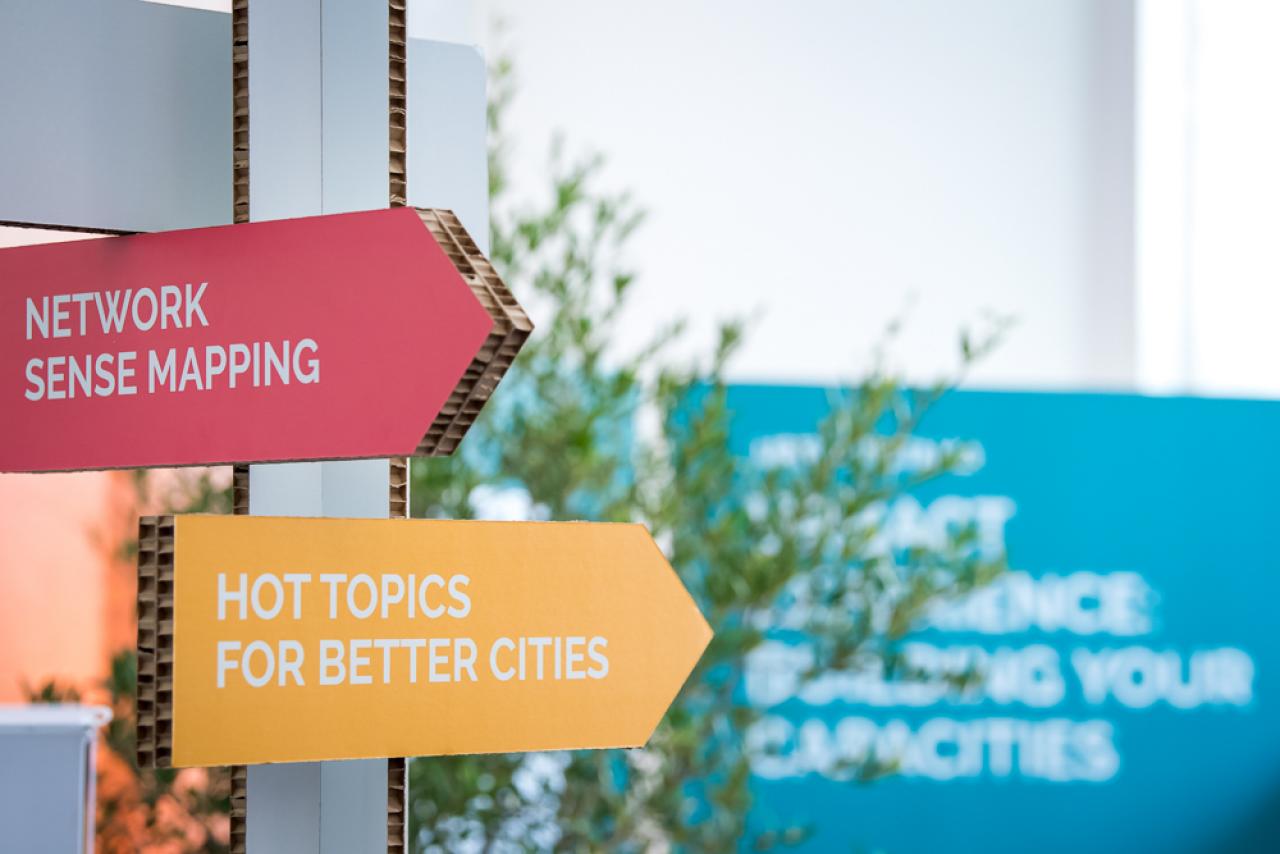 Since 2002, around 1 000 EU cities involved in URBACT have experienced the added value of transnational cooperation, the transfer of good practices beyond national borders, and the participatory approach to policy-making. URBACT continues to bring cities together with the call for Action Planning networks early 2019. This is how it helps cities drive local change.
The "URBACT method"
EU and UN reports have been shining light for years now on chronic, ongoing and upcoming challenges and prospects for cities. Urban challenges like unemployment, population decline, falling public investment, the influx of migrants and the digitalisation of society - just to name a few - push cities all over Europe to reinvent their mode of operation.
A different way to reach prosperity, well-being and growth in a city is by rethinking the governance model city administrations have previously adopted and by moving away from a "command and control" role to the role of "facilitator". This requires trusted relationships between local elected representatives, city staff and citizens and an empowerment of local stakeholders in the co-design and implementation of local policies. And it is precisely at this juncture that URBACT comes in.
URBACT calls for integrated urban development and for its principles of horizontal and vertical policy integration. These principles draw from the integrated approach to urban development developed since the beginning of the millennium, with important steps like the 2007 Leipzig Charter, as well as the Pact of Amsterdam and New Urban Agenda signed in 2016.
The horizontal integration of policies within a city requires the various municipal services and local agencies to work together closely. Therefore, a project to build a site to host activities must be designed and implemented by incorporating planning (choice of site), social (training, employment measures) and economic (support to business) aspects. Vertical integration puts the focus on a co-production of policies and actions with the local stakeholders concerned (inhabitants, associations, public and private-sector partners) but also with the competent higher level authorities, regional and/or national.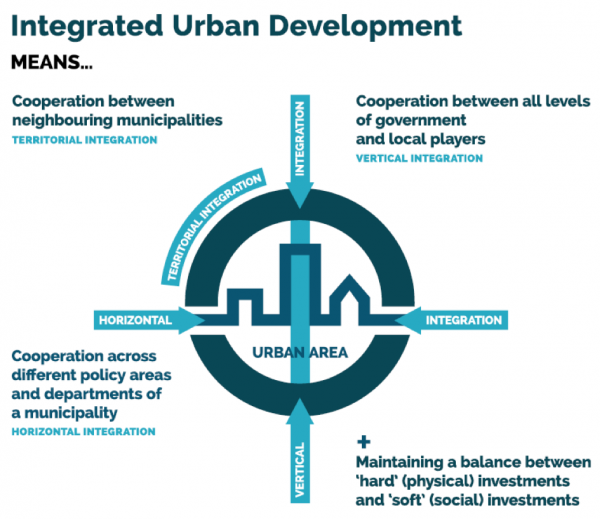 To embed these principles in city administrations across Europe, URBACT has developed a series of processes and tools, also named the "URBACT method". This allows an environment that favours learning through practice.
The building blocks of this method are:
Networking amongst EU cities to exchange good practices and find solutions to their challenges.
There are currently three types of networks to meet different needs:
The Action Planning networks for cities willing to develop an integrated action plan for their city;
 
The Transfer networks for cities willing to adapt and transfer an already existing good practice to their local context; and
 
The Implementation networks for cities that have an integrated strategy/action plan but want to tackle the challenges they face during implementation.
Networks facilitate the exchange and working process for city staff and local stakeholders through study visits, transnational workshops and peer-reviews. A network involves a Lead Partner city and up to 11 Project Partners that are supported by URBACT experts (see below).
Participatory approach to urban development. City administrations involved in URBACT networks set up URBACT Local Groups, composed of representatives of social, economic, environmental sectors (city staff, NGOs, SMEs, universities, citizens, and other stakeholders). Their objective is to find solutions to the needs and local challenges for which the city has joined a network. In addition to the city staff, these stakeholders also benefit from networking activities described above.
 
Production and implementation of integrated action plans following networking and involvement of local stakeholders. This is a co-production process resulting from the exchange of good practice and ideas with EU partner cities and from meetings of the URBACT Local Groups who take up these practices and adapt them in their cities.
 
Expert support to the cities involved in URBACT networks, 100% funded by URBACT. Experts, selected by the networks themselves, support the cities in terms of methodology and thematic knowledge.
 
Capacity-building and training for urban practitioners to design, transfer and implement integrated practices and strategies in a participatory way. URBACT has developed Summer Universities, bringing together hundreds of URBACT cities (urban practitioners/professionals), to enhance their skills in developing Integrated Action Plans with local stakeholders. In complement to these Universities, the programme develops national trainings, webinars and guides on specific topics.
 
Applying a "result framework" to define expected results and impact at local level, including defining milestones, result and output indicators, and monitoring progress.
 
Capitalisation and communication of knowledge and practices for the benefit of URBACT and non URBACT cities. URBACT has put several means in place to accomplish this. From the URBACT website, social media, articles, publications, workshops, Policy Labs, URBACT City Festivals, National URBACT Points who communicate in national languages in their countries, to linking and sharing knowledge with the partnerships of the Urban Agenda for the EU, and other organisations working on urban development (CEMR, EUROCITIES, UN-HABITAT, etc).
 
Support from the URBACT Secretariat, National URBACT Points and Programme Experts. From 2014 to 2018 URBACT has financed 20 Action-Planning networks gathering 205 cities from all over Europe. Thanks to the URBACT method, these cities have empowered local stakeholders through URBACT Local Groups to co-produce Integrated Action Plans. More than 66% of these URBACT cities had their Integrated Action Plan approved, nearly 50% secured funding for it, and more than 80% of them have already started implementing it. The city stories and testimonies presented in the next pages demonstrate the added value of the method as the way to follow for a sustainable urban development.
How to benefit from URBACT
Any city, no matter its population, can benefit from URBACT in different ways.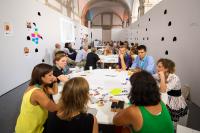 First, the URBACT website is a valuable source of knowledge and experience, with good practice, articles, case studies, integrated action plans on different topics that can inspire small or big city administrations. In parallel, digital and paper publications like the Cities in Action - Stories of Change one are accessible throughout Europe with the help of the National URBACT Points.
Second, URBACT regularly organises events open to all EU cities to share knowledge, practices and know-how. These events include URBACT City Festivals, Policy Labs, workshops during the European Week for Regions and Cities and other big conferences. In complement to these events, National URBACT Points operating in 27 EU countries communicate and organise national events on the good practices and results of URBACT cities.
Third, any city can apply to a call for networks and benefit from an exchange and learning journey with EU peers. Some results and benefits of cities previously involved in URBACT Action Planning networks are described in the Cities in Action- Stories of Change publication.
***
The new EU Cohesion Policy and its new instruments for city governments should build on this URBACT method, its results, benefits and lessons learned. Until then, the URBACT programme will continue to make our cities a better place to live.