A digital fablab to equip school leavers with digital skills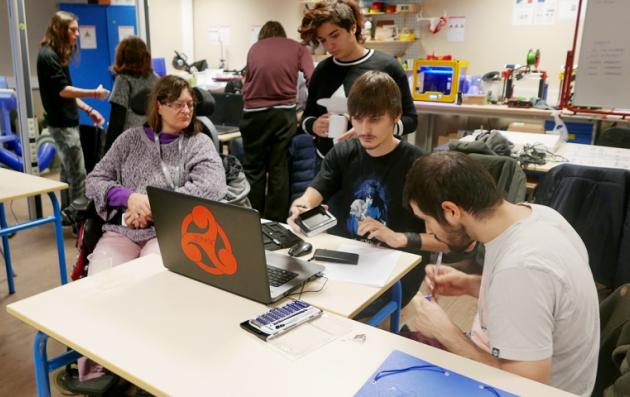 Responsable for EU funds
Share on Facebook
Share on Twitter
Share on LinkedIn
345 763
Summary
'La Fabrique de Gonesse" is the first project of the Roissy Pays de France Agglomerations' (FR) digital strategy. Launched in 2015, the programme uses digital technologies, mass communication, digital fabrication, repairing, networking and project management as an empowerment tool for tackling the problem of school dropouts, especially in deprived neighbourhoods. It combines flexible teaching with peer-to-peer methods, based on an innovative pedagogic method. After three cycles, the remobilisation rate is 90%. 70% of trainees return to the education system, and 20% access their first job opportunity within 6 months of completing the programme. 
The solutions offered by the good practice
Gonesse is an integral part of Roissy Pays de France Agglomeration, composed of 42 cities. Social and urban issues are directly linked to this project. Since 2016, the rate of people living in deprived neighbourhoods has risen to almost 40%. Roissy Pays de France is aware that poverty and exclusion must be tackled. Therefore, Roissy Pays de France set up a pluriannual strategy (2014-2020), an integrated and territorial investment based on digital development, to reinforce the social cohesion of its territory. The regional programme of EU funds constitutes a financial framework for this strategy and its projects. It aims at structuring the digital sector based on economic potential and the research capacities of the University of Cergy-Pontoise. The aim is to help the creation of entrepreneurship and digital activities, enhance the digital skills of firms and inhabitants, and reinforce social and cultural development. The project makes a junction between several issues: helping young people through innovative technologies. It offers a local, bottom-up, constructive approach to digital challenges, as close as possible to peoples' issues. Local authorities put innovation at the heart of this project and propose to build on it. This concrete and highly innovative project shows how, thanks to new technologies, social innovation could help youth pepping up, but also territorial development on a larger scale.
Building on the sustainable and integrated approach
Located in a disadvantaged neighbourhood, La Fabrique Numérique de Gonesse promotes sustainability by creating a bridge between teenagers exposed to school failure and the local government through the use of digital techniques that encourage agility and a cooperative and collaborative peer-to-peer approach. La Fabrique Numerique de Gonesse is exemplary of a fully integrated, participative approach that creates a circle of value based on professional mobilisation and empowerment that is highly effective for young people exposed to school failure. An agile educational initiative, which helps develop autonomy and digital awareness among the local population and stakeholders through educational interactions led by the trainees in a "learning by teaching" peer-to-peer approach. An innovative approach of public action and governance that engages young people with academic and/or professional difficulties in the delivery of missions of general interest, in a spirit of local collaborative development and innovation. An R&D awareness and literacy action relevant in the field of territorial development, and the digital transition in the public sector. Strong horizontal and vertical integration are combined and promoted in this project, as shown above.
Based on a participatory approach
The participatory approach is a core aspect of La Fabrique Numerique de Gonesse: • At grassroots level: autonomy of trainees is strongly encouraged. Self-organisation of training time as well as frontline responsibility of the young trainees as "project managers", interacting with NGOs and local government services through productions and/or services. Peer-to-peer learning by teaching initiatives are organised on a regular basis, missioning trainees as educators, i.e. to promote digital awareness among children ages 7 to 13, towards the audience of local public libraries or through technical support provided to the local TV team; • At territorial level: empowerment of local NGOs and public actions through digital communication projects led by the trainees (posters, logos, websites, flyers, etc.). Providing participatory tools and solutions for programmes of public and general interest (interactive test-game on justice and rights, participatory cartography, co-designed solutions for disabled people, website design and development for the local resource centre for education, monumental sticker design for the inauguration of the new hospital, etc.); • At governance level: development of a trainees/alumni association to promote self-government. Individual tracking of the young trainees before, during and after their studies at La Fabrique Numerique, through various partnerships with specialised local structures and programmes in the educational, professional insertion and orientation field.
What difference has it made?
Results and outcomes concerning 3 trainee classes from November 2015 to April 2017: at the end of programme, the remobilisation rate represents 90%. Outputs of target groups: • 70% return to education, 55% digital sector, 45% other than digital sector; • 20% access their first job opportunity 6 months after the end of programme, 65% find a job related to the digital sector, 35% to an unrelated sector, and 10% leaving the programme. Results after finishing the programme (trainee class 1 and 2, 6 months after the end of programme, and results of trainee class 3): • For the period 2015-2017, the programme trained 33 youths: multimedia broadcaster (8), education assistant for mobile uses (7), communication officer (4), video production officer (2), website developer (1), digital forger (5), teacher TIC (5), social network manager (13), 2D/3D graphic designer (5), web graphic designer (9), mass media graphic designer (10), web integration (10), digital facilitator (17), 3D modelling (3), digital assistant (5), webmaster (5), fab-manager assistant (4); • Professional opportunities during the programme: training (29), alternate training: 0; • Projects for local governments or firms: 33; • Professional situation at the end of the programme: training extended (14), new training (4), return to education in the digital sector (14), general education (10), permanent job contract (3), temporary job contract (4), independent (2).
Why should other European cities use it?
This project is transferable to other cities. It supports the politics towards young people living in deprived neighbourhoods, and all actions aiming at the innovative remobilisation of youth. It could be transferable to all cities facing the problem of school dropout, social exclusion, discrimination, immigration issues, high unemployment and poverty in a global meaning. The projects' innovative action is not based on theoretic knowledge, but on project management, innovative methodology and pedagogy. Many workshops are included on topics such as personal skills, self-confidence, citizen involvement etc.
Email
dbziouat@roissypaysdefrance.fr