Share on Facebook
Share on Twitter
Share on LinkedIn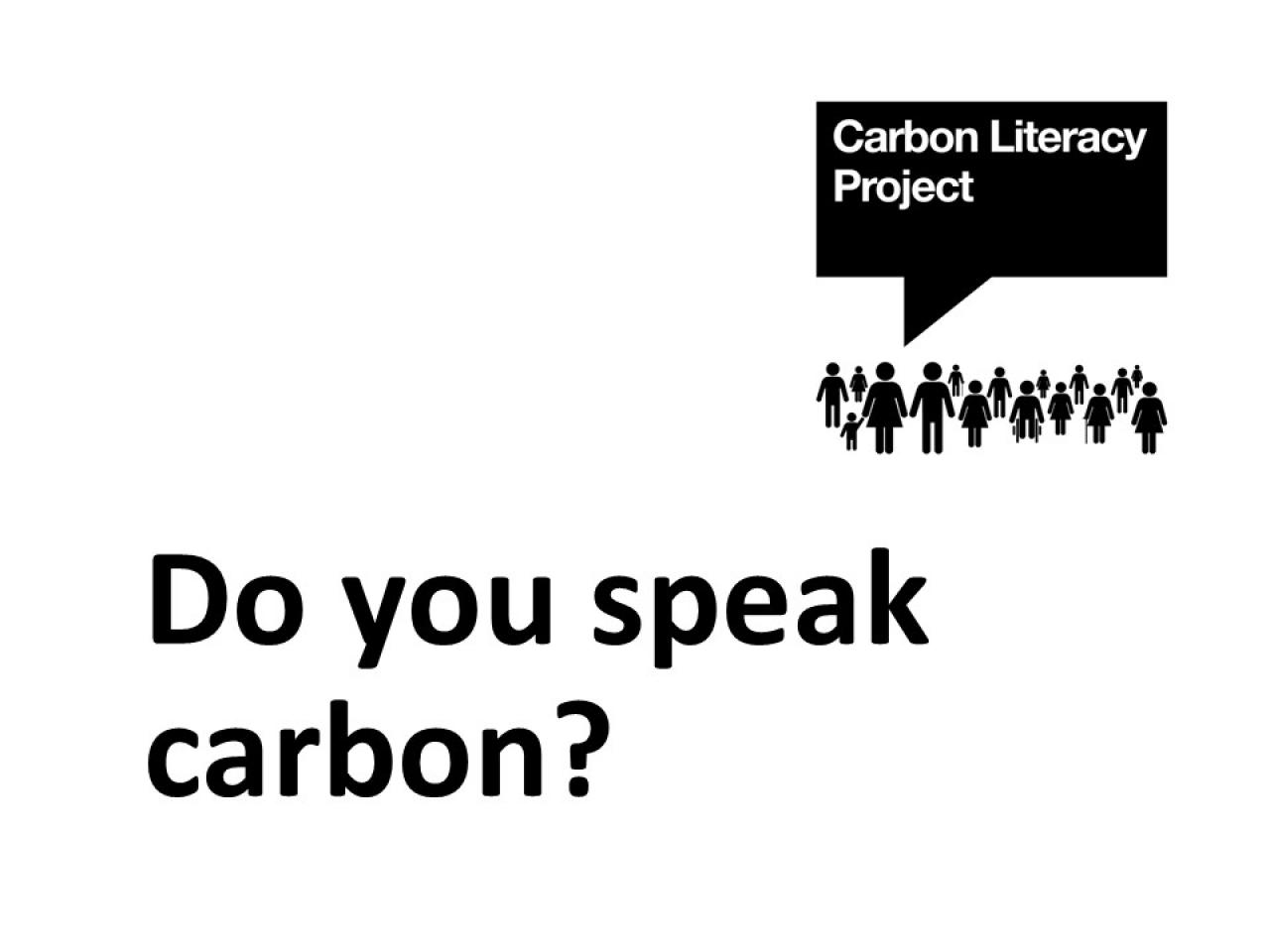 15/11/2022
How to build understanding as a launch pad for local action on climate change.
Many of us have been watching the elections in the United States and maybe thinking about its potential implications for the future of the global Paris climate accord (amongst other issues!). Meanwhile, Europe's cities have continued to develop practical solutions over recent years for improving their climate performance at local level.
Such enhanced environmental sustainability is a key part of the sustainable urban development that URBACT seeks to promote. The programme supports a number of networks working directly on key and innovative environmental topics such as net zero energy territories and zero carbon cities. It is also committed to improving environmental performance across all its cities and networks.
In that context, we present here the concept of Carbon Literacy training – a practical and flexible framework for building understanding and informing local action on climate change – that has come to our attention through the work and exchanges of the URBACT C-Change network.
So what exactly is Carbon Literacy?
The UK-founded charity The Carbon Literacy Project – which originated the concept, defines Carbon Literacy as: "An awareness of the carbon costs and impacts of everyday activities, and the ability and motivation to reduce emissions, on an individual, community and organisational basis." In other words, it is about understanding our carbon footprint and our ability and level of agency in reducing it, individually and collectively.
The project offers a process for developing the Carbon Literacy knowledge of any individual or group through five broad levels of understanding:
What global warming is and how we know – building understanding of the 'big picture' of climate change.
What climate change is and what effects it is having – building understanding of why climate change is important.
What people are doing about it – building understanding that action to reduce carbon emissions is possible.
What people just like you could do about it – building understanding that action to reduce carbon emissions in possible in any specific sector.
Exploration of what you could do – building understanding of how to measure your own carbon footprint and realistic, practical steps to reduce it.
This approach is based on a firm belief that local-level action can and does make a difference and that increased knowledge and understanding of carbon emissions can change cultures within organisations. This in turn, building on principles of equity and fairness, will contribute to a better world and a better way of life.
The concept of Carbon Literacy has gained increasing international attention in recent years, particularly when the work of the Carbon Literacy Project was showcased as part of ICLEI's Transformative Actions Program (TAP) at the COP21 UN Climate Change summit in Paris in 2015, with delivery having already taken place across Europe and even further afield.
Stakeholders in various sectors have seen the value of working with others on carbon awareness initiatives and that improved Carbon Literacy can make you a leader in your sector.
How can cities deliver Carbon Literacy training?
The key to understanding Carbon Literacy training is that it is not a one-size-fits-all course, but instead an approach (defined by a publicly-available standard) that can be adapted and applied consistently in very different contexts. The approach therefore has flexibility at its heart. The training is adapted to make it relevant to the specific sector that trainees come from and work in.
Practical tools – including those for measuring your carbon footprint – and inspiring examples that can truly drive change need to be rooted in and applicable to the practical everyday experience of the trainees. Otherwise, people might be motivated to improve their environmental performance, but demotivated by their lack of agency – lacking the knowledge and understanding of how they can do so in practice.
For this reason, peer learning is a key aspect of successful Carbon Literacy training. Hearing about what someone in a similar role has been able to do can lead to more meaningful change than high-level or abstract examples that are hard to relate to. Other key aspects of the learning method required by Carbon Literacy are 'local' learning, group enquiry and positivity! It is designed to work in community, workplace and education settings.
Lastly, participants must formulate or take an action within their own area of control, and an action that involves a wider group of people – so Carbon Literacy can never be passively received. On the basis of evidence submitted on behalf of each learner, successful participants receive Carbon Literacy certification, whatever their sector of activity.
In practice, cities can develop their own carbon awareness training, find service providers to support them or collaborate with others to share toolkits, materials or resources. If a city wants to formally adopt Carbon Literacy as an approach, the Carbon Literacy Project checks and accredits the training programme and materials of any organisation in order to maintain quality and offers resources, support and connection to other cities and organisations to accelerate action and reduce cost.
An URBACT good practice story: Manchester
The Carbon Literacy Project in Manchester (UK) was founded as a direct response to Manchester's first climate change strategy in 2009. Since then, the concept has become increasingly recognised and is now listed by the Manchester Climate Change Agency as an action for "every resident and organisation in Manchester to help meet our climate change targets", supporting the new Manchester Climate Change Framework, which includes the aim to reduce the city's direct CO2 emissions by at least 50%, 2020-2025.
One of the various sectors to engage with the Carbon Literacy Project is the arts and culture sector,  from museums and galleries to opera houses and arts centres. Here, a big catalyst has been MAST, the Manchester Arts Sustainability Team, a network of over 40 cultural organisations that was first established in 2011 in order to explore how the sector could contribute towards implementing the city's first climate change strategy.
In 2016, a number of MAST members carried out a Carbon Literacy training pilot in collaboration with Manchester Metropolitan University, and together, they developed a version of the training specifically for the arts and culture sector.
Some MAST members have gone on to deliver organisation or department-wide training. For example, HOME – a multi-arts venue – now has two accredited trainers who deliver training for all of HOME's team, as well as to corporate and private sector organisations in their neighbourhood, who in turn have gone on to adopt Carbon Literacy, and then develop and roll out Carbon Literacy materials for others.
"Climate change sometimes feels incredibly disempowering, and our role is to empower people to play their part. That's the strongest thing we can do because it will take all of us together to make the difference," says MAST Chair Simon Curtis. "Carbon Literacy training been an amazing tool for us to help build action in organisations. It speaks to our sector in our own language, using recognisable examples."
MAST achieved an average CO2 reduction of 6% every year starting in 2011-2012, whilst a core group of 13 members achieved a 16% reduction in energy use emissions over three years. In 2017, the MAST model won an URBACT Good Practice award.
An adaptable tool applied in different European contexts
Thanks to a successful project application to URBACT, the MAST good practice model is now inspiring five other cities to set up similar actions through the C-Change Transfer Network. We look forward to sharing in early 2021 more details on the full range of exciting initiatives developed by this and other URBACT Transfer Networks.
Here in this article, what is interesting is to note the adaptability of the Carbon Literacy training approach to different national and local urban contexts. As C-Change Lead Expert Claire Buckley (of 'Julie's Bicycle', a charity which supports climate and environmental action in the creative sector) explains: "The partner cities have very much taken on the principles of the Carbon Literacy approach from Manchester, and a good bit of the content. Each city has shaped the training to their needs and local context, but none of the cities have gone for the exact same model."
In Wroclaw (PL), trainers from four arts and culture organisations delivered two separate sessions for cultural administration and maintenance staff, and two more in-depth sessions for programming and production people. Participants designed a creative, sector-relevant solution to a specific challenge, such as: a green production rider for an event; or a local cultural project idea on climate change. In total, 48 employees representing all 27 city-run cultural organisations have been trained so far.
In Mantua (IT), a workshop for about 30 local authority and cultural sector participants, was run by the municipality together with cultural associations, and hosted by an environmental NGO. It looked at how the climate crisis is being felt in Italy, highlighting the Venice floods, and showed a video of a leading Italian climate scientist. Participants mapped 'spheres of influence', and discussed the impact of climate change on people's lives now and in 5-10 years, revealing a huge range of perspectives.
In Sibenik (HR), the city library ran a half-day training event in October 2020, starting by making a range of environmentally themed books and magazines available. The trainer, a local activist, introduced a 'climate collage' exercise as a key interactive element. This has sparked strong interest in further training – for example in the city's Department of Enterprise and Economic Development – and the library is looking into offering this kind of training as a service for schools and the general public.
In Agueda (PT), a first training in February 2020 included a site visit to a local cultural organisation to see their good practice. A second training in July 2020 included a visit to the city's SmartLab neighbourhood where participants investigated scalable solutions such as a solar bench for charging phones. In October 2020, climate change training was part of an open day at Agueda's Smart City Lab on practical decarbonisation solutions.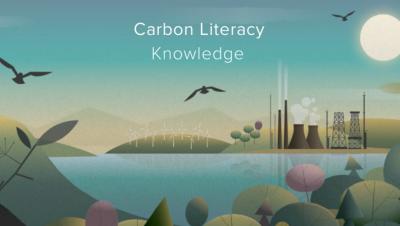 More info
Interested in Carbon Literacy certification and support? See www.carbonliteracy.com or email info@carbonliteracy.com.
In addition to the normal capacity building and thematic support provided to networks, URBACT provides the specific additional possibility for any network to access 2 000 € of support to carry out carbon compensation actions. The use of this budget should be agreed with all partners and can include activities such as: community awareness raising and educational activities; tree planting initiatives; Carbon Literacy training; and community projects.
Listen also to the C-Change Transfer Network story as presented at the European Week of Regions and Cities 2020.
Thanks to UK government support, all UK local authorities and educational establishments now have access to free-to-use Carbon Literacy toolkits. Already piloted, toolkits for the UK National Health Service (NHS), Police, Fire and Ambulance services, and even the UK Department of Business, Energy and Industrial Strategy (BEIS) are on their way. COP26 host city Glasgow is rolling out Carbon Literacy to its Council staff and members specifically in preparation for this.