1. Hoe kunnen regio's en steden een rechtvaardige energietransitie met en voor hun burgers bewerkstelligen?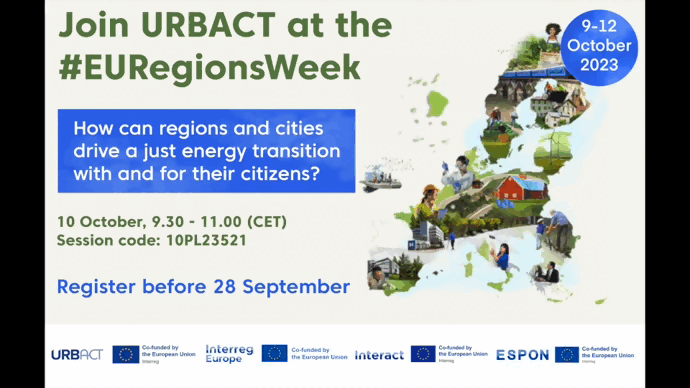 2. Gebruik technologie om de groene transitie in jouw regio of stad te versnellen!
10 oktober, van 11.30 tot 13.00 uur (CET)
SQUARE Brussels Meeting Centre, Zaal 210
Sessiecode: 10PL23523
 
In heel Europa gebruiken lokale en regionale overheden verschillende technologische en digitale oplossingen om de groene transitie te faciliteren: van mobiliteit naar hulpbronnenefficiëntie, groene ruimten, afvalbeheer, luchtvervuiling en voedselconsumptie. Voor de 21e editie van de European Week of Regions and Cities verzorgt URBACT mede een sessie om te verdiepen in de complexiteit van milieu-uitdagingen uit te lichten. Deze sessie gaat in op stedelijk en territoriaal beleid, lessen uit de praktijk, en voorbeelden van belangrijke technische hulpmiddelen die deze inspanningen ondersteunen om de milieuschade, de koolstofvoetafdruk en de uitstoot veroorzaakt door menselijke activiteiten te verminderen.
Samen met het Horizon Europe KNOWING-project zal URBACT vertegenwoordigers van steden samenbrengen om hun visie en slimme oplossingen te delen die met technologie zijn ontwikkeld in de strijd tegen klimaatverandering. Luister naar sprekers uit Tallinn (EE), Fundão (PT) en Wenen (AT). Deelnemers leren en wisselen uit over:
de hefboomwerking van een aantal technische hulpmiddelen voor klimaatactie, milieubescherming en efficiënt gebruik van hulpbronnen;
de belangrijkste stedelijke en territoriale sectoren die getroffen worden door en gevolgen hebben voor de milieuproblemen in hun stad;
en ideeën die al in een paar EU-steden bestaan.
Meld je aan via: https://urbact.eu/whats-new/news/ewrc-2023-digital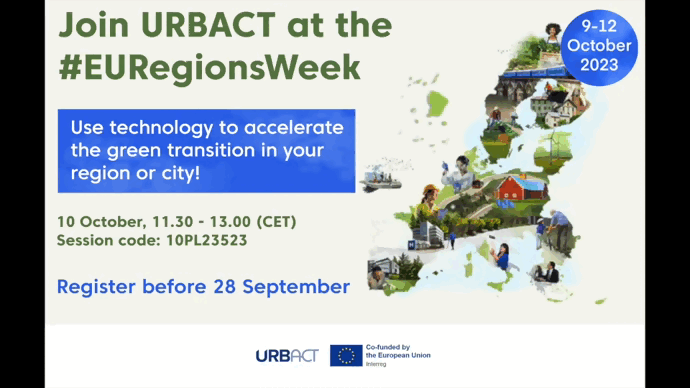 ​3. Maak je klaar voor de volgende URBACT-oproep voor Innovation Transfer Networks
11 oktober, van 11.30 tot 12.30 uur (CET)
SQUARE Brussels Meeting Centre, Zaal 211-212
Sessiecode: 11WS23529
 
URBACT lanceert de volgende oproep voor netwerken in januari 2024. Innovation Transfer Networks brengen steden in heel Europa samen die geïnteresseerd zijn in de ervaringen van steden die mee hebben gedaan met Urban Innovative Actions, met als doel om deze aan te passen naar hun lokale context . Als u een lokale overheid vertegenwoordigt, neem dan deel aan deze workshop om:
te begrijpen wat het betekent om deel uit te maken van een Innovation Transfer Network
te begrijpen wat de resultaten en voordelen kunnen zijn op lokaal niveau
vragen te stellen aan leden van het URBACT-secretariaat.
Samen met het European Urban Initiative zal URBACT vertegenwoordigers van steden samenbrengen om hun eerdere pilot-ervaringen te delen. Luister naar sprekers uit Viladecans (ES) en Rotterdam (NL). Deelnemers leren over:
wat staat er te wachten voor voltooide projecten van Urban Innovative Action die een URBACT-netwerk willen leiden en het oorspronkelijke project willen delen;
hoe andere Europese steden kunnen profiteren van de URBACT-overdrachtsmethodologie om een innovatieve oplossing voor lokale uitdagingen te bieden;
en waarom de open call voor Innovation Transfer Network een unieke kans is!
Meld je aan via: https://urbact.eu/whats-new/news/ewrc-2023-network-call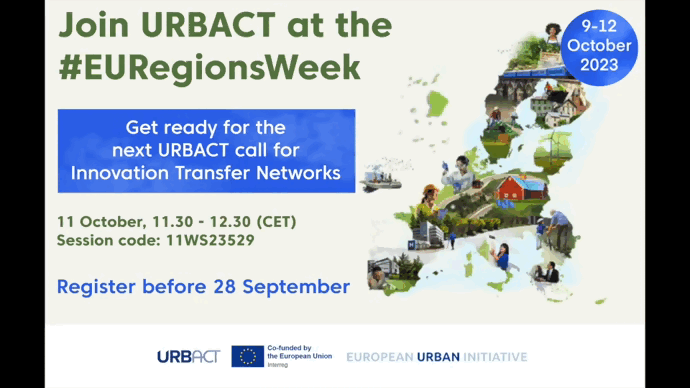 4. Het doorbreken van barrières door innovatief inkopen als strategisch instrument te gebruiken
11 oktober, van 16.30 tot 17.30 uur (CET)
SQUARE Brussels Meeting Centre, Zaal 213-215
Sessiecode: 11WS23239
 
We weten allemaal dat innovatie muren kan afbreken. Maar hoe passen overheidsopdrachten daarin? Deze workshop presenteert hoe steden en regio's in heel Europa innovatie-inkoop in de praktijk kunnen gebruiken. Er worden concrete voorbeelden gepresenteerd, zoals de uitdaging van lokale en regionale stakeholders om de interesse te wekken bij hoog aangeschreven Europese innovaties. Ook wordt gekeken naar hoe instrumenten en trainingen gepromoot en ontwikkeld kunnen worden.
De Urban Agenda van de EU, de EIC, URBACT en ICLEI onderzoeken synergieën t.b.v. zowel steden als regio's en gebruiken innovatieaanbestedingen als een strategisch instrument. Deelnemers leren over:
hoe mensen uit de praktijk in netwerken werken om overheidsopdrachten te grijpen en innovatie naar hun steden te brengen;
wat de bestaande synergieën tussen verschillende organisaties zijn die in het EU-landschap werkzaam zijn;
en waarom uw stad de manier waarop overheidsaanbestedingen worden gezien, zou moeten heroverwegen.
Meld je aan via: https://urbact.eu/news/ewrc-2023-procurement