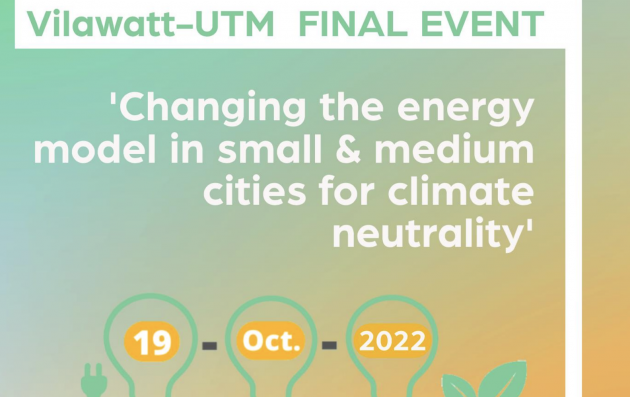 Vilawatt UTM is hosting its Final Event to present to an open audience of EU city practitioners and experts the main outputs and results achieved during the guided process of transferring Viladecans' Vilawatt UIA, to three European cities: Nagykanizsa, in Hungary, Seraing in Belgium, and Trikala, in Greece.
Vilawatt UIA project started in 2016 within the framework of the European Initiative of Urban Innovative Actions (UIA) as a pioneering proposal to foster energy transition in the municipality, and it has become the main driver of the implementation of the new renewable energy model in the city of Viladecans.
After almost two years of sharing learnings and experiences among the partner cities within the framework of the Vilawatt UTM, next October 19th we will present the results and conclusions. We will reflect on the challenges and opportunities that small and medium-sized cities face when boosting a change in the energy model in order to achieve climate neutrality by 2030-2050.
Join us to know about key project findings and challenges faced by the cities during the transfer process. You will hear the voices of their political authorities who are leading energy transition strategies in their cities and the support they require to carry out the implementation of their Energy Efficiency Plans.
A panel of experts in the field will contribute with their views on some key trends in energy transition strategies relevant for cities and some support tools to consider for funding and implementation.
Check the agenda below:
The referenced media source is missing and needs to be re-embedded.
This hybrid event will showcase how it's possible to change the energy model in small and medium sized cities for climate neutrality. Register now for the online sessions!
URBACT Network
Share on Facebook
Share on Twitter
Share on LinkedIn
Off
Open to a wider public