BeePathNet Reloaded is about spreading knowledge on urban beekeeping to additional four EU cities that have proven its environmentally friendly orientation and would like to put special emphasis on creating a supporting environment for pollinators. Ljubljana, as a lead partner, will share the Bee-friendly city movement knowledge with Bansko in Bulgaria, Bergamo in Italy, Osijek in Croatia and Sosnowiec in Poland. This movement started in 2018 with Amarante, Portugal, Bydgoszcz, Poland, Cesena, Italy, Hegyvidék – XII District of Budapest, Hungary and Nea Propontida, Greece. The opportunity to transfer knowledge to additional four EU cities is URBACT's special award for our hard work within BeePathNet partnership of and all the "honey" that all of us are putting in the preservation of the urban environment - place that we share with the bees.

Article in 6 languages:

Key project activities
All project activities will mostly focus on the empowerment of local group managers and members from the four transfer cities, to gain the competence and knowledge needed for further development and upgrading of the urban holistic approach to beekeeping in their cities. We will also organise a series of thematic meetings and several promotional activities on a national and international level, to support development in four partner cities and spread the movement across the Europe.
From the City of Ljubljana's BEE PATH to the BeePathNet network and beyond
It all started in 2015, when the City of Ljubljana created the BEE PATH, which in following years evolved to become a network of local stakeholders – providing a platform for discussion about challenges, searching for solutions, and development of new products on a voluntary basis, a touristic and educational path - presenting the importance of bees and urban beekeeping, an educational programme devoted to awareness-raising amongst target groups, as well as a "think-tank" and an incubator for development of new entrepreneurship ideas.
Although Ljubljana's success was awarded the title of URBACT Good Practice, it firmly believes that the BEE PATH is by no means a finished project, but rather a work in progress – growing and evolving on a daily basis. This approach was implemented with a matrix learning model in BeePathNet project (supported by URBACT) with which Ljubljana transferred the urban beekeeping good practice to five EU cities Amarante, Portugal, Bydgoszcz, Poland, Cesena, Italy, Hegyvidék – XII District of Budapest, Hungary and Nea Propontida, Greece. All six cities together started to build a Bee-friendly city network. Enthusiastic about the green changes the initiative is bringing to cities URBACT decided to co-finance the holistic knowledge transfer to additional four EU cities. And so BeePathNet Reloaded was born.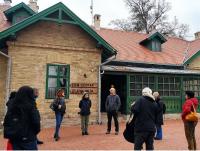 Learn about urban beekeeping and join the initiative of Bee-friendly cities
For our new four partners as well as other cities that would like to join, we:
Vesna Erhart, Zavod EKOmeter