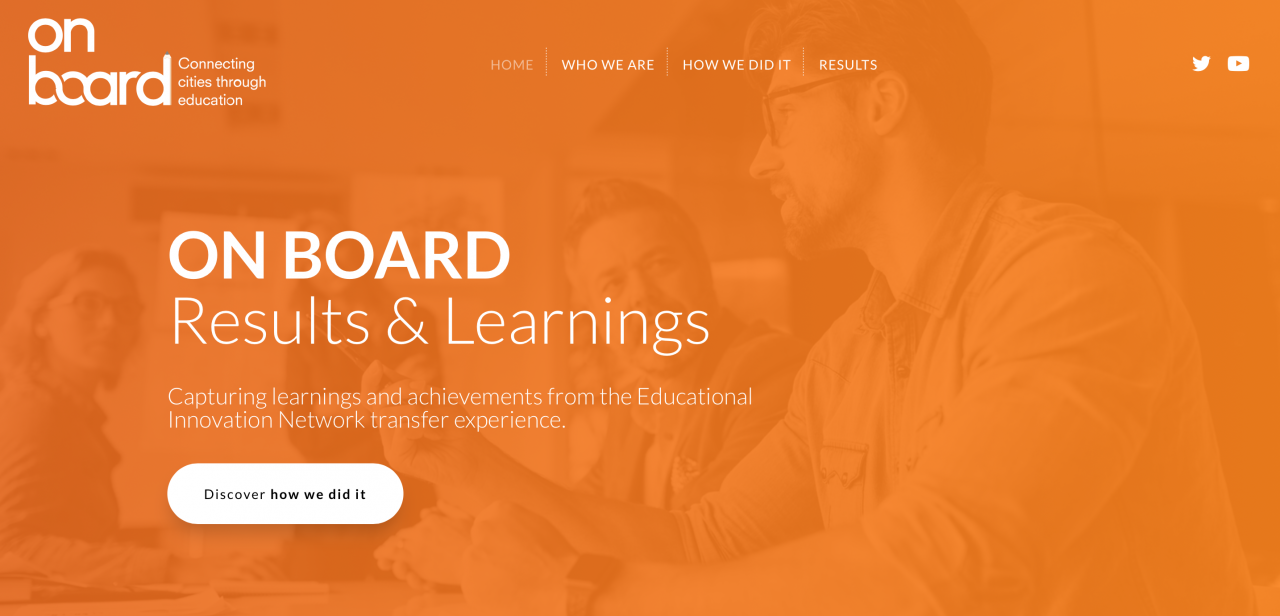 The journey we embarked on with ON BOARD towards the destination of educational innovation has reached its end. For nearly three years, we've shared experiences among our cities (Halmstad, Albergaria, Tallinn, Viladecans, Nantes and Poznan) and this exchange has filled our 'luggage' with learning.
The diversity and characteristics of each partner city (size, organisation, political context, etc.) have yielded different results and approaches to the challenge of transferring an educational innovation network. The methodology we've used, however, was very specific and it has worked! Now, we want to raise awareness of how we've done it and the specific results we've obtained, and share them with other cities that also want to introduce innovation into their educational practices and prepare future citizens to tackle the challenges of the 21st century through the principles of responsibility, inclusion and excellence.
To do so in a fun way that is easy to understand, we've created an interactive tool called the Final Network Results Product (FNRP), which has all the information on the ON BOARD project in three sections: 
    •    Who we are
    •    How we did it
    •    Results
The FNRP has detailed information on the ON BOARD methodology for the transfer process, including 6 international meetings (some of which were done online due to Covid) working step-by-step on how to build the structure of an educational innovation network, and dealing with topics like governance and network communications based on the good practices from Viladecans, the city leading the project. We also explain how we got local educational communities involved through the Pilot Education Projects, using 'learn by doing' to encourage them to participate. 
At each international event, we dealt with a different step of the transfer process to help build an integrated innovation network structure.
Learning from sharing
In the ON BOARD project, interaction and cooperation among all the participants and local agents has been key:
    •    Schools sharing knowledge, projects and experiences.
    •    Boosting interaction between parents and schools with ICT solutions (apps).
    •    Families, young people, organisations and companies in the city approached schools to work together.
Sharing experiences and challenges has been very important, and the FNRP tells you all about how we did it and the results achieved in each city. Find out more here.