Last Sunday, March 20th, Cáceres kicked off its Small Scale Action as a project partner in URBACT Tourism-Friendly Cities considering that Cáceres performance in both networks Tourism-Friendly Cities and Resourceful Cities focuses on the renovation of Ribera del Marco in order to enhance its visibility and attractiveness as the real origin of the city.
Thus, Foro de los Balbos, a historic space next to Plaza Mayor and the Ancient Walls that used to host the Municipal Market for years, witnesses the first Biomarket to offer Slow Food from Ribera del Marco in the Monumental City of Cáceres, UNESCO World Heritage Site. This initiative meant a link between the present and the past inviting visitors to get involved in Ribera del Marco liveliness, which will also have a green corridor funded by Next Generation EU.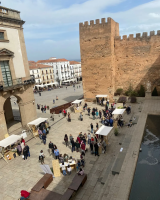 The Biomarket was managed by Cooperative Actyva, a local social enterprise and allowed both residents and tourists to taste local cheese, vegetables, jams, aromatic plants, chacina, eggs, etc. Feedback was very positive according to the attendance and visitor's opinion, creating a vibrant atmosphere during the whole morning. Furthermore, tourists were encouraged to stay for longer in the city, to buy km0 products as an incomparable souvenir and to raise its knowledge about Ribera del Marco as a worthy area in which to have a walk in case they missed.
Finally, if the Biomarket evaluation keeps this positive track, it may enjoy a permanent status in the city with a fixed schedule as an extra economic sustainable source in the city.
We recommend tourist and residents to follow Cáceres City Hall social networks and website  to check next dates to visit our Biomarket. More stands, products and activities will be offered very soon.
Elena Domínguez Crespo - Municipality of Caceres