As an Action Planning Network aiming to improve health outcomes for city residents, Healthy Cities is committed to engaging citizens in our work. Each of our partner cities is reaching out to their communities through pilot activities – or Small-Scale Actions, as named in URBACT projects – in efforts to co-create a healthier city together.
The City of Vic has created an Action Plan focused on the recovery and integration of the Puig dels Jueus green area. To achieve this, their Small-Scale Action has consisted of a series of activities to raise awareness of this area and its potential impact on health.
Following some of the outputs of the local group meetings – which noted both a lack of knowledge of the site and a lack of visualisation of the access points – the city pursued several plans during the two weeks of their small-scale action:
Starting at five different points in the city, "green" routes were marked out leading to the park's access points.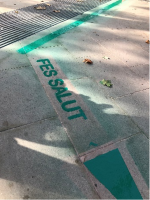 More than 5km of green lines were painted (made with a natural biodegradable pigment). Along the routes the team added some inspirational words, such as "discover" or "be healthy".
This provoked great expectation and interest among the neighbours, who began to ask "where is this line going?"
At the beginning of the lines, and also along the routes, the city installed various information points about the Puig dels Jueus Action Plan, the URBACT project, and the relationship between health and the urban environment. At the entry points to the park, the City of Vic set up large entrance gates to welcome people.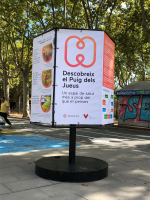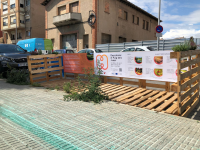 In addition, during this period Vic's team organised 3 activities for the public.
A nest-box hanging activity, a "healthy walk" following one of the routes painted on the ground, and a small-format music show under the name "culture and nature for health".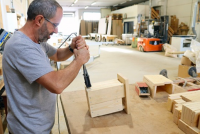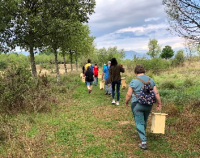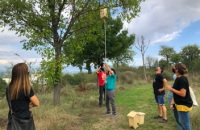 The nesting boxes were produced by the social enterprise ARETÉ, which promotes the social and occupational integration of people with mental health problems. This company is managed by one of the entities involved in Vic's Local Group.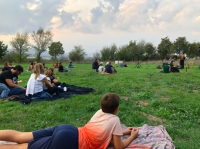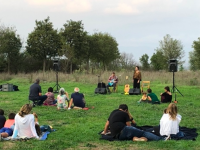 Each of these activities invited the community to get to know the Puig dels Jueus space and aimed to raise awareness on the different dimensions of health related to the urban environment: physical health (through active mobility such as healthy walking), mental health (through its relationship with culture and harnessing nature for health), and environmental health (through supporting biodiversity with resources such as nesting boxes).
Curious about how our other partner cities are connecting with their communities? Stay tuned for more news on our small-scale actions!