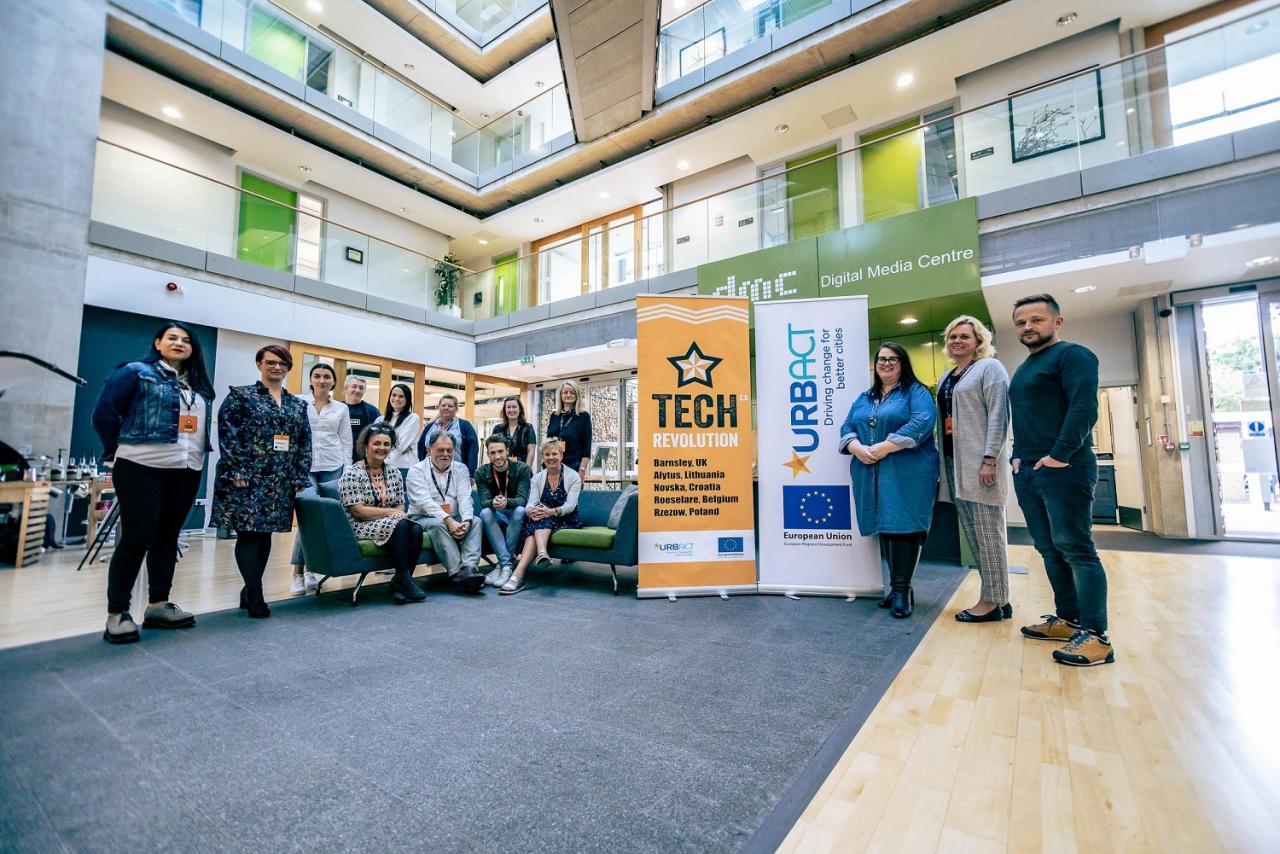 Visitors from across Europe were given an insight into how Barnsley has developed its thriving digital business community last week.
Representatives from Roeselare in Belgium, Alytus in Lithuania, Novska in Croatia and Rzeszow in Poland were welcomed to the Digital Media Centre (DMC) to learn more about the business hub and the Enterprising Barnsley business support programme.
Their visit marked the launch of 'Tech Revolution 2.0' – a knowledge transfer network led by Barnsley and set up by URBACT, an ERDF-funded programme committed to supporting urban renewal in smaller cities and towns across Europe.
Over the next eighteen months, the participating towns will work together to develop their own digital economies and create jobs, inspired by Barnsley's example.
URBACT recognised Barnsley's Digital Media Centre and Enterprising Barnsley, the business support arm of Barnsley Council, as examples of good practice in digital transformation four years ago.
All the towns involved in the learning network are of a similar size and post-industrial character to Barnsley and the aim is to use the town's example as a starting point for development and to go on to share ideas on how to grow their own digital tech eco-systems and create quality jobs.
DMC manager and Tech Revolution lead Tracey Johnson said: "We were thrilled to welcome our new partners to Barnsley last week and launch URBACT's second Tech Revolution programme.
"During the first Tech Revolution we found that having a relationship with partners in towns of a similar size and economic heritage to ours really helped us work out our own priorities and develop our vision for The Seam – Barnsley's digital campus - and DMC 02 in particular."
Tech Revolution 1 took place 2019-2021 and helped six different cities and towns accelerate the development of their digital eco-systems with new buildings, business support and collaborative ventures.
Councillor Tim Cheetham, Barnsley Council's Cabinet Spokesperson for Regeneration and Culture said: "The launch visit was based at The Seam's landmark digital business centres DMC 01 and DMC 02 and included a walking tour of Barnsley's latest town centre developments too. Workshops covered the Enterprising Barnsley business support programme and Launchpad start-up programme, as well as looking at other Barnsley-based digital business innovations such as the IoT Tribe internet of things accelerator."
Gino Dehullu, strategic advisor from visiting city Roeselare in Belgium, said: "It's been a great experience to visit Barnsley, meeting the team behind their good practice.

"We've been able to see how the DMCs have developed a strong community, who they listen to in order to improve, and have provided added value through their programmes and business support. It's been inspiring and given us plenty of energy and ideas to take home."
URBACT's Tech Revolution is funded by ERDF funding which aims to strengthen economic, social and territorial cohesion across regions in the European Union.