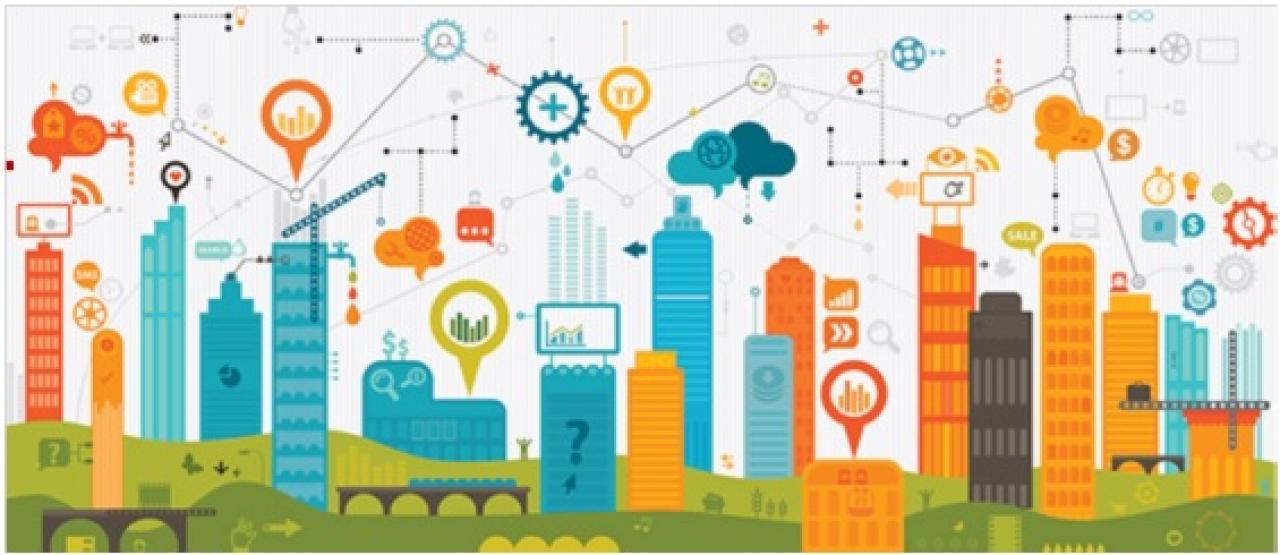 The second Card4all Masterclass was about "New Digital Tendencies for Cities" a theme that all kind of cities, big and small, urban and rural, are struggling to be on top of this transformation. For that Card4all network invited Professor Paulo Cortez http://www3.dsi.uminho.pt/pcortez for a 2 hour masterclass that reveled to be "A Glance of the Future".
The Masterclass took place on the 3rd of December and once again with a wide participation of Card4all cities and their Local Group members.
At the end of 2020, a year marked by Covid-19 and the pandemic crisis, we lived the acceleration of many technological adoption processes that were predicted to be more gradual. Not surprisingly, need and urgency are great allies of innovation. Most of the public institutions in charge of managing all levels of the response to the Covid-19 crisis have faced the urgent need to assess their current digital technological capabilities while facing sudden processes of technological adoption and implementing solutions that needed a deeper public assessment.
In this framework, what kind of changes or adaptations the citizen card will face in the near future? By inviting Professor Paulo Cortez, the Card4all network searched for tendencies that will be mainstream in the coming years.
Professor Paulo organized the lecture on 15 digital trends that can have a potential positive impact on cities, presenting examples of recent real-world applications that use digital technologies within urban areas MASTERCLASS "DIGITAL TENDENCIES FOR CITIES" TAKE-AWAYS | URBACT
Paulo make it clear that Digital Transformation is the "integration of digital technology into all areas of a public service, fundamentally changing how a service operates and deliver value to users. It's cultural change." It sounded familiar to Card4all city partners because describes the process we started 26 months ago, where we used the citizen card as bridge to understand the users and deliver them an added value service.
Paulo keep going on the future trends for digital cities and another one that stimulated the interest of participants was the "The Emergence of Data Smart Cities", because the citizen has the capacity to storage high volumes of data and there is a need to increasingly adopt Data Smart strategies. He explained the importance on addressing data silos and making data available across organisational boundaries for better decision making.
Another hot trend was Smart Mobility. The citizen card can contribute to solve some of mobility challenges, for example, as looking to some of the examples discussed in the Masterclass, public transportation systems can respond in real-time to the changing traffic needs of the city rather than run on predetermined routes and schedules. There will also be a rise in the number of transport options, including mass transit, car-sharing, bike-sharing, ride-sharing, and personal mobility devices.
But Paulo also brought some real cases of digital transformation in global cities to inspire Card4all. The Zencity, https://en.globes.co.il/en/article-zencity-raises-17m-to-help-municipalities-assist-residents-1001204302, is actually an artificial intelligence (AI) company that monitors information from the social networks, municipal call centers, and other sources. The product is dramatically improving municipal management and the connection with the residents. Another one was the Health Time Monitoring, Tech for Good: How machine learning and rich data can help prevent pollution | BetaKit,  which is an Ambience Data's sensors, placed on connected hardware, which track pollution in real time wherever they are placed. The alerts then forward to algorithmic systems that, powered by IBM Cloud and machine learning, offer dashboards of health data and produce strategic recommendations for urban planners.
In conclusion, the older and more mature technologies will not be obsolete in the next years. Instead, they will remain significant factors that will have the power to transform cities and personal lives. The upward trajectory of the transformation programs, will after all, be dependent on the evolution of existing tech. Those that don't want to be left behind need to prepare their cities for a world that has a growing dependence on digital solutions.
Miguel Sousa,
CARD4ALL Lead Expert