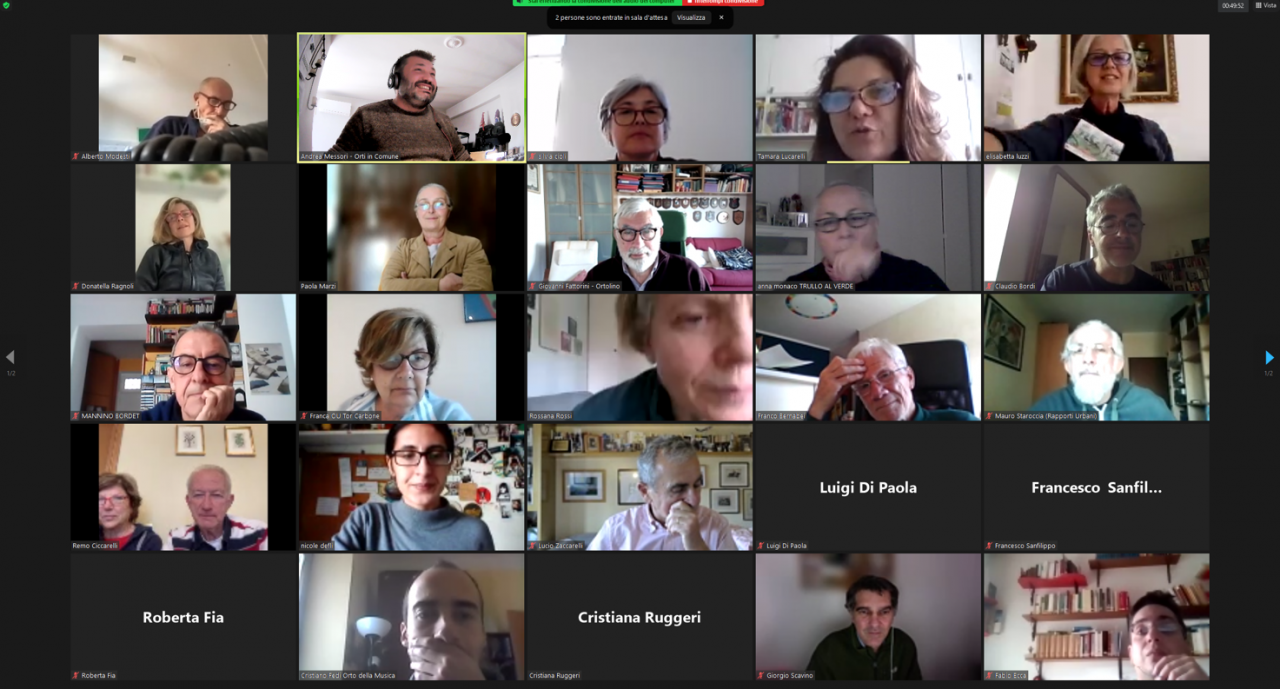 The ULG of Rome met online on the 8th and 20th April to start working at the update of the Rome Regulation for the Management of Urban Gardens that was approved in 2015. The need to revise the document approved in 2015 arises from the fact that, after that date, different Councillors made a series of changes that were no longer in line with the principle of the assignment of plots to citizens' associations, measures that caused disappointment in Roman stakeholders.
The current Councilor Ms. Sabrina Alfonsi has requested a proposal of a new version of the Regulation to be immediately shared among stakeholders and be brought, subsequently, to the attention of the Municipal Assembly for its approval.
 The first draft prepared by a steering group was sent to ULG members prior to the meeting of the 8th of April so that they could start reviewing it and preparing their inputs regarding possible changes and modifications. During the meeting participants were divided in  4 working groups that will work on 4 diverse aspects of the draft document: Group 1-Premises and definitions, Group 2-Request and grant, Group 3-General principles and obligations, Group 4-Internal rules.
During the two meetings some important aspects were discussed. Firstly, it was appreciated that the introduction includes definitions that clarify the contents of the Regulation, clear indications of what can be implemented in a specific area and how to act upon common goods. The importance of providing a homogeneous basis of information and defining common rules was highlighted, as was stressed that any winning proposal for an urban garden must respond to the principle of inclusiveness. Participants also expressed the common difficulty in understanding, meaning putting into practice, the Regulation due to the excessive use of acronyms and complex definitions. The new draft, in fact, will take into account this very important aspect.
Also, the role of the Urban Gardens Office of the City of Rome is to be strengthened according to participants, in order to coordinate the activities of each District and gear the central administration to find new areas to be allocated to urban gardens, recovering urban areas that are at risk of building sprawl.
The goal of this updating process is to build a text that integrates the various versions proposed in recent years, through a shared analysis and comparison to be conducted during the next ULG meetings, in order to  clarify who urban gardeners are, what they do at local community level, but also to ask for the recognition of their actions without being hindered.
This is yet another confirmation of the outstanding role of cities' ULGs in the co-creation of sustainable urban development policies and measures in collaboration with local authorities.