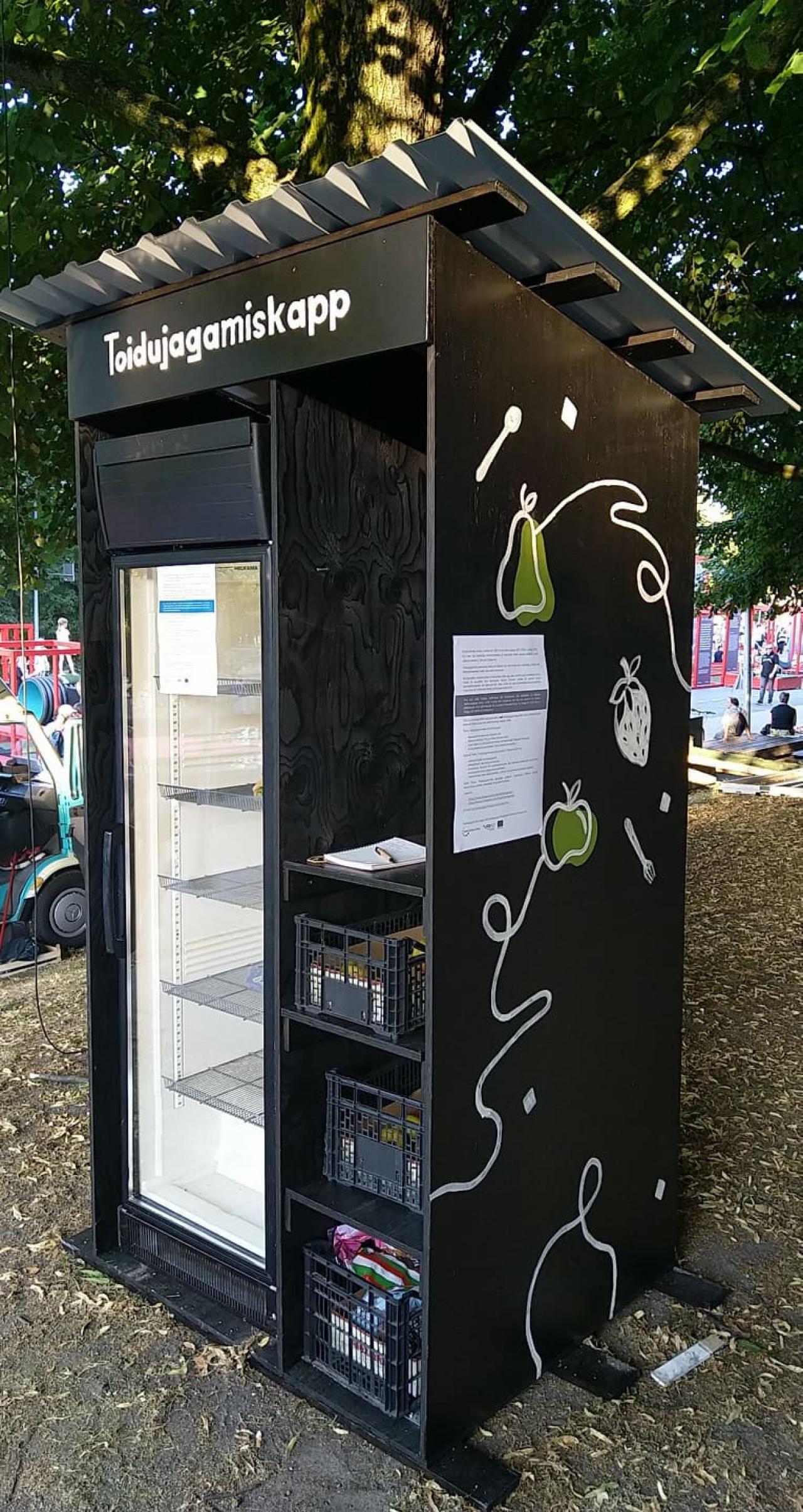 Tartu, part of the Zero Carbon Cities network provides an update on their most recent small scale action involving citizens on their zero carbon journey.
84, 000 tons of food is wasted in Estonia every year. Shops, supermarkets, restaurants, homes throw away food that has been unsold or uneaten. If you packed all this food in lorries, the line of trucks would span over 40 km!  
As a way to raise awareness, tackle the problem and redistribute what would have been wasted food, a temporary 'food share' cabinet was installed on Tartu's Car Freedom Avenue event as small scale action initiative. 
The cabinet included large shelves and a refrigerator for food with a different type of storage needs. The cabinet was mostly used by the Car Freedom event vendors to share left over food, neighbouring cafés also contributed their left-over baking. 
The cabinet turned out to be a needed service for many of Tartu people. A journal was kept for people donating food to write down what they had taken. One note left said "Thank you. This is a very welcome project. I took an apple, I have not been able to have an apple for a month"  
One of the challenges of the cabinet was its attraction to hoarders. One of the hoarders would camp out next to the cabinet every day for hour and took all the donated food as soon as it appeared in the refrigerator or the shelves. Unfortunately, there was no common ground to be found with the hoarder, so it was moved to an alternative location.  
The Car Freedom Avenue was closed on the 8th of August with the cabinet moved to a location next to Tartu Market and has been working hard ever since, providing tasty food for people in need.  
On the 16th of July, a food waste related panel discussion was held on the main stage of Car Freedom Avenue. The event was participated by 8 panellists and around 50 people listening which included local food share activists, Tartu Food Share NGO, Tartu Culture Capital 2024 and Tartu City Government.  
Future plans for the food share cabinet are to participate in the next Car Freedom Aavenue event with discussions are being held about a suitable location for the cabinet to serve its purpose best. Tartu city government are having regular meetings with the food share community to reduce food waste in the city and involving local food businesses to coordinate these activities. 
A great initiative that despite its challenges, has started important conversations and a welcome solution to both food waste and food poverty. 
Photo credit: local artist Tiina Pitk