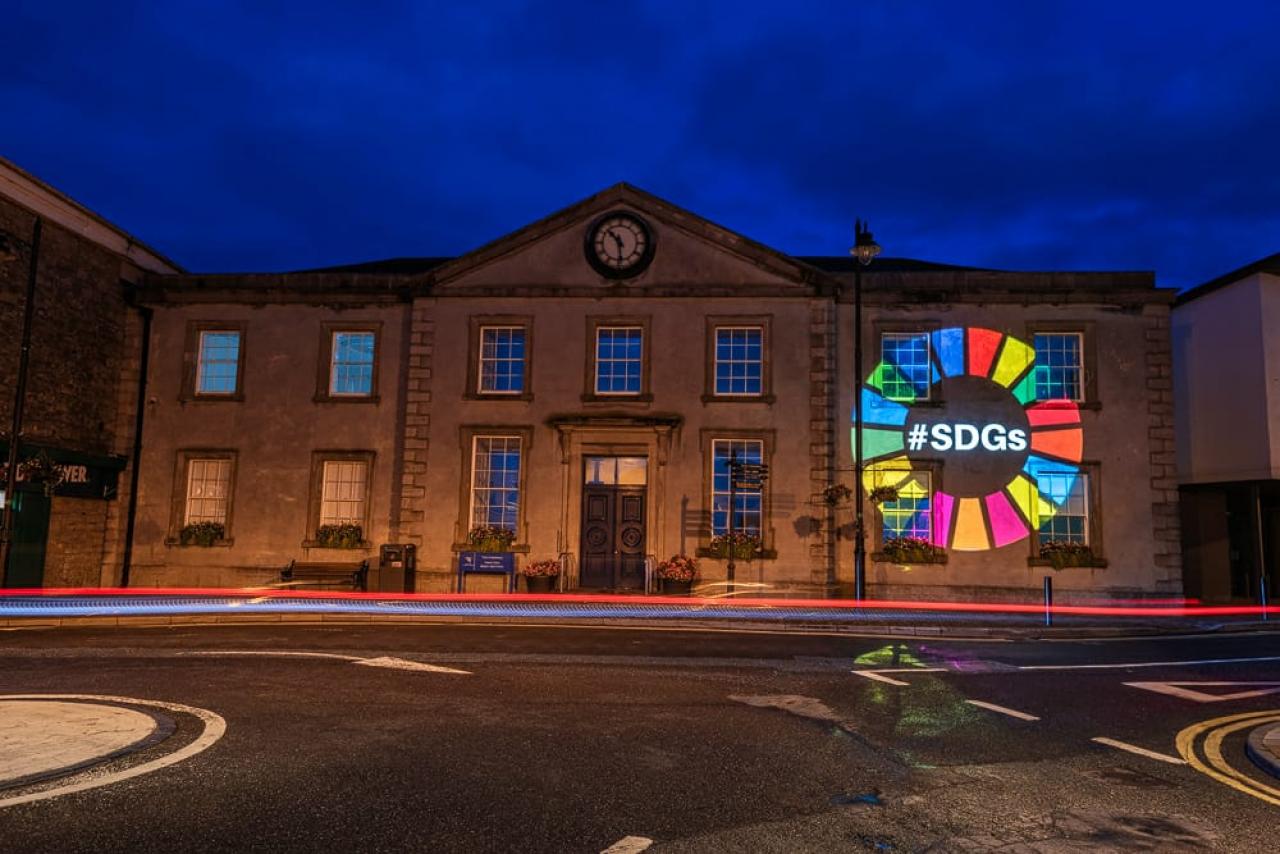 The courthouse in Trim stands in the centre of the town, with the castle in the background, it is a reminder of the history and heritage of Trim. Both grey stone buildings have been here longer than us and could tell a story or two.
Recently the courthouse got a splash of colour, normally a place for #SDG16 it saw all 17 goals in the form of a projection of the SDG wheel on the walls. This, as you can imagine, attracted a lot of attention. One person asked, "is this something to do with gay pride?", "no" we answered but the SDGs are all about inclusivity, everyone is welcome!
Other passersby asked us "SDGs? what are SDGs?". Huston, we have a problem!
Most people we interacted with had some familiarity with the SDGs, but we forgot many had not heard of them, and thinking about why would they have? SDGs are not part of mainstream media reporting, they never make the news and unless people are involved in an environmental group or a young person (young people really get them!) than these are new to them.
But this is not all bad news, if you seen something you are not familiar with - what do you do? Why Google of course! Good for all the unknown stuff! We are hoping that this happened, and if nothing else, people will have logged the colourful wheel in their minds so it might jog their memory the next time.
But we needed to do more.
An article was placed in the local newspaper and Council Journal but not everyone reads these so we hit Twitter ……. Hard.
 Getting to know the SDGs, what are they about, who they apply to, is not easy. So we took it SDG bitesize, daily little bitesizes of SDGs, we had 17 days of what, when, why & who around the SDGs , the 17 'bites' of info unintentionally matched the number of SDGs, a happy accident! Next, we had another 17 days looking at each SDG and what individuals could do to take action. In doing so, while trying to keep things local as possible, we did create some awareness further afield in areas like education & gender equality, a reminder that SDGs are for everyone on this planet.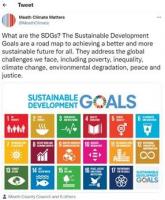 Ireland is currently preparing the second National Implementation Plan for the country and undertook considerable public awareness on this through social media. We played our part and made a submission during the public consultation and encouraged other to do the same, every opinion and idea matters!
There is a long way to go before SDGs are mainstreamed and everyone understands and is familiar with them.
Covid helped us as we came together to protect and help those in society who are most vulnerable and how our local environment & nature became really important, both can be linked to the SDGs to help create a better world.
But in the meantime, we will continue to wear our SDG wheel in Trim with Pride!