Vilawatt-URBACT partner cities met again for a new learning webinar to find out more about Energy Communities and their possible relationship with one of the Vilawatt project's pillars: the co-governance model (PPCP).
There are currently more than 3,500 Energy Communities in Europe, the majority of which are established as cooperatives. Their main objective is to bring together citizens to take sides in the energy transition by forming a common front to fight against the current dependence of the energy market on fossil fuels.
RESCoop (European Federation of Citizen Energy Cooperatives) represents about 1,900 of these Energy Communities. Dirk Vansitjan, President and Project Manager of this federation founded in 2013, explained that its activity involves:
Providing representation at the EU level of the activity it performs;
Supporting the creation of energy cooperatives and those already established;
Facilitating international exchanges;
Promoting the cooperative business model, not only in the energy sector, but throughout the economy.
He also presented the Energy Communities Guide, a tool that is the result of cooperation between RESCoop, Friends of the Earth EU and Energy Cities to share knowledge on this topic across Europe. The guidebook lists a few of the many incentives that lead citizens to become part of an energy community, and which go beyond a possible economic benefit.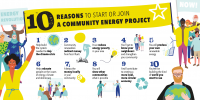 Image: www.rescoop.eu
Another aspect covered in the webinar was the legal form of Energy Communities and the members' profile.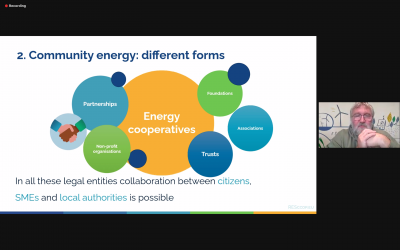 For Vansitjan "It is important to find a balance between the different profiles of citizens and to have a diverse group of people joining your cooperative, not only engineers, for example, but also people who are good at communication, management, etc."
The choice of the activities to be carried out would also be important in building Energy Communities. Most are energy producers, while some are just suppliers, and in some cases both. According to Vansitjan, the ideal would be to strike a balance between the two roles, as this reduces vulnerability to rising energy market prices. A number of Energy Communities also carry out other activities beyond energy production and distribution, such as raising awareness of energy-saving measures or providing advice on retrofitting, and are also involved in programs to combat energy poverty and in innovative projects in energy storage, electric mobility and urban air-conditioning.
When asked about the potential of collaboration between Energy Communities and the local governments, Vansitjan considers this alliance as a natural one, and it refers again to the Energy Communities Guide, which includes more information on European directives and different forms of public-private collaboration. The Guide also includes some experiences with other governance structures beyond the cooperative formula. In his opinion, involving local governments is interesting because collaboration often helps to overcome possible barriers.
It was also interesting to hear that the EU regulation on Energy Communities will be more likely to be adopted at national (and local) level if citizens actively ask for it to their respective authorities, proposing forms of organisation that fit into the context. The advocacy role that Energy Communities can play is thus, very relevant.
When asked by the representatives of the partner cities in attendance whether there is any similar experience in Europe with a PPCP model, Vansitjan replied: "Until now, you had this dual system, between public and private players. And the idea is to introduce ourselves (Energy Communities) as a 3rd player, a civic player. It's another game, and the European Commission acknowledges that".