ASToN-ishing, 5 insights for the digital transformation of African cities. What we never expected to learn and achieve, being part of an innovative African city network.
Calender
21 February 2023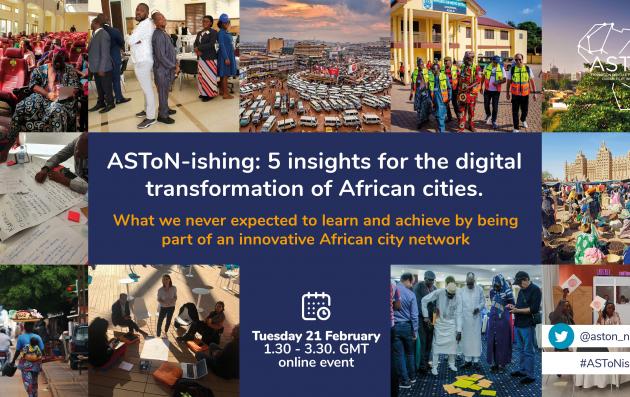 Come and join us on Tuesday the 21st from 1.30-3.30pm GMT, for ASToN final event.
We invite ASToN friends, curious local authorities from around the globe and international organisations to participate to the very last African Smart Town Network event.
Join us on February 21st at 1.30 GMT, as we explore together what digital transition means for African cities today and how they can overcome their challenges and maximise their opportunities during these exceptional times.  
You should join us, if you are:
- building a community of practice on digital transitions
- designing an innovative learning journey for city leaders
- piloting a city network
- supporting city-led experimentations
- capturing & sharing urban stories from around the world.
In a 2-hour session together with the ASToN cities we will discuss: 
- The findings of our 3,5 years adventure, summing up 9 city experimentations, 5 in-person all-city meetings, and more than 500 interviews with local stakeholders 
- Innovative reactions and solutions from African cities in response to the global challenges
- What's next – the cities' plans to accelerate African cities' transition to a digital, sustainable and inclusive future and how you can tap into the knowledge generated by the network  
This is your last chance to hear it from us! If you want to join, please register to the event HERE.