The focus of this Action Planning network was less about technology solutions per se, but more about governance structures, process and business models. The partner cities are specifically worked together to: develop models of how organisations can adapt their structures to deliver smart cities; effectively finance smart solutions and creating new ways of understanding value with co-investment strategies; develop and support innovation ecosystems within cities; explore the role of regulations and incentives, e.g. the carrot and stick approach; better understand how data integration and urban data platforms can support the smart city.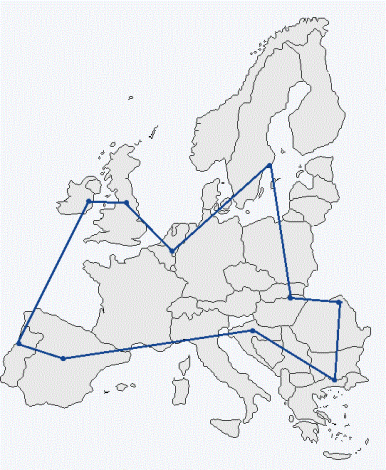 Timeline
Kick-off meeting in June (Dublin). Transnational meeting in October (Stockholm).
Transnational meetings in February (Miskolc), April (Zagreb), June (Porto) and October (Guadalajara).
Final event in March (Manchester).

Municipality of Athienou
2, Archbishop Makarios III Ave.
7600 Athienou Cyprus
Municipality of Santiago de Compostela
Municipality of Udine (Italy)
For any enquires into Tech Revolution, email: DMC@Barnsley.gov.uk

Keep following our social media channels as we develop Tech Revolution 2.0 as part of the second wave of URBACT ||| Programme. 
Follow our Twitter: @Tech_RevEu
Follow our Linkedin: https://www.linkedin.com/company/urbact-techrevolution/
Coordinator
ADDRESS
Av. Movimento das Forças Armadas
2700-595 Amadora
Portugal 
TELEPHONE
+351 21 436 9000
Ext. 1801
City of Rome
tamara.lucarelli@comune.roma.it
Department of European Funds and Innovation
Via Palazzo di Città, 1 - 10121 Turin (Italy)
Câmara Municipal de Lisboa
Departamento de Desenvolvimento Local
Edifício Municipal, Campo Grande nº25, 6ºE | 1749 -099 Lisboa
urbact.civicestate@gmail.com
Laura González Méndez. Project coordinator.
Gijón City Council
City of Ljubljana
Mestni trg 1
1000 Ljubljana, Slovenia
Project Coordinator Martin Neubert
+49 371 355 7029
City of Antwarp
Grote Markt 1 - 2000 Antwarpen
Manchester City Council
Manchester M2 5RT