Find out how its former URBACT partner cities are supporting Petrinja at its time of need.
Since the central Croatian town of Petrinja was destroyed by a series of powerful earthquakes in December 2020, partner cities from the URBACT CityCentreDoctor network (2016-2018) have reacted quickly to send emergency support – more than two years after working together to revitalise their city centres.
"URBACT created personal relationships between people from different towns and created a living network that has brought vital support at this difficult time," said Petrinja resident Nina Ficur Feenan who has been helping with communications between her town and URBACT partners. "Such solidarity is a bright light during what has been a very dark crisis."
"The 6.4 magnitude earthquake on 29 December 2020 literally shook us from our foundations," Nina said. "Seven people lost their lives on that day and one rescue worker also died later. Thousands lost their homes. The town does not exist anymore. Hospital, ER, schools, shops, banks, hairdressers, florists, cafes, restaurants, market, museums, cinema, boutiques, bakeries, butchers... it's all gone."
"Everything that makes a town is gone. It is hard to perceive that level of devastation."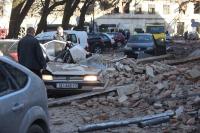 Petrinja main square after the December 2020 earthquake.
Small-city solidarity
Despite the Covid-19 crisis, Petrinja's former network partners – all small cities roughly the same size – reacted quickly with solidarity, practical support and funds. "They have a connection with Petrinja and have walked on our streets that have been devastated by the earthquakes and can, maybe, better understand the situation we are in," said Nina.
In the Irish city of Naas, Mayor Fintan Brett first heard about the quake on the CityCentreDoctor WhatsApp group where the 10 partner cities still share news, ideas and encouragement on their town centre improvements. He decided to take action. "What do we do? Just look at them? Or get up and do something?"
With support from the Naas 'town team' – a continuation of the URBACT Local Group formed during the URBACT project – Fintan worked closely with Majella O'Keeffe of Naas Access Group to launch a gofundme appeal for Petrinja's municipal council. Donors include Irish ambassador Ruaidhri Dowling, who is supporting efforts in Croatia. They also went a step further, mobilising hundreds of Naas residents and businesses to donate food, warm clothes, building materials and other items requested by Petrinja, including goods for people with disabilities. With logistics support from the council, volunteers packed these into a 45-foot container for shipping.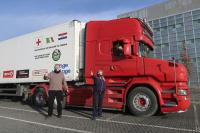 Volunteer local truck driver Paul Kennedy transported the donated goods to Croatia in the last week of January.
Daniele Terzariol, Deputy Mayor of San Donà di Piave, the Italian city that led the CityCentreDoctor network, also reacted quickly to the WhatsApp alert. Helped by the Italian National URBACT Point, he launched a fundraising appeal to all Italian cities in URBACT networks, past and present, encouraging them to send funds directly to the Municipality of Petrinja. His municipality also decided to make a donation, as did URBACT local partners in Heerlen (NL). Meanwhile, Radlin – a Polish city with a population of under 20,000 – also sent a shipment of goods.
Daniele sees Petrinja as a 'sister city' that "needs the support of all of us in order to make the reconstruction and support of citizenship as fast as possible". He said: "The earthquake that hit Petrinja caused the devastation of the city centre and neighbouring villages: as colleagues, friends and partners we cannot sit still without actively supporting the people who live in those places."
Lasting positive URBACT relations
This welcome response in a time of crisis is just one example of how URBACT cities across Europe often keep up close links beyond the completion of their networks. CityCentreDoctor URBACT Expert Wessel Badenhorst attributes this lasting solidarity to the way URBACT guides cities to work together through an intensive two-year process, while leaving flexibility for meaningful personal connections to develop. He said: "This earthquake crisis is an example of how resilience can be gained from being part of a network that took two years of intensive development."
"Today we're still all friends and we're happy to keep our relationships strong and vital," said Daniele. "URBACT networks and all the European projects are based on the values of solidarity and union and increase mutual knowledge based on common roots."
Badly damaged by war in the 1990s, as Petrinja sets out on a battle to rebuild yet again, Nina Ficur Feenan says: "We appreciate all the help and support we can get from our friends and partners as well as from strangers and friends we haven't met yet."
Interested to support Petrinja directly?  Find details of how to donate on the official city website.
Cover photo by Nina Ficur Feenan on Flickr