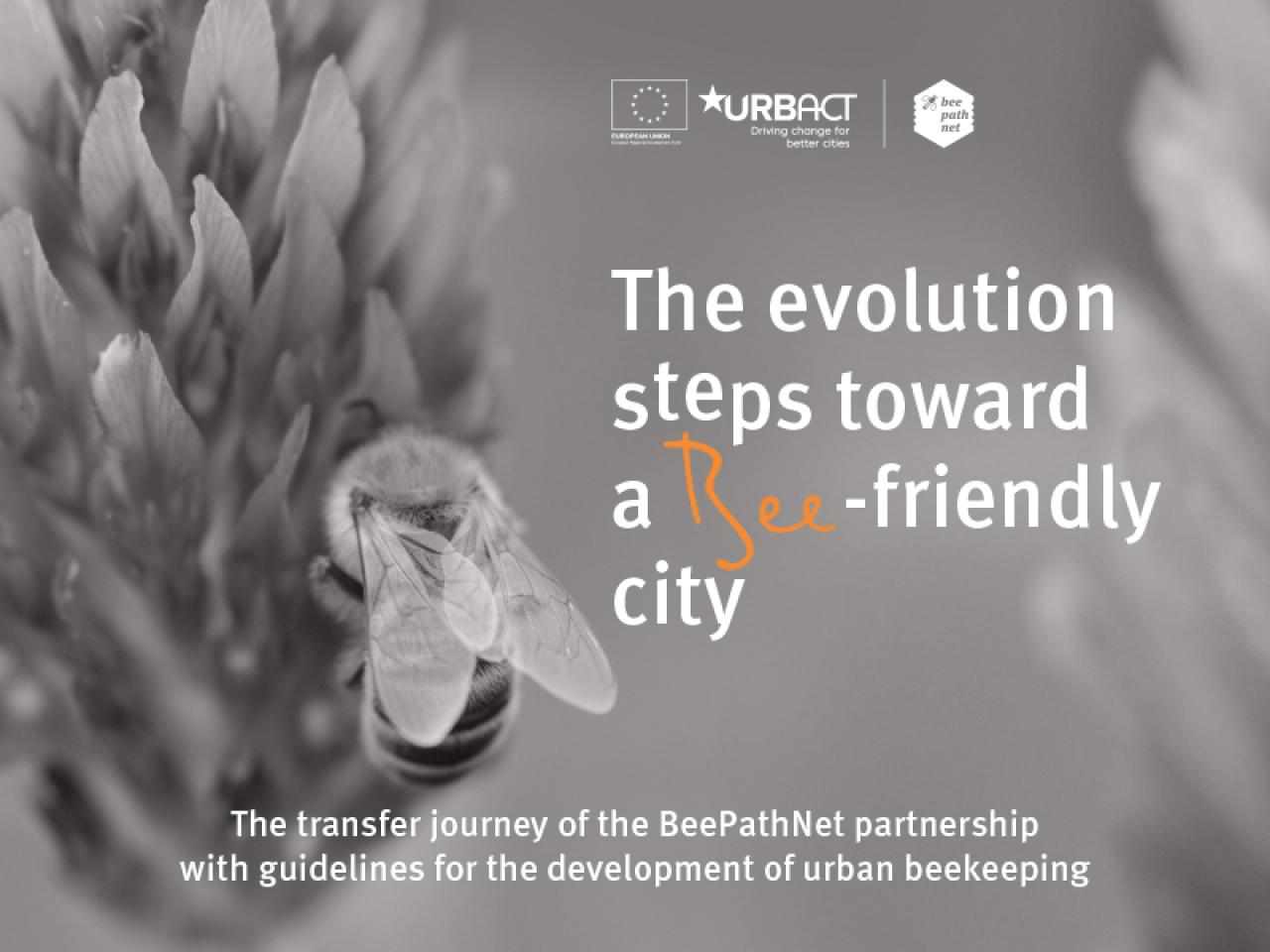 After a two-year journey BeePathNet resulted in successful urban beekeeping development in Amarante (Portugal), Bydgoszcz (Poland), Cesena (Italy), Hegyvidék – XII District of Budapest (Hungary) and Nea Propontida (Greece) due to the transfer of Ljubljana's BEE PATH good practice. We collected our good practices, innovative events and approaches in the final book, guidelines, newsletters and learning logs, so others can learn from them. The transfer of the BeePathNet initiative to additional four EU cities is URBACT's special award for our hard work and all the "honey" we put in the preservation of the environment that we share with the bees.

Article in 7 languages:

Over two and half years Ljubljana's BEE PATH good practice was transferred into five EU cities covering the majority of climate conditions for beekeeping, various types of bees, as well as different situations related to the public perception of bees among the general public. Very diverse, yet excellent results in five partner cities Amarante (Portugal), Bydgoszcz (Poland), Cesena (Italy), Hegyvidék – XII District of Budapest (Hungary) and Nea Propontida (Greece) prove its transferability.
Are you in doubt about the power of bees to make your city more sustainable? Read some partner cities statements after two years of urban beekeeping implementation. Krzysztof Kołaczyk, Bydgoszcz beekeeper said "Once: bee buzzing – fear, pain, honey… Today: bee buzzing – joy, peace". His words are a good representation of the transformation of a Polish city where beehives have been allowed only since 2018. And similar in Italy: "Yes, we can say it: Cesena is now a Bee-friendly city.". In Nea Propontida, Greece the first urban beehive was setup on the roof of the City Hall and the prevailing negative o
pinion of people about the existence of bees in an urban environment started to change. Let us conclude with the words of Attila Varga, project coordinator in Hegyvidek, Hungary: "Less is more, more or less. You don't have to think big in the case of supporting pollinators and bees, because with small changes, or by doing something less frequently (less mowing), you have already done that.".
Through raising awareness of the importance of bees, and hand in hand with everybody living and acting in the cities, today all those cities are contributing more to a cleaner and greener environment, and also to the preservation of natural resources and biodiversity. We firmly believe that participatory approach is the only way for urban beekeeping in a city to exceed the status of "just another project" and develop into a Bee-friendly city movement. In 6 cities' learning logs transfer process with ups and downs, victories and regrets are described in more detail (read how it happened in Ljubljana, Amarante, Bydgoszcz, Cesena, Hegyvidék – XII District of Budapest and Nea Propontida).
Now it is time for you to open our final book that gives quick insights to world development trends of green and sustainable cities and where you can find the presentations of partner cities (read more). For more in-depth readers  the whole final conference "A way to a holistic transformation into green sustainable cities" speakers' presentations, videos and other materials … (click here) will give enough reasons to start making your city more bee-friendly. Afterwards you will get ready to open the guidelines (read more) for newcomers: The evolution steps toward a Bee-friendly city - the transfer journey which contain guidelines for the development of urban beekeeping. We also "built up" the library (open its door) with thematic newsletters providing the redline article, inspiring stories from partner cities. To get closer to local people these newsletters were translated into 7 languages.
BeePathNet Queen Bee Maruška Markovčič, initiator of the Ljubljana BEE PATH and project coordinator claims: "Transfer process cocktail recipe is: 10% creativity, 20% hard work and operational support, 30% voluntarism, stubbornness, and will-power and 40% pure passion". "All good things happen only when you say "YES!!!" to new challenges" statement by Klemen Strmšnik, Lead Drone, well lead expert that planned and guided the transfer process, supports Maruška's statement.  And after you have done all the preparations, other people need to find out about your idea. "Inspiring people to do it "their way" will launch your idea and turn it into a movement" added Vesna Erhart, Worker Bee, responsible for this network's communication. And we did all of that!!
URBACT found our movement a practice that needs to be shared across Europe and approved finances to transfer it to four more cities: Prievidza, Slovakia, Osijek, Croatia, Bansko, Bulgaria and Bergamo, Italy. And as we know that several other cities have inspiring Bee stories, we are also sending an invitation to you – for your city to join the Bee-friendly city movement (read more).
Will you join us?
BeePathNet team from Ljubljana, Amarante, Bydgoszcz, Cesena, Hegyvidék – XII District of Budapest and Nea Propontida
To read this article in the Greek, Hungarian, Italian, Polish, Portugal or Slovene language click HERE.