'Entrepreneurship eco-systems' are essentially the 'building blocks' for stimulating entrepreneurship which can be adapted in a city to create a stronger or lesser environment for fostering entrepreneurship.
The concept of places needing to think about such eco-systems has been widely developed by Dan Isenberg, the founding executive director of the Babson Entrepreneurship Ecosystem Project and a former professor at the Harvard Business School.
In his Forbes Magazine article, Isenberg suggests that the place-based 'entrepreneurial eco-systems' are made up of the culture of the city; the business enabling policies; the strength of local leadership; the availability of suitable finance for business; the quality of human capital; venture-friendly markets; and a range of institutional and infrastructural support.
Why 'entrepreneurship eco-systems' are becoming increasingly important
Wider structural changes within society are blurring the traditional boundaries between employment, enterprise and entrepreneurship.
Shifts in technology, connectivity and the wants and expectations of both employers and employees are creating significant changes to the nature of work and the formal and informal contracts that exist between employer and worker (see, for example, Preparing for the Future of Work, World Economic Forum, 2016).
These changes are giving rise to a whole new generation of freelancers.
Overlay on top of these changes some of the wider shifts in society – including slow wage growth, the increasing high-cost of living in some of the world's major Cities and the growth in the freelancer community – and it's easy to see how these changes can support the future growth of some of Europe's smaller and more peripheral cities (for an example, see The Four Trends That Will Change the Way We Work By 2021, Fast Company, 2015).
These changes are also giving rise to a whole new vocabulary.  Phrases like the 'independent workforce' have emerged to describe the range of different contracting relationships that individuals can have with business. The number of solo-entrepreneurs - or 'solopreneurs' – is on the rise. Phrases like side-giggers have emerged to describe individuals who work in the sharing economy, whilst also holding down a traditional job, on a part-time basis.
Udacity, the innovative online education provider that works in partnership with leading tech companies like Google, AT&T, and Facebook has coined the term 'nano-degree' and 'nano-job' to describe the short-term nature of individuals learning needs and the short-term nature of some work assignments in the tech industry.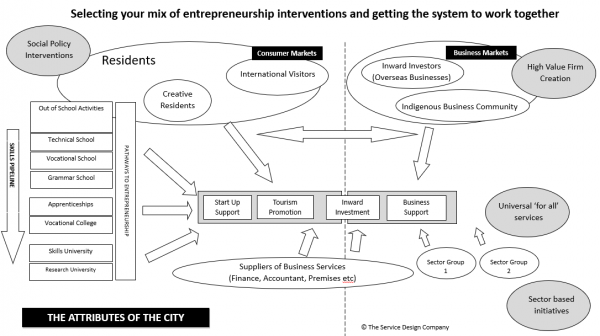 Rethinking traditional employment, enterprise and entrepreneurship programmes is necessary
With the blurring of lines between employment, enterprise and entrepreneurship, many forward-thinking cities are having to re-think the traditional employability and entrepreneurship programmes they have previously provided for their residents.
Employability programmes increasingly need to include more content on enterprise and entrepreneurship, to try and support participants to acquire the skills needed to survive in today's more complex labour market.
Similarly, Entrepreneurship programmes need to adapt to be better suited to the increasing number of freelancers and sole traders joining their programmes, and to take account of innovative new business models that businesses might adopt. You only have to search for 'Tools for Solopreneurs' on the internet to see how fundamentally different their support needs are from more 'traditional' businesses.
But the changes needed are much more widespread than that.
Ultimately, because of the changing nature of the relationship between employer and individual, cities also need to try to embed a much deeper culture of enterprise in their entire population, to try and ensure that they are equipped with a more independent, resilient and self-reliant outlook and also possess the necessary problem solving, business and creativity skills needed to survive in this new world of work.
The processes for collaborating with young entrepreneurs has had to become more collaborative and 'experiential' than 'traditional' start-up programmes – to encompass hackathons, service jams and meet-ups, rather than relying solely on classroom-based training courses and advice sessions.  
Tips and Tricks from URBACT Good Practices    
The Good Practices of Glasgow (co-operative entrepreneurship), Bologna (creative entrepreneurship), Piraeus (marine sector based entrepreneurship) and Barcelona (inclusive entrepreneurship) have each taken a different approach to business support, which other cities can take inspiration from.  
The four Good Practices also share a number of key characteristics, that make them stand out as Good Practice entrepreneurship programmes, namely;
       Their high levels of awareness / deep market reach

: All of these programmes have managed to reach deeply into their target communities and create a high level of awareness and interest in their programmes, inspiring and making possible the aspirations of fledgling entrepreneurs. Achieving high-levels of awareness and market reach is important to drive up demand for entrepreneurship and help people understand where they can get support.



 

      

Their approach to supporting entrepreneurs to grow their business

. All of these programmes offer tailored and bespoke support to the people that go through their programmes, connecting them to the specialist support they need to succeed and/or stimulating other important components of the eco-system of support, to ensure aspiring entrepreneurs have access to the help they need to grow their business;



 

      

Their work on stimulating a strong enterprise culture in their city

All 4 Good Practices also focus on trying to stimulate a change in the enterprise culture of their cities, by working in partnership with a range of stakeholders and agencies in their cities to widely promote the benefits of entrepreneurship.
Creating successful entrepreneurial eco-systems requires a whole-system approach
What these four Good Practices demonstrate is how creating a widespread change in the enterprise culture of a city can be a complex and challenging task, that requires strong leadership from city administrations, highly effective partnerships and the stimulation of crowd actions through an 'ecosystem' approach (for an explanation of eco-system thinking, see 'What I Learned from Trying to Innovate at the New York Times', John Geraci, April 2016) 
A city cannot just focus on delivering one or two great entrepreneurship programmes targeted on a few niche sectors of the community, but needs to 'conduct' the market like the conductor in an orchestra - to incentivise behaviour change amongst communities, individuals, agencies, influencers and sub-cultures, to try and achieve an overall change in the macro-culture of the city.
In addition to considering the whole-system, it is also important to think about the way different programmes incentivise people to think about starting their own business and how these programmes work together as part of a coherent customer proposition.
In adopting the approach used by the URBACT Good Practices, other cities can create powerful support 'systems', which could work together to inspire and make possible the aspirations of their entrepreneurial residents.